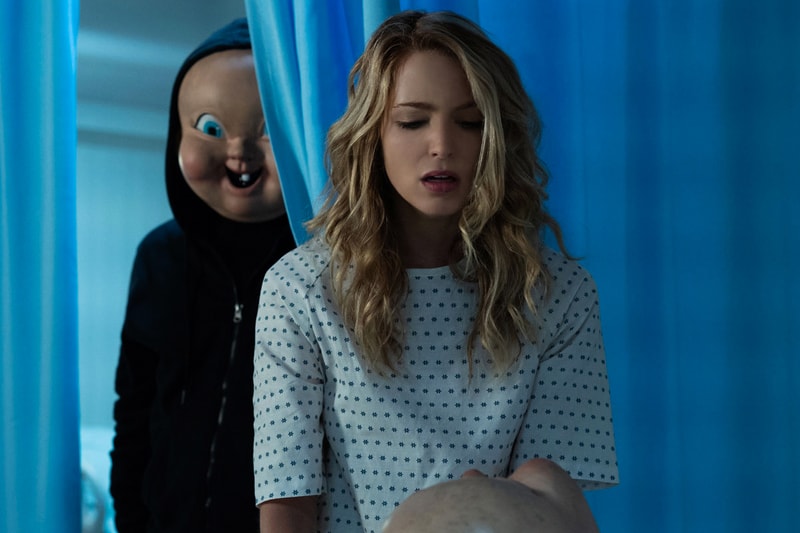 It's February, the month of love. That means you can expect the arrival of more than a few romantic TV shows and movies to mark the occasion. However, this month is also full of superhero and horror stories, fortunately with offerings that think a bit more outside the box of their respective genres.
First, we see the return of the team that made Nightcrawler, this time in the form of a Netflix horror movie set in the art world. Then, we have the sequel to Blumhouse sleeper hit Happy Death Day.
Over on the capes and cowl side, Doom Patrol and The Umbrella Academy are set to arrive on the DC Universe streaming platform and Netflix, respectively. Both showcase a young superhero team, not unlike the X-Men, but with their own spin on the premise. Lastly, as a bonus, we have two Jordan Peele-produced shows in anticipation of the release of his rebooted Twilight Zone in the coming months.
Check out the list below, ranging from some of the must-see releases to the more under-the-radar films and TV shows to look forward to in February.
Movies
Velvet Buzzsaw (February 1)

Jake Gyllenhaal plays a posh art critic who's at the center of the art world's big money artist and mega-collectors, but when a woman passes off entrancing artwork from her deceased neighbor, things get creepy.
Why it's worth your time: Netflix reunites Gyllenhaal with Nightcrawler's director Dan Gilroy, this time in a horror movie set within the Los Angeles contemporary art scene. Not only is that a fresh approach to the genre, but it may also showcase a dark insight into the profession, similar to the duo's previous work.
The LEGO Movie 2: The Second Part (February 8)

Five years after the original movie, Bricksberg has become a wasteland called Apocalypseburg due to constant alien invasions. After Wyldstyle and her friends are kidnapped by Queen Watevra Wa-Nabi (Tiffany Haddish) in a plot to marry Batman, it's up to Emmet (Chris Pratt) to save the day.
Why it's worth your time: Similar to how the original film had a layered subtext about capitalism, its sequel will also bounce off themes of gender issues, specifically the gendered marketing around children's toys.
Cold Pursuit (February 8)

Nels Coxman's (Liam Neeson) quaint life as a snowplow driver comes crashing down when his beloved son is mysteriously murdered. His search for the truth soon becomes a quest for revenge against a psychotic drug lord named Viking and his equally as sleazy nicknamed henchmen.
Why it's worth your time: It's Taken with a dash of The Grey, both off which starred Neeson as a badass killing machine. Although this film sees his character as a bit milder mannered and less birthed for action, it is still a revenge tale that will see him put a particular set of skills into practice, whether or not they've been developed as a trained killer or a snowplow man.
High Flying Bird (February 8)

In the midst of a pro basketball lockout, sports agent Ray Burke (André Holland) finds himself caught in the face-off between the league and the players, attempting to use his clients' value as basketball players to take control from the NBA and shift the league's traditional power dynamic. The outcome raises questions of who owns the game – and who ought to.
Why it's worth your time: This is Steven Soderbergh's first feature film for Netflix, and the second he made with an iPhone camera. It looks like it will give insight into the behind-the-scenes dynamics of the NBA and the misdistribution of power and profit in pro basketball.
Happy Death Day 2U (February 13)

College student Tree Gelbman becomes the target of a masked killer once again when she wakes up in an alternate reality. When the psychopath starts to go after her inner circle this time, Tree soon realizes that she must die over and over again to save her friends.
Why it's worth your time: The original film was inventive for a horror film, especially since it could've relied on an abundance of violence or family drama like other contemporary films of its genre. Despite being rated PG-13 and having a high-concept premise, it was able to retain its scare factor when it needed, and it appears the sequel will follow suit.
How to Train Your Dragon: The Hidden World (February 22)

Hiccup and Toothless have established the world's first Viking-dragon utopia, where man and beast harmoniously co-exist with one another. However, they soon discover a secretive world wherein lies a tyrant ruler whose main purpose is to tear down everything they helped build.
Why it's worth your time: This is Dreamworks Animation's prized treasure, as it has doled out two smash-hit films the likes of which can only be compared to Shrek in its heyday. Booked as the final chapter of the How to Train Your Dragon trilogy, we can expect to see a budding romance with Toothless and his blue-eyes white dragon counterpart, and possible tragic death in Hiccup himself.
TV
Boomerang (February 12, BET)

The series will center around "a successful executive who finds that his lifestyle choices have turned back on him when his new boss turns out to be a bigger deviant that he is," and is described as exploring "contemporary workplace dynamics, including the changing role of gender, office politics, relationships and the conflicts between Generation X and millennials."
Why it's worth your time: We're not going to lie, most of our anticipation of this stems from our love of the original film starring Eddie Murphy. We're hoping the series can leave its mark in the same fashion as the original film did, shepherding a cast of black actors that will come to define the cinema landscape in the years to come.
Weird City (February 13, YouTube Premium)

Weird City is a dystopian-based anthology comedy centered around two groups of people, the Above the Line (The Haves) and Below the Line (The Have Nots), both of which are ruled by Dr. Negari. The city Weird, where the show takes place, also has no middle class.
Why it's worth your time: Each episode will focus on topics relevant to today's political landscape, and with Jordan Peele helming the ship we expect the series to be insightful, poignant, and hilarious.
Doom Patrol (February 15, DC Universe)

Set after the events of Titans, character Robotman, Negative Man, Elasti-Woman, Crazy Jane, and Dr. Niles Caulder/The Chief receive a life-changing mission from Cyborg that they cannot ignore.
Why it's worth your time: Titans ended up being better than most thought it'd be—and with the success of Young Justice season 3—we're looking forward to Doom Patrol, DC Universe's next outing. Especially since the classic superhero group was introduced midway through Titans earlier this fall.
Lorena (February 15, Amazon Prime)

This docuseries centers around the famed true crime scandal of Lorena Bobbitt and will reexamine the 1993 case of her infamously cutting off her abusive husband's penis. The four-part series will include exclusive interviews and new details surrounding the case, alongside a new light on the headline-making scandal.
Why it's worth your time: Here's Jordan Peele's second executive produced title on the list, which appears like an out-of-the-box project for him at first glance. The series ought to offer an interesting take on how society handled the horrific news of spousal abuse at the time, and how it parallels similar issues we face today in the age of feverous social media reactions. Expect extensive social commentary from both the past and present.
The Umbrella Academy (February 15, Netflix)

The series sees a group of super-powered children adopted by a billionaire industrialist attempting to make a team that'll save the world. However, instead of growing up into heroes, they're burdened by their idiosyncratic upbringing.
Why it's worth your time: This 10-episode series is based on a fantastic graphic novel by Gerard Way and artist Gabriel Bá that recreated the X-Men premise. But unlike all the X-Men films, it looks to be embracing its comic book origin, down to the pulpy action and plot.
Desus & Mero (February 22, Showtime)

The Brand is strong as Bronx-based duo Desus & Mero take their act from Viceland over to Showtime. Check out all the hot takes and social commentary that's been sorely missed will return this month.
Why it's worth your time: It's Desus & Mero with a bigger budget and a bigger network backing them. The culture has missed their voices, but will that same energy transfer over to the premium network?
Click here to view full gallery at HYPEBEAST
Source: HYPEBEAST