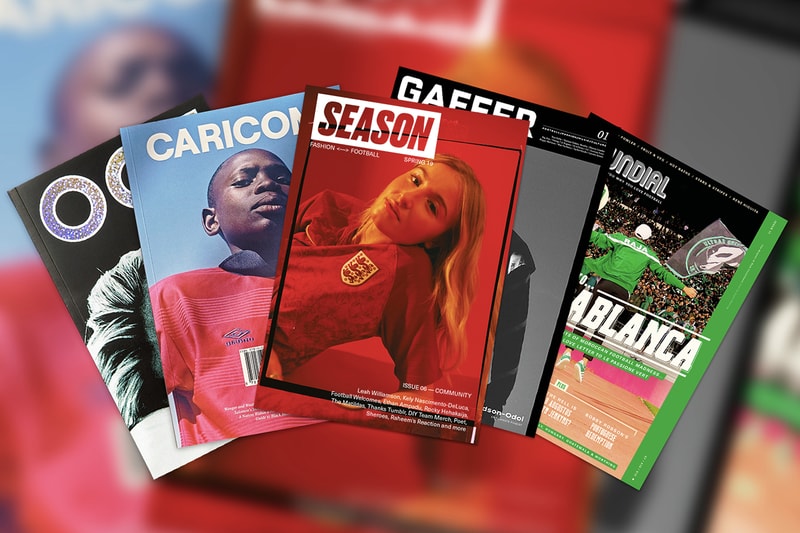 Football journalism can often be staid and dull, caught up in analysis of heat maps and second-hand transfer rumors. Coinciding with the rise of independent media, a number of publications are challenging this status quo and offering new perspectives on the sport. This new wave ranges from Mundial and its coverage of fan culture to publications like CARICOM and SEASON Zine that shine a light on underrepresented communities within football. We've pulled together the best UK-based independent football magazines for you to subscribe to.
Mundial
Since it was launched as a World Cup-exclusive back in 2014, Mundial has established itself as one of the UK's premier football publications, notching up 17 issues since then. The magazine spotlights the side of football that goes beyond just match results and big name signings, focusing on fans and the surrounding culture. As well as football itself, the magazine also covers everything from music, fashion and food, although all of it is seen through the prism of proper fans writing about football.
Caricom
Currently two issues in, CARICOM is a publication that looks at the intersection between football and black culture. The magazine was initially founded back in 2017, as the team behind it sought to tell the underrepresented stories of black fans, footballers and others involved in the game. The most recent issue featured an interview with ex-Chelsea striker Solomon Kalou, an article about the best Caribbean players to appear in the Premier League and came with a supplement titled "The CARICOM Guide to Black Male Mental Health."
Season Zine
Launched in 2016 by Felicia Pennant, SEASON Zine covers both football and fashion from a female fan's perspective. According to Pennant, the magazine was founded "to counter the male, pale and sometimes stale state of modern football culture." As well as running a magazine, SEASON also focuses on community, and frequently hosts events designed to bring together its audience. The magazine "tells stories that showcase, celebrate and empower female fans authentically, while unpacking important issues." The recently-released sixth issue features Arsenal and England Lionesses defender Leah Williamson on the cover.
OOF
Biannual magazine OOF focuses on the relationship between art and football. In the three issues that have been released to date, the magazine has looked at the work of artists including Juergen Teller, Chris Ofili, Rosie Wylie and Sam Taylor-Johnson, artists chosen because they "peel back the layers of meaning in this obsessive sport, and help us make sense of something bigger and more ungraspable in the process." As well as the magazine, OOF has further explored the relationship between art by curating football-focused exhibitions and events.
Gaffer
Issue one of Gaffer — which released in February this year — spotlighted the best English rising stars across football and music. This saw Chelsea's Callum Hudson-Odoi and Arsenal's Emile Smith-Rowe alongside artists including Yxng Bane, Siobhan Bell and Kojo Funds. The first issue also featured the next generation of England's Women's team and a range of other players on the threshold of making their full international debut.
Click here to view full gallery at HYPEBEAST