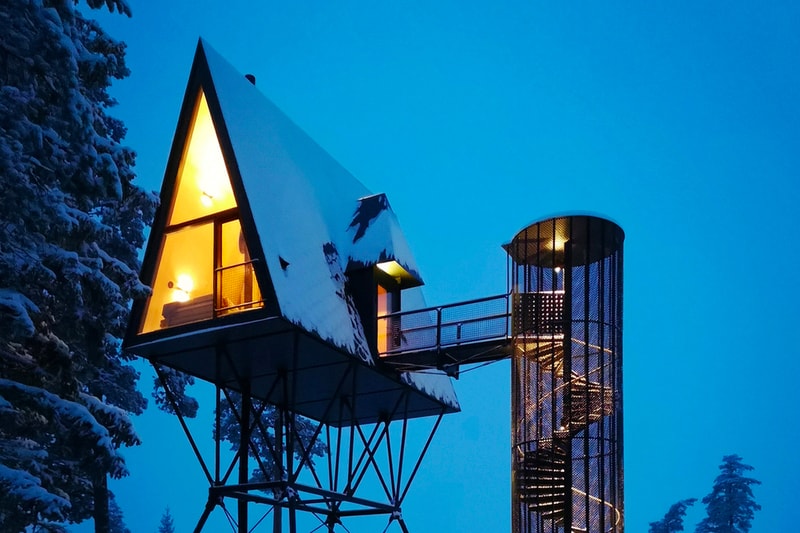 Commissioned by PAN-Tretopphytter, architect Espen Surnevik set out to create a set of cabins in the Norwegian forest of Finnskogen that not only complimented the forest and the surrounding colors but he also wanted a structure that could tell of the rich history of the land.
Inspired by fire lookout towers (towers used to spot smoke from a distance) and A-frame cabins, the PAN-Cabins sits 8-meters above ground and are securely fixed to steel legs which are driven 6-meters into the bedrock in order to withstand all wind loads. The cabins are roughly 40-square-meters in size (5.4m in height, 8.4m in length, and 3.7m in width), and can sleep up to six. The cabins have full electric heating in the floors, a fireplace, toilet/shower, and a small kitchen.
The entrance pathway, or bridge, was largely inspired by the work of the late Swedish-speaking Finnish author, novelist, painter, and illustrator, Tove Jansson. Espen Surnevik comments "For me, it represents a genuine feeling of how the Nordic individual relates to the long distances between settlements in rural Scandinavia, the loneliness, the dark winters, and the cold climate. Jansson puts words and illustrations to the illusions that are created inside the mind, of fear and the worm security, that occurs in us all when in contact with the bear elements of the Nordic nature." A prime example of this can be found in Jansson's Moominland Midwinter (1957), where small buildings become part of a "big question." As Surnevik puts it, "A bridge leads to the building and brings the entrance-sequence into a ritualic journey which gives you time to reflect."
Check out the stunning photos of the Pan-Cabins above, all captured by architectural photographer Rasmus Norlander.
In other design news, Evian unveils its first Virgil Abloh-designed water bottle.
Click here to view full gallery at HYPEBEAST
Source: HYPEBEAST