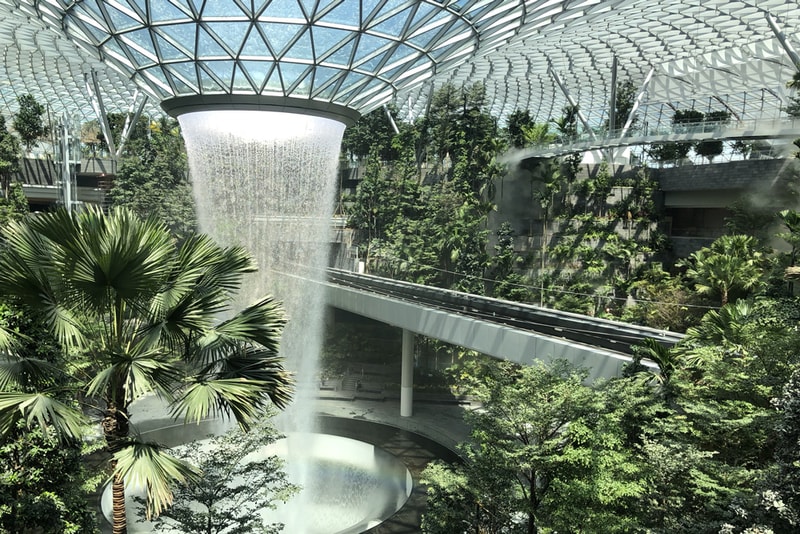 After nabbing top honors at the 2019 "Asia's 50 Best Restaurants" awards earlier this week, Singapore continues to dominate as a global cultural leader by landing at number one on this year's "Skytrax World's Best Airports" list for its sparkling Changi hub. It marks an impressive seventh consecutive time that the location has claimed the crown, with the honor having been doled out on Wednesday at the Passenger Terminal Expo in London.
"To be voted the World's Best Airport for the seventh consecutive year is a truly fabulous achievement for Changi Airport, and this award continues to underline the airport's popularity with international air travelers," stated Edward Plaisted, CEO of Skytrax, which collects survey data from airport customers around the world to determine the winners.
Singapore Changi Airport boasts a rooftop swimming pool, several art installations and wildlife gardens, a gallery devoted to Singapore's Peranakan community, two 24-hour movie theaters, and a number of luxury shops and fine dining establishments, among other amenities. The location plans to upgrade even further next month with the opening of Jewel Changi, a 10-story division connected to terminal one that will house more attractions, including over 280 retailers and a hotel. Jewel will also debut the highly-anticipated new Rain Vortex, set to be the world's tallest indoor waterfall at 40 meters high.
Changi was also bestowed the title for best airport hotel for its Crowne Plaza accommodation. Meanwhile, Tokyo International Airport (Haneda) came in second overall and took home additional accolades for "World's Best Domestic Airport" and "World's Cleanest Airport." Three Japanese airports in total landed in the top 10, while there were six from Asia altogether —the balance of awards went to ports in Doha, Qatar, Munich, London and Zurich.
Check out the top 10 airports on this year's list by scrolling below, and if visiting the luxurious Singapore locale, look into the historical East Coast tour as a starting point.
For more travel news, read about the most expensive city in the world.
"Skytrax World Airport Awards" 2019:
1. Singapore Changi Airport — Singapore
2. Tokyo International Airport (Haneda) — Tokyo
3. Incheon International Airport — Seoul, South Korea
4. Hamad International Airport — Doha, Qatar
5. Hong Kong International Airport — Hong Kong
6. Central Japan International Airport — Bay of Ise, Japan
7. Munich Airport — Munich
8. London Heathrow Airport — London
9. Narita International Airport — Tokyo
10. Zurich Airport — Zurich
Click here to view full gallery at HYPEBEAST