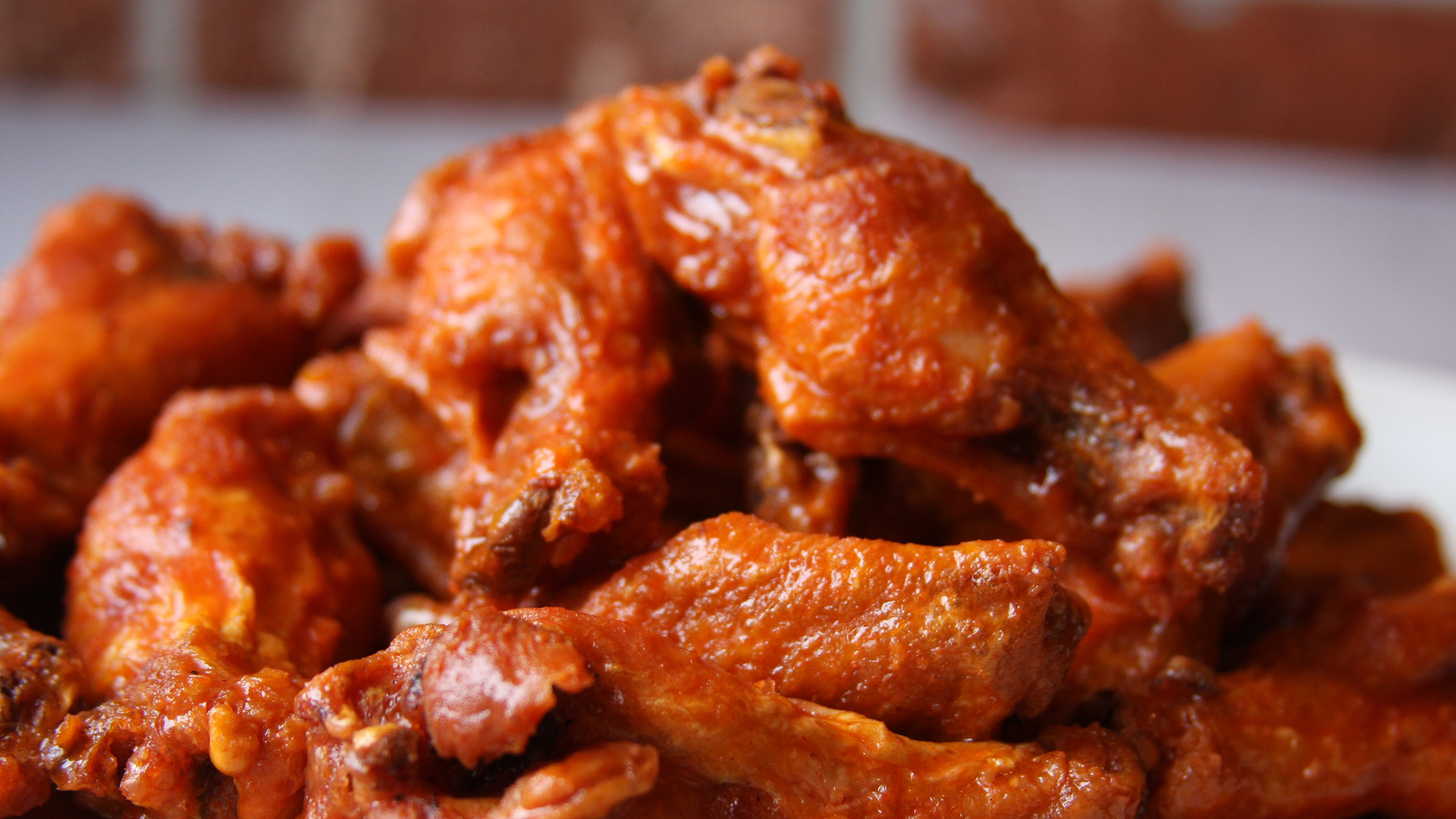 As any wing fanatic knows, it doesn't need to be football season to throw back some cold ones, order a dozen wings and messy your face and hands in the name of all that is holy and sauced-up. But July 29 might as well be the Super Bowl for those who crave the oft-fried snack or meal, because there's a new food festival in town and it's all about the chicken wing.
Remember the Angeleno who ate a burger a day last year? Well he's back, and his specials-based app, Off the Menu Club, is throwing the city's first unlimited-wings fest, complete with off-menu items and the originator of the Buffalo wing, plus beer, custom cocktails, gallons of Hidden Valley ranch dressing, DJ sets, wet wipes galore and literal buckets of some of L.A.'s best chicken wings.
"Each one of my vendors brings a special element to it," says Lawrence Longo, the event's founder. "There's Italian, Vietnamese, BBQ, the [Buffalo] inventor Anchor Bar. They're curated based on the wing, having a wide variety of selection, and people I want to work with." 
Held auspiciously on National Wing Day, the first annual Wing Fest hits L.A. with some big names, including Highland Park wing mecca the Greyhound; a collab between West Third's premier BBQ spot, SLAB, and WeHo upscale sports bar 40 Love; and the host of the event, the Sunset Strip's '50s-themed diner, Mel's Drive-In (which just so happens to be a wing favorite of Kanye West's, if that means anything).  
Tickets start at $45 for wings only, then bump to $75 with a couple of included drinks, and finally, run $135 for early entry and unlimited everything, plus valet parking and access to the VIP lounge (more on that later). Sure, the wings are bottomless and you'll be stopping by vendor booths to get one or two at a time—and then dropping the wings into your own personal bucket, so guard it with your life—but some of these wings are worth beelining. Here's our guide to the must-try bites at Wing Fest to help you plan your attack.
We can all thank New York's Buffalo institution for giving us, well, the institution that is the Buffalo chicken wing. One fateful night in 1964, co-owner Teressa Bellissimo allegedly whipped up some deep-fried chicken wings and tossed them in a spicy sauce for her son and his friends—needless to say, the Buffalo chicken wing took off, and the salty, tangy, hot-sauce–coated wing is now synonymous with both the food and its origin city.
The closest Anchor Bar to L.A. is unfortunately San Antonio, but the chain's making the trek all the way to California for Wing Fest. Not only can you try the Buffalo originator—long hailed as one of the best wings in the world—but also their chipotle BBQ flavor, their sweet-and-spicy Korean wing (made with gochujang and brown sugar), and their habanero wing, which involves Hidden Valley Ranch powder and ground habanero pepper in the dry-rub seasoning.
Banh Oui
It's easy to get distracted by Banh Oui's killer sandwiches (we mean, have you tried that sesame-crusted chicken option?), but their wings are equally deserving of praise. Co-owners Casey Felton and Armen Piskoulian will be slinging their Vietnamese-inspired sticky caramel wings at the fest, which are some of the messiest, drippiest and most sweet-savory morsels of fried chicken in all of L.A.  
Vietnamese fish-sauce caramel gets spiked with chilies and lime juice, creating a rich but slightly tart sauce that clings to every crevice of the rice-flour–fried wings. The sticky sauce also involves sambal and pickled cherry peppers, which provide some sweet and sour to the gluten-free treat, and it doesn't stop there: The chefs sprinkle it all with thin slices of house-pickled Fresno chilies, plus a tumble of mint and cilantro for an herbaceous, refreshing finish. Just remember: Keep those wet wipes handy.
If you thought a vegetable's place is only on the side of the plate at a wing festival, you've clearly never tried the vegan variety from Crossroads. Hear us out: Tal Ronnen's trailblazing Melrose bistro serves crispy, crunchy, craveable maitake mushrooms tossed in an unbelievably butter-free Buffalo sauce that tastes just as rich as its dairy- and meat-packed inspiration.
Regularly only on the restaurant's late-night menu, the mushrooms get torn into thick, meaty petals before taking a dip in a rice flour and potato starch tempura-style batter, and a fryer full of rice bran oil. From there, it's all about the vegan Buffalo sauce, which swaps out the usual butter for coconut oil. ("Healthy" wings are hard to come by, but this is as close as you're going to get.) But wait, there's more: You can't have Buffalo wings without a cooling dressing, and Crossroads will be at the fest with both a vegan blue "cheese" take and a vegan ranch to spoil us with options.
One of the world's most elite Chinese restaurants is going elite at Wing Fest, but don't let that stop you. The global favorite of the likes of Andy Warhol and Mick Jagger will be slinging a handful of special wings in the VIP area, but if you don't want to shell out the big bucks, there's still hope: As this is an Off the Menu Club event, you can sign up for the app—where the monthly $20 subscription gets you "free" off-menu items at a range of L.A. restaurants—and members get access to MR CHOW's wings, plus early entry. (And psst: If you use the code WING when you sign up, your first month is $10—cheaper than a VIP pass for sure.) 
Once you're in VIP, you can taste three wing varieties from the iconic restaurant. Finalized details are forthcoming on all three options, but one variety will most likely be a stuffed wing, while another will probably be a duck confit wing. Whatever they are, we want them. 
Nancy Silverton's famed pizzeria is home to some of L.A.'s most iconic dishes and desserts (butterscotch budino, anyone?), so we can understand glossing over the wood-fired double wings—of course, to those in the know, they're iconic in their own right. Just ask anyone about the time Pizzeria Mozza removed them from the menu.
"There was a social-media riot," chef de cuisine Herbert Yuen laughs. "Our guests were so fond of them that they were mad we took them off, so a week later we put them back on. It only took a week; a lot of our guests would woefully explain how sad they were."
They're the only whole, attached wings being served at the fest, giving you twice the meat of the other vendors. Done alla diavola—"of the devil"—this variety's got a spicy, earthy kick, but it's nothing too hot: Each wing and drumette get salted and then dusted with a blend of cayenne pepper, smoked paprika and black pepper before hitting the oven with a spread of onions. They're then finished in the restaurant's wood-fired oven, and brightened with a squeeze of lemon juice. Did these wings require a special permit for the wood-burning oven, and did they also require extra event insurance? You betcha. Are they worth it? Absolutely. 
Eat your wing-loving heart out at Wing Fest on July 29, held at the West Hollywood Mel's Drive-In, located at 8585 Sunset Blvd. The event runs from 6:30 to 10:30pm; tickets are on sale now.