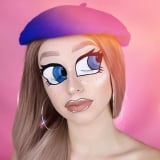 If Instagram existed in 2001, photos of Bratz dolls would have filled our Explore feeds. They had street style that was always on-trend, experimented with bold shades of eye shadow, and wore the most attention-grabbing, high-shine lip gloss.
Maybe that's what revived the trend of recreating the Bratz-inspired beauty looks with the hashtag "#BratzChallenge." The pictures range from faces painted with colors inspired by the authentic doll, to full-on illustrations of its enlarged eyes and lips. To some, the looks may provoke a pleasant sense of nostalgia, while others may ask why this is a trend (considering the exaggerated features don't quite fit on, erm, human faces).
Ahead, see people take on the #BratzChallenge.
Source: POPSUGAR Beauty