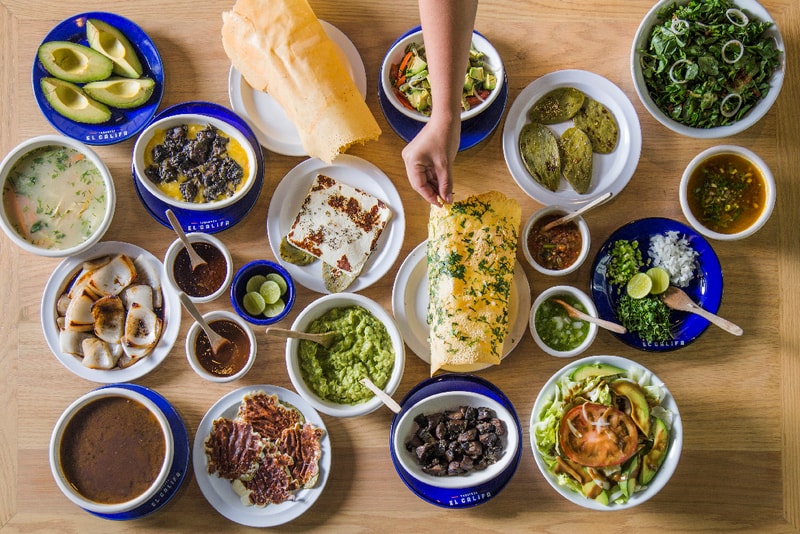 Understatement alert: There are many reasons to love Mexico City. It has been said that Mexico City's museum count is one of the largest in the world. As of the past few years, a handful of publications have stated that Mexico City is "the new Berlin," which has provoked many a passionate op-ed. One thing that we all can agree on is that Mexico City is a phenomenal foodie utopia. Its electric culinary scene has it all: quirky, hip-as-hell hotspots; hole-in-the-wall, homey joints that serve the tasty and the traditional; high-end eateries whose innovative dishes are just as head-turning as the restaurants' Instagram-post-perfection design features.
Care to dine on a gigantic balcony that boasts the most cinematic of city views? How about eating inside a majestic mansion? We realize that the options are endless and potentially overwhelming, so we're here to help. Read on for some of our favorite restaurants that you'll find and just might love in Mexico's sprawling capital. You're welcome.
Aldo C Gracia
If you understand Spanish, you already have an idea of what to expect before entering El Balcón del Zócalo. The restaurant's name translates to "the balcony of Zócalo." In other words, the local-favorite spot offers a sublime panorama of Zócalo, which is the common name for the main square in Centro Histórico. The iconic star of the view, the Metropolitan Cathedral, is Instagram-posting gold, but, thankfully, so is what's on the menu.
El Balcón del Zócalo
El Balcón del Zócalo
There's classic guacamole, artfully created by a server tableside, as well as several beef- and seafood-centered dishes. Try each and every tostada – no one's judging. And then there's what's likely compelling for a first-time CDMX visitor: Fava beans tostada with buttered escamoles. Escamole is what's known as Mexican caviar. The delicacy, native to Central Mexico, resembles a sea of pine nuts, but in reality, you're eating ant larvae. They're delicious and pricey.
Don't write off El Balcón del Zócalo as an intimidatingly upscale-feeling restaurant. It's fun, fab and friendly. There's just something about a cigarette-smoke breeze via groups of friends catching up whilst sipping on cocktails and, of course, that stunning view. Make sure to save room for the dragon fruit and raspberry cardamom ice cream, and stay for the sunset, duh.
El Balcón del Zócalo
El Balcón del Zócalo
Address: Av. 5 de Mayo 61, Centro Histórico de la Cdad. de México, Centro, 06000 Mexicali, CDMX, Mexico
Blanco Colima is designed to be a home away from home, if your definition of "home" is a restored Porfirian-era mansion tucked away in the historic Colonia Roma. In terms of aesthetics, the setting blends upscale, enchanting and minimal and makes it majorly work. Think: lots of marble, black and white mosaics and stained glass. You'll quickly learn once opening those mansion doors that this isn't your typical restaurant. Just ask the owners, who describe Blanco Colima as a "point of meeting, gastronomy and culture."
Fabula Films
Aldo C Gracia
Fabula Films
On the top floor, you can enjoy live performances, international DJ sets, film screenings, debates, workshops and exhibitions from emerging artists. As for the restaurant, book in advance a table for lunch, because the charming room will surely be packed with the perma-stylish. Don't lose it if the cozy balcony isn't available. There are floor-to-ceiling, often cracked-open windows that welcome amazing sunlight, and that'll make your food posts even prettier.
There's something for everyone on the menu. A few go-for-it dishes include the bistro burger with foie gras, caramelized onions, gruyere and bacon, an arugula salad with beet and burrata, bathed with balsamic vinegar reduction and truffle oil and the fish sopes al pastor with pineapple, avocado and cilantro. Meat lovers, absolutely grab some ribeye tacos at the open-air bar. Vegans can order from the vegetarian menu but will have to request the kitchen to hold the cheese. Stop by the macaron boutique on your way out. You'll never want to leave this gem, but you'll have to by midnight.
Aldo C Gracia
Aldo C Gracia
Address: Colima 168, Roma Nte., 06700 Ciudad de México, CDMX, Mexico
Question: Where have all the cool kids gone? Answer: They're still in Roma at Lalo!, a restaurant, mega-popular for its breakfast. The exclamation point used in the restaurant's name is totally on-point when it comes to Lalo!'s interior and overall vibe. Inside the spirited spot, you'll find a chaotic wall mural of colorful cartoon animals created by Belgium street artist, David Derop, also known as Bué the Warrior, a gigantic locals-packed communal table, hanging light bulbs and lots of outlandish black-and-white tiles.
Lalo!
Lalo!
When taking a look at Lalo!'s menu, nothing seems so outlandish, but rather, typical breakfast fare. Lalo! nails it in the classic-Mexican-breakfast-staples department. The chilaquiles and huevos rancheros are to-die-for. Also on the menu are french toast, granola, eggs, pancakes, acai bowls and more. It's all courtesy of celebrated chef Eduardo García, who also runs Maximo just across the street. If you enjoy escamoles in your eggs then the huevo con escamoles is definitely for you.
There are quality coffee, pastries and juices as well as the chai latte, the raspberry custard pie and the cactus juice. If you forget to set your alarm and the wait time is insane, don't freak out – Lalo! transforms into a pizzeria in the afternoon, which is known for its mortadella pistachio pizza. We bet you'll want to revisit Lalo! a few more times, anyway.
Lalo!
Lalo!
Lalo!
Address: Zacatecas 173, Roma Nte., 06700 Ciudad de México, CDMX, Mexico
Dulce Patria sort of feels like it's designed by your artsy, loud, sage-burning, kind-of-nuts-but-you-love-her-so-damn-much aunt. It's also very pink – pink spiraling staircase, pink carpeted floors, pink cushioned booths, pink flower arrangements, pink desserts, pink cocktails with pink petals in pink glassware.
Opened in 2011 in the swanky Polanco, Dulce Patria aptly translates to "sweet homeland," though its meaning goes deeper. For owner, lauded chef and Top Chef Mexico judge Martha Ortiz, the avant-garde restaurant and its menu is a celebration of women, political and artistic expression and a rebuttal against the inequity she's faced in the restaurant industry in her county. In an interview, Ortiz said, "Women are the owners of Mexican food." Ortiz's passion with a punk-punch isn't only felt in the 90-seat, high-energy venue. It's boldly reflected in each and every dish and drink. She's big on floral fragrances and fresh herbs, and the proof is in traditional dishes getting the innovative remix treatment.
Guacamole is sprinkled with pomegranate seed. A margarita called "She Loves Me, She Does Not Love Me" is made with guanabana and coconut milk and served in a martini glass replete with pink petals adorning the glass's edge. There's a slew of colorful quesadillas to choose from but go for the goat-cheese-stuffed quesadillas de huitlacoche. Huitlacoche is a flavorful fungus that grows on corn and is considered a delicacy in Mexico. The fun surprises are never-ending. Sweets are displayed on a toy ferris wheel. Water is hibiscus-flavored. Homemade breads are violet-infused. Everything is a crazily colorful and thoughtfully delicious work of art at Dulce Patria. This one's really, really a must.
Address: Anatole France 100, Polanco, Polanco III Secc, 11560 Ciudad de México, CDMX, Mexico
If you've asked for CDMX restaurant recommendations on Facebook, chances are you definitely received a "Contramar!!!!" comment, especially if you've got friends in the fashion world. It's an incredibly stylish, white tablecloth, floor-to-ceiling windows, aquatic-themed murals kind of dining experience, recommended not long ago in Vanity Fair by Salma Hayek.
Contramar
This isn't an all hype, no bite situation though. Contramar is a Mexico City institution at this point, opened twenty years ago by big-time chef, Gabriela Cámara. The reviews and Instagram posts don't lie. The seafood-focused menu is seriously divine, and dishes are gorgeously presented. You cannot go wrong ordering the tuna tostadas and the octopus, black beans, cilantro and chipotle mayo tostada. You have to order its house specialty, Pescado a la talla. Translation: A whole grilled fish. It's served with black beans and its freakishly flavorful homemade sauce. You'll be oh-so-right ordering a dessert and many a mezcal, obviously.
Aside from the freshest of seafood, expect glamorous locals and in-the-know tourists to pack the massive space, especially during lunch hour. We promise that it's worth the wait, but you really should make a reservation. Salma says.
Contramar
Contramar
Address: Calle de Durango 200, Roma Nte., 06700 Cuauhtémoc, CDMX, Mexico
Sometimes you just want to eat quality Italian food in a majestic mini-mansion. Located in the crowded-with-buzzed-about dining neighborhood of Roma, Rosetta is perhaps the most beautiful of them all. On arrival, you might presume that the interior will be elegantly grandiose, but don't judge a book by its cover. With sky-scraper high ceilings, the sun-drenched restaurant festooned with gorgeous greenery feels peaceful, homey and borderline casual, though quite romantic in the evening.
The changing-daily menu from chef and owner Elena Reygadas includes fennel salad and burrata for starters, and pasta, risottos and fish for the main courses. Do not leave without ordering Reygadas' in-house-made bread and pastries, particularly the cardamom bun and guava pastry. If you're craving more carbs, stop by Reygada's super-popular bakery, La Panadería.
Rosetta
Rosetta
Rosetta
Rosetta
Rosetta
Rosetta
Rosetta
Address: Colima 166, Roma Nte., 06700 Ciudad de México, CDMX, Mexico
Want somewhere with local, cute and casual vibes that serves up inexpensive, traditional mouth-water-inducing dishes? Look no further than the aptly perma-packed El Parnita, located in Roma. Unless you have a food allergy or you're a non-meat or non-dairy consumer, then you'll love everything on the no-frills joint's menu.
There are tortas, salads, quesadillas, killer micheladas, desserts and many, many tacos. Some say these are the best non-street vendor tacos in CDMX, with nearly twenty options to choose from. El Parnita's slow-cooked pork, avocado and purple onion Viajero Parnita tacos are perhaps the most popular picks, but we also highly suggest ordering the breaded shrimp, beans, guacamole and cheese Carmelita. Also make sure to make a reservation.
Address: Av. Yucatan 84, Roma Nte., 06700 Ciudad de México, CDMX, Mexico
After hitting up all of the aforementioned amazing restaurants, you might find yourself low on money. Arguably the best and most popular taqueria chain in Mexico City is El Califa. Just ask the locals who especially hit up El Califa post-clubbing since all locations are open until 4AM.
The staples which include tacos, quesadillas, chips and salsa and guacamole are authentic, fantastic and inexpensive. The star of the menu is El Califa's famous costra – a tortilla smothered in crisped chihuahua and golden gouda cheese filled with the meat of your preference. Do not get us started on the array of desserts from a corn cake with macadamia ice cream to a cream cheese-filled tart topped with sugar-coated figs. Holy heaven!
El Califa
El Califa
El Califa
Address: Av. Paseo de la Reforma 382, Cuauhtémoc, 06600 Ciudad de México, CDMX, Mexico
(Multiple locations)
Click here to view full gallery at HYPEBAE