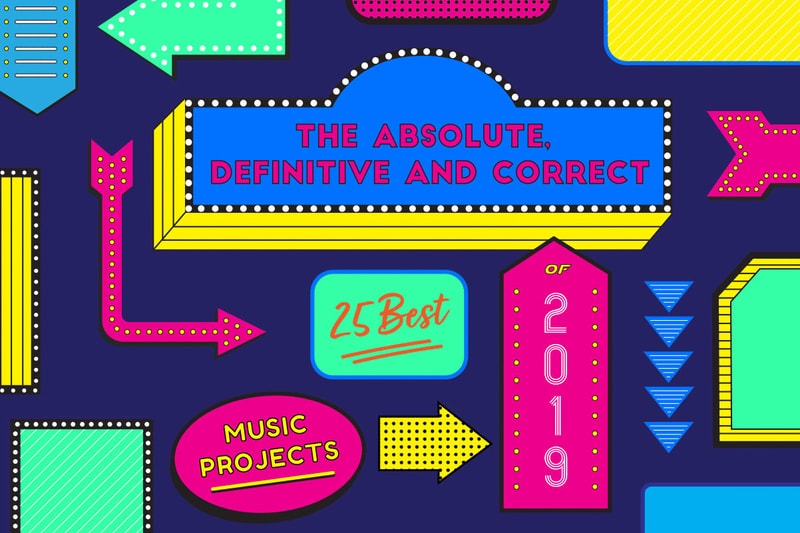 With 2019 already more than halfway over, it feels like the year is flying by. At the start of the year, some of the most anticipated drops were new albums from James Blake, Maggie Rogers, Sharon Van Etten, and Toro y Moi. And the hype has only increased as Ariana Grande, less than a year after dropping Sweetener, released Thank U, Next in February after the album's title track became a massive hit. Solange made a huge splash with When I Come Home in March, the follow-up to her critically-acclaimed 2016 project A Seat at the Table. After a six-year hiatus, Vampire Weekend returned to the scene with their impressive Father of the Bride album in May. However, the best aspect of the year was the leap in the quality we saw from a number of younger artists, such as Maxo Kream, Ari Lennox, and Rico Nasty. 
Now more than ever, music fans can expect anywhere between 10 and 20 new bodies of work to drop each week. It may feel overwhelming but to help you make sense of it all we've decided to round up, in no specific order, the best projects of 2019 thus far.
Editor's note: The cut-off date for albums eligible for contention was July 19, 2018.
Benny The Butcher – The Plugs I Met
Black Soprano Family
Benny The Butcher put out the best rap album of the year. From start to finish, The Plugs I Met is lyricism at its highest level. Every verse hits you harder than the coldest breeze in Buffalo and the EP boasts some of the best verse you'll here in 2019, period.
Freddie Gibbs & Madlib – Bandana
KEEP COOL / RCA RECORDS / MADLIB INVAZION / ESGN
Simply put, this is the easiest pick for this year's hip-hop homerun; think of this as 2019's first contender for "instant classic." Stunningly-hard beats paired with equally-heavy rhymes — Bandana represents what makes the hip-hop genre so great in the first place. As 2019 stands now, Bandana serves as this year's strongest contender for Album of the Year.
Maxo Kream – Brandon Banks
BIG PERSONA / 88 CLASSIC / RCA RECORDS
Maxo Kream will go from a critically-favored underground king to a Southern star when his major label debut album, Brandon Banks, makes its rounds. Everything here is elevated; it often produces apprehension in critics when a below-the-radar favorite gets major league money, but this worked out beautifully. Kream's dynamic storytelling ability gets matched with elite production, making a complete LP that's both entertaining and lyrically enriching.
GoldLink – Diaspora
BLACK BUTTER RECORDS / SQUAAASH CLUB / RCA RECORDS
GoldLink takes a trek across the world with his newest project Diaspora, showcasing the many different forms of Black music. The entire album is like a melting pot of Black culture, with influences from R&B, rap, afrobeats, reggae, pop and everything in between.
Ari Lennox – Shea Butter Baby
Dreamville / Intercope
Ari Lennox's Shea Butter Baby should win a Grammy. The sultry soul singer of Dreamville is the best friend you need to help you heal, weaving funk and soul into a therapeutic body of work that's one of the most complete projects of the year.
Megan Thee Stallion – Fever
1501 Certified / 300 Entertainment
No new artist in hip-hop has made a bigger impact this year than Megan Thee Stallion, so much so that she's put in a trademark for her phrase "Hot Girl Summer." Hip-hop fans already knew she could rap, but Fever exhibits the unapologetic style and uncompromising confidence that makes her a star. 
Young Nudy x Pi'erre Bourne – Sli'merre
PARADISE EAST RECORDS
Young Nudy takes a huge leap with Sli'merre thanks to the insanely great production of Pi'erre Bourne, and the young ATL rappers' continued growth in songwriting. The scary thing is that the best song off the tape — and it could be argued is the best song of 2019 thus far — is not even officially out. Please, for the love of God, can the sample for "Pissy Pamper" get cleared before the summer is out? 
Tyler, The Creator – IGOR
COLUMBIA RECORDS
The evolution of Tyler, The Creator's musical career has been one of the most fascinating things to watch of the last decade. His latest effort IGOR is a soul-baring LP that features some of Tyler's most ambitious work to-date, and as a whole feels like his most confident. It's a masterpiece — all hail happy, adult Tyler. 
Solange – When I Get Home
Saint Records / Columbia Records
Solange returns to her Houston routes with When I Get Home, a compelling, spiritually-enriching album that feels like a powerful affirmation. Honestly, just play this album if you're feeling lost and let it be your guiding light to tranquility. 
Rico Nasty and Kenny Beats – Anger Management
Sugar Trap
Rico Nasty and Kenny Beats seamlessly mix their creative personalities on Anger Management, an eight-track run of short-but-powerful sonic bursts. With Rico Nasty's emphatic, raucous flows propelling the project, Kenny Beats provides the perfect platform for her riot-inciting sound. When it comes to genre-breaking hip-hop, Anger Management sets the gold standard.
Dave – Psychodrama
Dave / Neighbourhood Recordings
Psychodrama may be one of the most important rap albums to ever come out of the UK, having debuted at No. 1 on the charts across the pond. Dave's newest project is an open self-therapy session for himself, as he dissects his past while figuring out his identity. An impressive display of lyricism and introspective wordplay, this work sets Santan Dave apart from the new class of British MCs making noise such as AJ Tracey and Octavian.
Toro y Moi – Outer Peace
CARPARK RECORDS
Chaz Bundick has been in the music game for well over a decade, and he continues to reach new heights of artistry and creativity under his beloved Toro y Moi moniker. For Toro y Moi's sixth full-length studio album, Bundick goes for smooth, funk-filled, spacious grooves, aiming for the dancefloor and expressing a sweeping range of styles.
Boogie – Everything's for Sale
SHADY RECORDS / INTERSCOPE RECORDS
Boogie's Everything's for Sale did come out at the top of the year, but it still stands tall as one of the most complete bodies of work this year. He's still rapping about how his exes have hurt him, but his penchant for complete vulnerability makes his records so engrossing that it's hard to press stop — even though it may hit a little close to home for those with similar experience. 
Steve Lacy – Apollo XXI
3QTR
Everything about Steve Lacy's Apollo XXI album makes you feel good. It's like you turn into Pootie Tang and as long as the record is on, you're the coolest person in the world. Its blend of lo-fi pop, R&B, and hip-hop displays Lacy's abundance of musical talent.
Flying Lotus – Flamagra
Warp
Continuing to evolve his unrivaled, inimitable sound and style, Flying Lotus delivers one of his strongest offerings yet with Flamagra. Over the course of 67 minutes and 27 tracks, the Brainfeeder architect delivers a psychedelically-warped cosmic opus, led by inspirational cues from blues, acid-jazz, funk, hip-hop and electronic music.
Sada Baby – Bartier Bounty
Asylum
For his debut studio album, Sada Baby leads the way for Detroit's incredible contemporary rap renaissance. Notably, Bartier Bounty encapsulates and blends together everything that's extraordinary about the Motor City's modern hip-hop movement, complete with Sada Baby's unique touch and charismatic sonic flavor.
Denzel Curry – ZUU
PH / Loma Vista
Denzel Curry has been at the forefront of underground hip-hop and the genre's many unique trends for several years now, carrying the torch for Florida rap before its sweeping, SoundCloud-propelled takeover. On his latest LP, Denzel Curry continues to expand his creativity's sonic reach and charts another level of his evolution as an artist, incorporating new, versatile flows and revealing more aspects of his personal life and back-story.
Polo G – Die a Legend
COLUMBIA RECORDS
As the main artist carrying the torch for Chicago's new, melodic sound and style, Polo G delivers his sub-genre's first magnum opus with Die a Legend. Pain and heartbreak clash with many trials and tribulations on Polo G's latest full-length, with his signature sing-song rap-crooning bringing his street-seasoned narrative to life. At 14 tracks, the expansive project provides a well-rounded glimpse at where Chicago's current rap scene currently stands.
James Blake – Assume Form
Republic Records
Trading his darker-toned signature style for something brighter and more alive, James Blakes' latest full-length release delivers the most vibrant spin on his singer-songwriter craft. Taking several steps outside of his traditional field, Blake showcases a more vibrant and livelier sound. Blake also manages to deliver a very intimate version of his artistic self as well, ensuring his vocals are as raw and unfiltered as ever.
MIKE – Tears of Joy
10k
Coming out of Brooklyn, the incredibly-talented up-and-coming emcee MIKE is the type of lyricist that makes his hometown proud. However, with his unique twists on flow and beat-selection, the young rapper stands out like like-minded emcees Earl Sweatshirt and Mach-Hommy. This is the sort of dense, unapologetically-experimental rap that transforms the genre into high art. As its name implies, Tears of Joy is also a very personal, emotional effort, with MIKE channeling recent tragedies to fuel his bars.
Big Thief – UFOF
4AD
Their third full-length studio album, Big Thief's UFOF stands as their strongest project yet. A quiet and dreamy interpretation of folk, UFOF serves as a masterclass in songwriting. Here Big Thief manages to create something grand and glorious out of humble, intimate musical moments.
Koffee – Rapture
COLUMBIA RECORDS
Koffee is the most exciting artist in reggae in the last few years. The talented teenager can do just about everything, from Dancehall to Afrobeat, and make it sound effortless. The joy that exuberates from her music is addictive and Rapture, her debut project, captures that magic completely.
slowthai – Nothing Great About Britain
Method / True Panther
slowthai has put out the most ambitious rap album to come out of the UK, tackling many of his home country's most pressing issues, such as Brexit, poverty and so much more. The Bajan-British rapper blends hard-hitting beats, thought-provoking lyrics, proactive videos and comedic candor into a work of art. Also, please go see his live show — he's one of the best performers in music right now.
DaBaby – Baby on Baby
South Coast Music Group / Interscope
The beauty about DaBaby is that his music, along with his videos, is outrageously fun. The same attraction that made Rae Sremmurd into party-anthem rock stars is making the North Carolina spitta a superstar; he's not too cool to have fun, that sensibility resonates loud and clear in his music. However, don't get it confused, DaBaby will rap circles around you if he feels like it.
Jamila Woods – LEGACY! LEGACY!
Jagjaguwar
With LEGACY! LEGACY!, Jamila Woods examines the past while looking out at the future for a culturally rich 13-song R&B LP so thought-provoking that it should be taught in school. Zora Neale Hurston, James Baldwin, Frida Kahlo, Miles Davis, are just some of the legendary artists of color Woods references in the ambitious album, which also spans a number of musical genres and practices. Woods carries the torch passed down to her from her predecessors.
Click here to view full gallery at HYPEBEAST