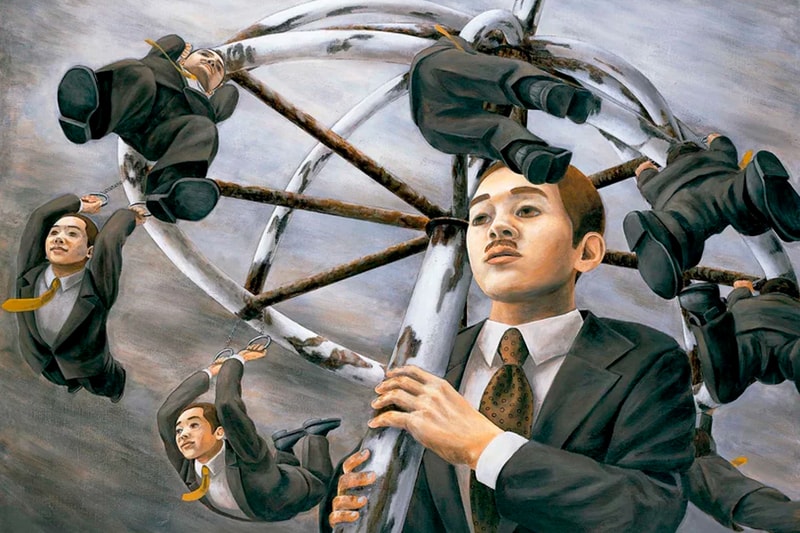 Late Japanese artist Tetsuya Ishida's work is currently being exhibited at the Reina Sofiá museum in Madrid. Titled "Self-Portrait of Another," the 70 paintings and drawings showcase Ishida's impression of Japan during the '90s — its lost decade.
Ishida was perhaps best known for his surreal portrayal of contemporary life in Japan. The artist repeatedly visits three main themes in his work: Japan's identity and the country's role in the modern world, his home country's social and academic structures, and the Japanese people's struggle in adapting to social and technological advances in contemporary life.
The retrospective exhibition this time depicts and captures feelings of isolation, anxiety, skepticism, and hopelessness during Japan's economic turmoil, its society plagued with massive layoffs and speculation largely due to an economic recession that pummelled through the '90s. Much of Ishida's paintings focus on the dehumanization of his generation, with imagery of identical faces and production lines.
Tetsuya Ishida's "Self-Portrait of Another" will be running from April 12 to September 8 at Velázquez Palace in Madrid. The exhibition will then tour over to the United States in Chicago at the Wrightwood Gallery from October 3 to December 14. If you happen to be in those two neighborhoods during those periods, it's definitely well worth a visit.
Elsewhere in the art world, check out the first look at the Steven Harrington x ICECREAM Cosmic Cone Sculpture.
Palacio de Velázquez
Parque del Retiro, Paseo Venezuela
2, 28001 Madrid
Spain
Click here to view full gallery at HYPEBEAST