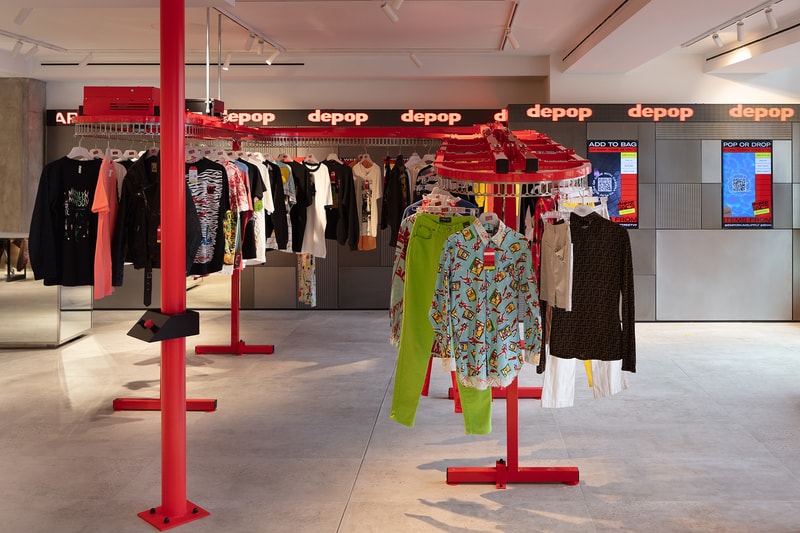 Cult shopping app Depop has previously opened physical retail stores in LA and NY but it's finally settling on home ground in London, where the company also has its headquarters. Arriving at the city's iconic department store, Selfridges, the retail space will be open until the end of October and will see a rotation of different Depop sellers each week selling curated edits of pieces from their personal collections that will only be available to purchase in-store.
The pop-up includes a kinetic rail, which customers can control in order to view the available pieces and there's additional event programming, including workshops, planned throughout. The partnership comes as part of Selfridges' The New Order AW19 creative campaign where the store has invited innovative digital creatives to "reimagine what shopping, style and the department store might look like in the not-so-distant future." Discussing the project Peter Semple, Chief Marketing Officer at Depop shared:
"Depop's mission is to empower the next generation to transform fashion. Coming together with a fashion authority like Selfridges is an exciting opportunity for members of our community to extend their reach offline and take their business to the next level."
Be sure to stop by the space if you're in London and for those that won't be able to make it IRL, an exclusive selection of pieces from Depop will be available at Selfridges.com. Get a closer look at the interior in the gallery above and in related news, get to know some of the Depop team in our How Did You Land That Job feature.
Selfridges
400 Oxford Street
London, W1A 1AB
Click here to view full gallery at HYPEBAE