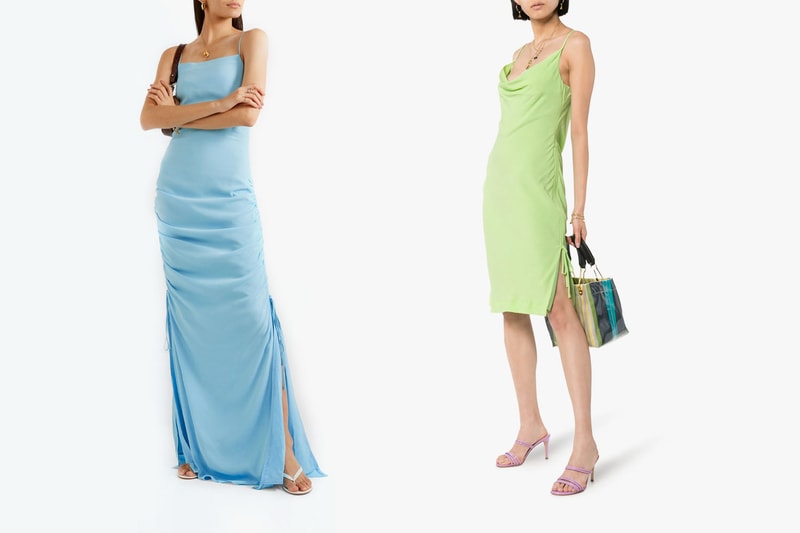 Coordinating outfits cannot be easy during the scorching hot summer, but slip dresses are here to save your day. Not only are they easy to match, but with their silky breezy fabric, they won't stick to your sweaty skin.
With spaghetti straps and loose fit, these pieces can be worn alone or in layers, on top of tees, striped shirts or even hoodies. You can pair them with basically any type of shoe, from strappy sandals and slides to sneakers and ankle boots. To help you survive through the heat this year, we've rounded up a list of affordable slip dresses, categorized for different settings and purposes ranging from classic staples to fancy pieces for special occasions.
Scroll down below to take a look, and let us know in the comments below which style you like the most. While you're here, make sure to check out this list of affordable summer shorts. 
Simple classics for any look
Norma Kamali Fishtail Jersey Slip Midi Dress
[shoppable brand="Norma Kamali" product="Fishtail Jersey Slip Midi Dress" link="https://www.mytheresa.com/en-us/norma-kamali-fishtail-jersey-slip-midi-dress-1259213.html?" store="mytheresa.com" price="$215 USD"]
[/shoppable]
Vince Satin Slip Dress
[shoppable brand="Vince" product="Satin Slip Dress" link="https://www.mytheresa.com/en-us/vince-satin-slip-dress-1249544.html?" store="mytheresa.com" price="$296 USD"]
[/shoppable]
Le Petit Trou Black Ardeur Spaghetti Strap Dress
[shoppable brand="Le Petit Trou" product="Black Ardeur Spaghetti Strap Dress" link="https://www.ssense.com/en-us/women/product/le-petit-trou/black-ardeur-spaghetti-strap-dress/4090591" store="SSENSE" price="$260 USD"]
[/shoppable]
Street-ready for a breezy weekend
[shoppable brand="Halson Heritage" product="Cowl Neck Slip Dress" link="https://www.shopbop.com/cowl-neck-metallic-velvet-slip/vp/v=1/1513174623.htm?" store="Shopbop" price="$325 USD (Now $97.50 USD)"]
[/shoppable]
alexanderwang.t Pink Light Wash & Go Light Open Back Dress
[shoppable brand="alexanderwang.t" product="Pink Light Wash & Go Light Open Back Dress" link="https://www.ssense.com/en-us/women/product/alexanderwangt/pink-light-wash-and-go-light-open-back-dress/3964311" store="SSENSE" price="$295 USD"]
[/shoppable]
STAUD Cowl Neck Slip Dress
[shoppable brand="STAUD" product="Cowl Neck Slip Dress" link="https://www.brownsfashion.com/shopping/staud-cowl-neck-slip-dress-14031115?fsb=1" store="Browns Fashion" price="$206 USD"]
[/shoppable]
Mini dresses for the heat wave
Reformation Seville Tie-dyed Georgette Mini Dress
[shoppable brand="Reformation" product="Seville Tie-dyed Georgette Mini Dress" link="https://www.net-a-porter.com/us/en/product/1192197/reformation/seville-tie-dyed-georgette-mini-dress" store="Net-A-Porter" price="$100 USD"]
[/shoppable]
[shoppable brand="Esteban Cortazar" product="Sunset Print Slip Dress" link="https://www.brownsfashion.com/shopping/esteban-cortazar-sunset-print-slip-dress-13941838?fsb=1" store="Browns Fashion" price="$150 USD"]
[/shoppable]
[shoppable brand="Young Fabulous & Broke" product="Tie Dye Slip Dress" link="https://www.shopbop.com/tie-dye-slip-dress-young/vp/v=1/1576393675.htm?" store="Shopbop" price="$172 USD"]
[/shoppable]
Patterns to add life to your wardrobe
GANNI Floral Pleated Georgette Dress
[shoppable brand="GANNI" product="Floral Pleated Georgette Dress" link="https://www.mytheresa.com/en-us/ganni-exclusive-to-mytheresa-floral-pleated-georgette-dress-1189210.html?" store="mytheresa.com" price="$203 USD"]
[/shoppable]
MICHAEL Michael Kors Lace-Trimmed Printed Stretch-Jersey Dress
[shoppable brand="MICHAEL Michael Kors" product="Lace-Trimmed Printed Stretch-Jersey Dress" link="https://www.net-a-porter.com/us/en/product/1138845/michael_michael_kors/lace-trimmed-printed-stretch-jersey-dress" store="Net-A-Porter" price="$175 USD"]
[/shoppable]
Double Rainbouu Cloud Control Slow Lane Slip Dress
[shoppable brand="Double Rainbouu" product="Cloud Control Slow Lane Slip Dress" link="https://www.brownsfashion.com/shopping/double-rainbouu-cloud-control-slow-lane-slip-dress-14139302?fsb=1" store="Browns Fashion" price="$156 USD"]
[/shoppable]
Fancy looks for evening wear
The Line By K Robi Tie-Detailed Hammered-Satin Dress
[shoppable brand="The Line By K" product="Robi Tie-Detailed Hammered-Satin Dress" link="https://www.net-a-porter.com/us/en/product/1158989/the_line_by_k/robi-tie-detailed-hammered-satin-dress" store="Net-A-Porter" price="$165 USD"]
[/shoppable]
N Duo Asymmetric Slip Dress
[shoppable brand="N Duo" product="Asymmetric Slip Dress" link="https://www.brownsfashion.com/shopping/n-duo-asymmetric-slip-dress-13923826?fsb=1" store="Browns Fashion" price="$294 USD"]
[/shoppable]
STAUD Parrot Cutout Ruched Crepe De Chine Maxi Dress
[shoppable brand="Staud" product="Parrot Cutout Ruched Crepe De Chine Maxi Dress" link="https://www.net-a-porter.com/us/en/product/1152032/staud/parrot-cutout-ruched-crepe-de-chine-maxi-dress" store="Net-A-Porter" price="$275 USD"]
[/shoppable]
Click here to view full gallery at HYPEBAE