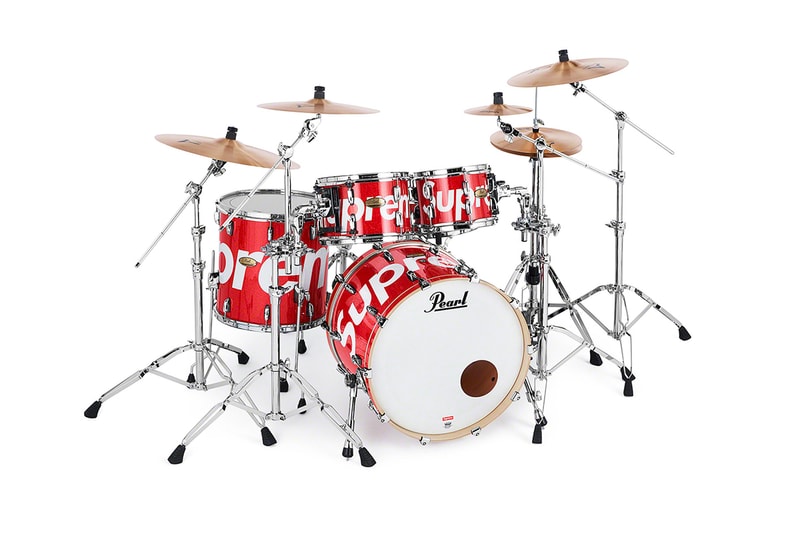 Supreme's accessories for 2019 spring/summer have been revealed, and cater heavily to those with not only casual sporting lifestyles, but creatives and hustlers alike.
While last year's "big ticket" accessory was that of a mountain bike, this season highlights a branded professional drum set produced by Pearl and features the company's Masterworks craftsmanship. Indoor sports consumers will appreciate the Supreme branded McDermott pool cue slated to release, while outdoor sports fans will notice the inclusion of a scuba-diving mask and a selection of fishing lures by Dardevle.
For those looking for home furnishings, a duo of folding director's chairs will be released in ubiquitous black and red colors, while Frette bath slippers will also drop for cozy home dwellers. German brand Meissen has created a handmade, hand-painted ceramic figurine of a rambunctious cherub donning a Supreme box logo tee, and a royal Supreme crown also provides a bit of exuberance and status. Towels, a water gun, and a camo hammock will prove highly useful for the summer months.
For those looking for more fun product collaborations, Supreme has partnered with Band-Aid on custom red bandages and Hot Wheels for a Supreme-clad BMW M3 E30 and Fleet Flyer carriage. A collaboration with Ol' Dirty Bastard will see his classic Return to the 36 Chambers album immortalized on a skate deck, alongside an all-over fruit design and one with a trimming shears graphic. Lastly, monogrammed luggage will release in red, blue, green and black across different sizes.
For more from the latest collection, make sure to also check out offerings in the following categories:
– Lookbook
– Jackets
– Tops
– Sweats
– Tees
– Hats
Click here to view full gallery at HYPEBEAST