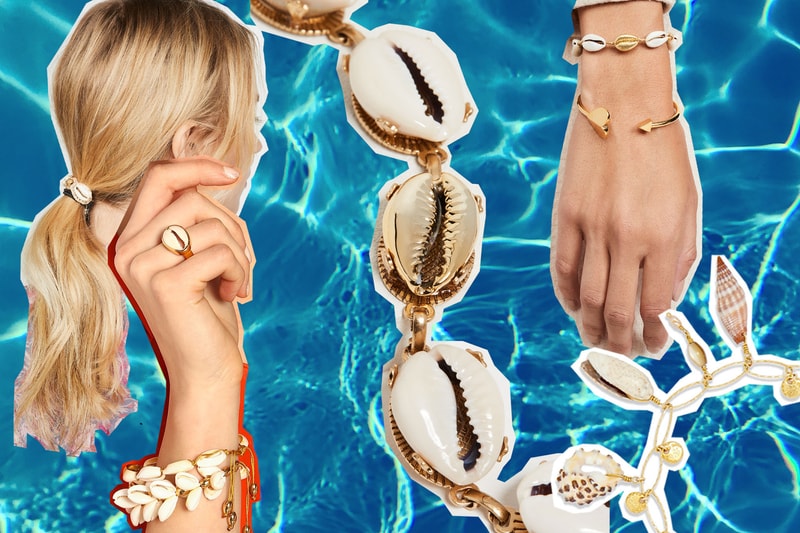 This summer has been a strong season for fashion, seeing trends like tie-dye print and the cowboy style take over our Instagram feeds on all kinds of items like sneakers and even swimwear. While autumn is slowly creeping up, we can never get enough of beach-friendly looks, especially seashell jewelry.
Arriving in all kinds of shapes and sizes, seashell accessories are quite versatile. Pair a white shell necklace with a vibrant tie-dye T-shirt, or a gold-plated piece with a black satin slip dress for an elevated look. You can also pull your hair back with clips and ties to accent your hair game. Layer with beaded necklaces and bracelets for an Instagram-ready ensemble.
Scroll down below to take a look at some of the best seashell necklaces, bracelets and anklets, earrings and hair accessories you should shop, ranging from items as affordable as $32 USD to investment pieces.
For more jewelry, make sure to check out these brands with minimalist designs.
 

View this post on Instagram

 
Necklaces
[shoppable brand="BaubleBar" product="Caicos Statement Necklace" link="https://www.shopbop.com/caicos-statement-necklace-baublebar/vp/v=1/1500471180.htm?" store="Shopbop" price="$42 USD (now $29.40 USD)"]
[/shoppable]
[shoppable brand="Brinker & Eliza" product="All Summer Long Choker" link="https://www.shopbop.com/all-summer-long-choker-brinker/vp/v=1/1557283863.htm?" store="Shopbop" price="$198 USD"]
[/shoppable]
[shoppable brand="Tohum" product="Large Puka yellow and rose gold and silver-plated necklace" link="https://www.net-a-porter.com/us/en/product/1157645/Tohum/large-puka-yellow-and-rose-gold-and-silver-plated-necklace" store="Net-A-Porter" price="$330 USD"]
[/shoppable]
Bracelets & Anklets
[shoppable brand="Madewell" product="Cowrie Shell Bracelet" link="https://www.shopbop.com/cowrie-shell-bracelet-madewell/vp/v=1/1520695026.htm?" store="Shopbop" price="$32 USD"]
[/shoppable]
[shoppable brand="Shashi" product="Pearl and Shell Anklet" link="https://www.shopbop.com/pearl-shell-anklet-shashi/vp/v=1/1557228453.htm?" store="Shopbop" price="$46 USD"]
[/shoppable]
[shoppable brand="Chan Luu" product="Gold-plated, Shell and Pearl Bracelet" link="https://www.net-a-porter.com/us/en/product/1144794?" store="Net-A-Porter" price="$195 USD"]
[/shoppable]
Earrings
[shoppable brand="Madewell" product="Triple Shell Drop Earrings" link="https://www.shopbop.com/triple-shell-drop-earrings-madewell/vp/v=1/1506302620.htm?" store="Shopbop" price="$32 USD"]
[/shoppable]
[shoppable brand="Isabel Marant" product="Amer Gold and Silver-tone Hoop Earrings" link="https://www.net-a-porter.com/us/en/product/1153097/Isabel_Marant/amer-gold-and-silver-tone-hoop-earrings" store="Net-A-Porter" price="$130 USD"]
[/shoppable]
[shoppable brand="Chan Luu" product="Gold-plated, Pearl, Shell and Citrine Earrings" link="https://www.net-a-porter.com/us/en/product/1144788/Chan_Luu/gold-plated-pearl-shell-and-citrine-earrings-" store="Net-A-Porter" price="$145 USD"]
[/shoppable]
Hair Accessories
[shoppable brand="Shashi" product="Caroline Pin" link="https://www.shopbop.com/caroline-pin-shashi/vp/v=1/1549776599.htm?" store="Shopbop" price="$21 USD"]
[/shoppable]
[shoppable brand="LELET NY" product="Alphabet Gold-Plated Faux Shell Hair Tie" link="https://www.net-a-porter.com/us/en/product/1138427/LELET_NY/alphabet-gold-plated-faux-shell-hair-tie" store="Net-A-Porter" price="$98 USD (now $39.20 USD)"]
[/shoppable]
[shoppable brand="Deepa Gurnani" product="Lexel Set" link="https://www.shopbop.com/deepa-gurnani-lexel-set/vp/v=1/1533357347.htm?" store="Shopbop" price="$50 USD"]
[/shoppable]
Click here to view full gallery at HYPEBAE