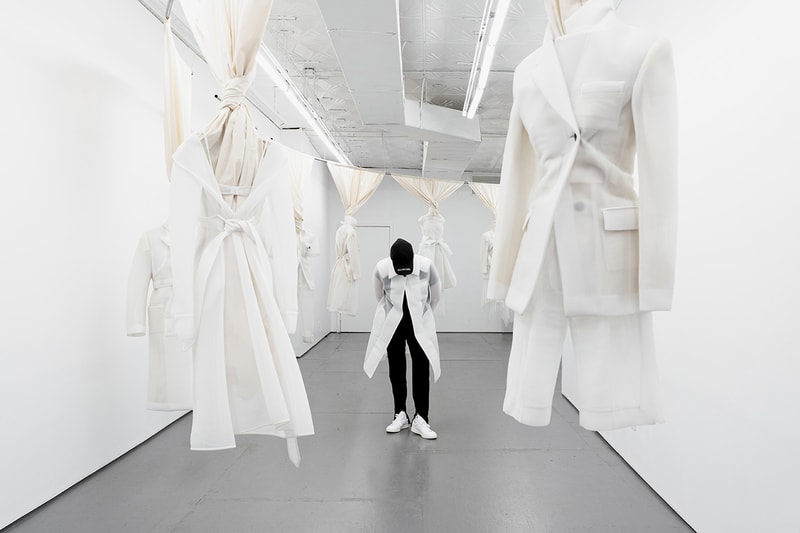 Peter Do is rising to the occasion. The young designer has received plentiful comparisons to his former employer, Phoebe Philo's Céline. There Do worked on the team that produced runway collections, and since launching his own label he's earned the ardent support of tastemaking site NET-A-PORTER and almost 100,000 Instagram followers.
Why all the hubbub? Do's output is that of unmatched elegance, developing the inimitable ethos put forth by Philo into a kind of futuristic minimalism. Do's vision sees everyone wearing ultra-sleek garments that consist entirely of space-age textiles and clean lines, an appealingly intelligent revision of the capsule wardrobe. This conceit of uncomplicated dressing informs the Do's personal style, and that of his staff as well.
In his Spring/Summer 2020 showroom, Do looks almost like a scientist, clad in a coat, T-shirt and slit trousers of his own design, along with a pair of custom Stan Smiths, a Philo-approved silhouette. "We're all wearing a kind of labcoat, a team uniform," notes the designer. "We wear it over our own clothes, but you can see what we're wearing underneath, so you still get some personality." Sure, it's a familiar shape, but the garment is executed in Do's prodigious "Spacer" fabric, a visionary update to an otherwise classic piece.
"I worked on [Spacer] as a student at FIT," Do explains. "It's almost like a neoprene, originally used primarily for military clothing or as heating insulation. We've tweaked it a lot though; one side is sort of shiny and the other side is soft, so it's not harsh on your skin. I like it because it's machine washable and it takes heat really well, so we pleat, screen-print, dye and evolve it each season so it's better for apparel." He gestures at the reshaped Spacer garments that hang delicately in the showroom, representing different products of Spacer experimentation. "It's steamable too, though it doesn't really wrinkle at all.
"We're trying to use the yarn in different ways for more types of [garments]," Do continues. "Like, we tried knitting it into sweaters — and it worked. We've even mixed it with lycra for some stretch. The first time we tried [knitting Spacer], we made socks out of them, just some prototypes. I see it like the wardrobe of the future; it's so easy to care for."
Spring/Summer 2020 sees Do and the staff of his atelier developing Spacer into a slew of elevated wardrobe staples, among other things, transforming classic silhouettes into pioneering statement pieces. "Here's a car coat," Do says, pointing out some refined outerwear. "That's our take on a safari jacket, over there a basic long-sleeved dress, a one button blazer. These are things that work with any wardrobe, but we've remade them." Even a trim tank top, tucked beneath a series of translucent Spacer layers, is woven from Do's signature yarn. "We wove it into this ribbed fabric, so it's super soft and stretchy," he enthuses.
Despite the disparity in all the items in the selection — and Do's fondness for the intricate details that inform each one — the designer is able to single out one look that functions as a mission statement for his label. "This is the look," he asserts, motioning towards a single-button blazer with its sleeved rolled high, stacked above a pleated skirt. "To me, this really represents the Peter Do brand. We call it our 'three-piece suit,' a blazer, shirt, and slashed skirt, matching the fabric and the shapes." Stepping back to soak in the set, Do reflects. "I like the idea that you can have this full set and just wear different pieces depending on the weather, a modular wardrobe."
Though Peter Do's craft is often labeled as womenswear, the young creative cautions against pigeonholing his creations. "I feel like my line is becoming genderless, you know," Do muses. "We have a lot of men on the team and we all wear a lot of the clothes — I mean, I myself wear almost only women's clothing. We're a 'womenswear' brand, but I wouldn't tell anyone to define our clothes or themselves [by gender]. If the clothes fit, then wear them. No boundaries."
Shop select essentials on Peter Do's website and keep an eye on the brand's social media to behold its rapidly developing voice.
Click here to view full gallery at HYPEBEAST