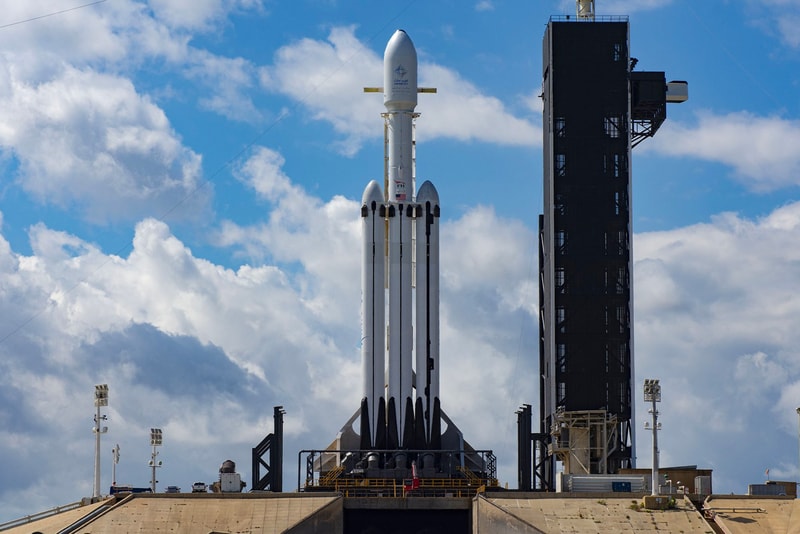 SpaceX has postponed the launch of the Falcon Heavy and Arabsat-6A satellite by 24 hours due to adverse weather conditions experienced yesterday. Elon Musk took to Twitter to explain that the "upper atmospheric wind shear [was] very high" and that if the conditions won't improve, the launch would have to be rescheduled. SpaceX then announced officially on the social media platform that the launch has indeed been postponed until April 11 — the next launch opportunity.
Aside from launching the Arabsat-6A satellite, SpaceX is attempting for the Falcon Heavy's two side boosters to land back down after separation at the company's own landing zones at the Cape Canaveral Air Force Station. Its remaining center core is expected to land on the "Of Course I Still Love You" droneship in the Atlantic Ocean. The launch itself will take place at NASA's Kennedy Space Center in Florida.
SpaceX's new launch window is now planned for 6:35 pm EDT (22:35 UTC) on April 11, closing at 8:31 pm EDT the same day (00:31 UTC Friday, April 12), and the satellite is expected to deploy roughly 34 minutes after the Falcon Heavy's launch. The whole event will be webcasted, starting around 20 minutes before liftoff. For those interested, you can watch the live stream over on SpaceX's dedicated page when it becomes available.
And for other space exploration news, take a look at the first ever photograph of a black hole taken by the Event Horizon Telescope.
Falcon Heavy and Arabsat-6A are vertical on Launch Complex 39A. Currently targeting liftoff at 8:00 p.m. EDT; monitoring upper-level winds that could push us to the end of the window (8:32 p.m. EDT) → https://t.co/gtC39uBC7z pic.twitter.com/Vbzbhy6PLz

— SpaceX (@SpaceX) April 10, 2019
Upper atmospheric wind shear is very high. Will have to postpone launch unless weather improves soon.

— Elon Musk (@elonmusk) April 10, 2019
Standing down from today's Falcon Heavy launch attempt; next opportunity is tomorrow, April 11.

— SpaceX (@SpaceX) April 10, 2019
Click here to view full gallery at HYPEBEAST