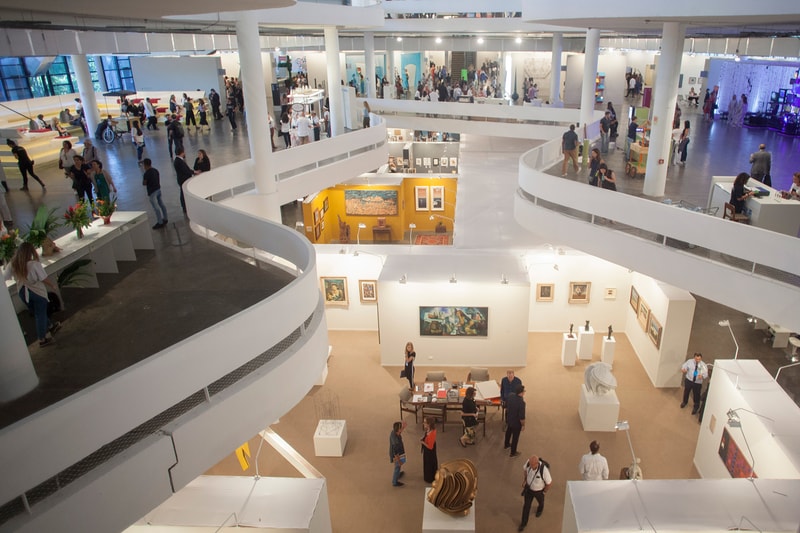 The 15th edition of the São Paulo International Art Festival (SP-Arte) opens today in the city's famed Parque Ibirapuera, which is also home to the Bienal de São Paulo and Museu Afro Brasil. SP-Arte, which in past editions has commanded as many as 34,000 visitors, will this year welcome displays from international galleries such as David Zwirner and White Cube, as well as Brazilian institutions like A Gentil Carioca and Galeria Luisa Strina. The SOLO sector focuses on new and archival works from established individual artists; the past few year's SOLO sectors were curated by Luiza Teixeira de Freitas with a mix of artists from around the world. But 2019's SOLO is dedicated exclusively to Latin American artists.
Organized by Chilean curator Alexia Tala, 2019's SOLO sector explores Latin America's multiple identities, and more specifically aims to challenge European conceptions of the region. "As the fair is focusing on Latin America, I felt it was a great start to do it from the beginning, from when we were first 'discovered,' as the Western thinking would put it," Tala tells HYPEBEAST.
For Tala, who formed her art education in the UK before returning to her native Chile, the fair's prestige and scope provides a rare opportunity to bring the themes of Latin American identity to an international scale. "Although it is a topic that has been dealt with a lot, the relationship between Third Worldism and identity does not always touch spaces like this," she explains.
Tala divides this year's SOLO sector into four axes, starting with "America, land of opportunities." She describes the section as looking at the Americas "as a target of exploitation, a history that begins with the conquest companies through today's foreign industries that destroy the land with capitalist goals." The second, "Imaginary expeditions," sees Latin America's land through the lens of fables, based on both real and imagined history. The third, "Men of paradise and hell," similarly examines representations of the region's people and ancestral stories. The final section, "Contemporary Chroniclers," is concerned with narrative and strategies of documentation.
Tala's SOLO sector will include works from 12 artists, hailing from five countries. Read on for our interview with Tala to learn about her process for creating the sector and see a selection of the works included, and go to SP-Arte's website to learn more about the fair, which runs until April 7. Later this week, we'll run interviews with a handful of artists included in the SOLO sector.
HYPEBEAST: What are the challenges of curating an exhibit that deals with the region of Latin America, without erasing the cultural differences in each country?
Alexia Tala: There are threads in common such as colonialism, dictatorship, and violence, but certainly, each country has its own specifics, geographically, politically, historically, etc. So the challenge is to put all these specific issues approached by different artists and put them dialogue with each other. The colonial processes, for example, have depended on diverse factors, ranging from the social and ethnic conformation of a place to its geography. An artist's work can be addressed by offering particular information about a certain place, informing us about what type of differences, but it will be further enhanced when connected to approaches by other artists within the same processes in other latitudes.
This exhibition deals with European or outsider visions of Latin America. What do you feel are some of the biggest misconceptions of the region?
The misconceptions are endless. I find it fascinating how historically America was portrayed to the world through the image given to us by ethnocentric cultures. All the global south has been subjected to this. Last month I went to the Centro de Investigaciones Regionales de Mesoamérica in Antigua, Guatemala, and came across maps and engravings from European expeditions. Many of the engravings that illustrate those trips were made by people that actually have never been here.
The descriptions the conquerors made of the people they found in our land has had a huge impact. The demand for exoticism is still latent, the interest in "Indigenism" is an example of that. Popular artists and indigenous handicrafts have been here for centuries, but the current phenomenon of looking at it like something new or trendy only replicates a cultural attitude of dissociating or disregarding that these are long-standing productions that remain in the shadows due to a Western colonial categorization. Greater support is needed for the initiatives that come from Latin America to the world, and not the other way around.
How did you select which artists to feature in the exhibition?
Selecting the artists for the sector was easy, as the thematic frame is something I have been researching for years. What was difficult was to combine my wish for the artists to take part in the SOLO sector, and their galleries' desire to participate. In that sense, it was a very different process than when you invite someone to a biennial or an institutional show.
For Latin American artists, do you find there is still a notion that "success" means going abroad to Europe or the U.S.? Is still a lot of there incentive for artists to go abroad to find greater resources or recognition that they can't at home?
This question cannot be separated from my experience as a Latin American curator and, especially a Chilean one. The Chilean artistic milieu has been characterized by its isolation and little international circulation, due to various factors including restricted institutional support, lack of cultural policies, lack of collections and misguided market strategies, among others. Achieving this internationalization means helping to reverse a general trend. And in parts of the region where collecting is incipient (not necessarily reflecting the economic growth of the country), this generates a more complex phenomenon with respect to institutions: often the collector begins to have a role that replaces tasks that correspond to the institution and the State.
How would you compare São Paulo and the Brazilian art market to cities such as London, Paris, or even New York?
There's no doubt that SP-Arte is the biggest, most international, and most successful art fair in Latin America, so it can compare to the big fairs in those main cities. Now, talking about the market, the Brazilian art market is characterized by strong internal consumption. We see that the collections are mostly made up of works by Brazilian artists. This is not only in response to a general culture of internal consumption, but to specific legal issues such as taxes, customs, etc. But for the past few years, SP-Arte has been granted an arrangement where it is exempt from taxes, which has allowed collectors to acquire international art.
You're working as well on the Arte Paiz Biennial 2020 in Guatemala. What are the challenges of curating an exhibition in Guatemala, as opposed to Brazil?
First, we must not forget the great differences between the fair and the biennial infrastructure, these are two platforms with totally different final objectives, rhythms, procedures, ways of operating and projections. Both play an important role in the processes of internationalizing the art produced in their countries, but their differences lie in that although both produce cultural capital, one does so from the side of the production of thought, and the other of commercial investment. So one is of financial value and the other is of symbolic value. However, what the SOLO projects of this SP-Arte seeks to do is precisely to allow the fair to be a place where you can also put a reflective content, you can place specific practices within a territory of reflection.
But I think from the perspective of the similarities the subject becomes more interesting, mainly through the sociocultural similarities. The historical violence against indigenous people and against black people, specifically in the case of these two countries and the warnings of state racism today, have created a climate of political discussion that has some echo in the art sphere. There are trends but also a demand for involvement in precise contexts, as well as realities of a production that look more informed and imbricated to the context, That is actually what we intend to do for the next XXII Biennial of Art Paiz in Guatemala which I am curating. Its particular context, a place with a recent genocide and a population of over 65 percent indigenous inhabitants must be the scenario to talk today about this issues, its historical past, consequences and to project it into the future.
SP-Arte 15th Edition
April 3-7, 2019
Bienal Pavilion, Parque Ibirapuera
São Paulo, Brazil
Click here to view full gallery at HYPEBEAST