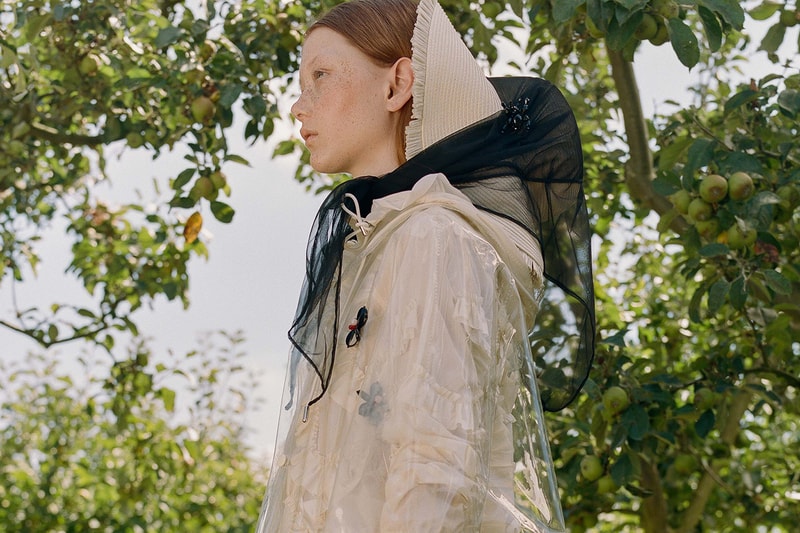 Moncler returns with the next chapter of the Moncler Genius The Next Chapter line and its latest collection comes courtesy of Irish designer Simone Rocha who elegantly reinterprets the principles of outerwear that Moncler is known for. The garments feature petals, ruffles, pearls, sequins, and embroidery appliqués that stand out on parkas, blousons, and jackets composed of lightweight nylons, taffetas, and tulle. Those elements were also translated into visuals in a collaboration with photographer and director Tyler Mitchell, resulting in a sensual video inspired by English flowers and Victorian motifs. To hear more about the project, we caught up with the subversive designer to discuss her ongoing Moncler Genius collaboration.
What's the underlying concept behind your collection?
I wanted the SS19 collection to lead on from the FW18 collection – FW18 was originally inspired by the concept of "Mountain." My first collection for Moncler took inspiration from the Victorian Mountain climbers of the 19th century. For SS19 I wanted to explore another landscape and terrain whilst still entwining the Simone Rocha femininity with the utilitarian practicality of Moncler. The ideas of gardening echoed the contrast of practicality and utility balanced with femininity and romance.
What does a brand like Moncler bring to this kind of collaboration? What can you do with Genius that you can't do alone?
It has been an amazing opportunity to develop and work my existing aesthetic into new fabrications and techniques. The classic down fabric is reimagined with modern femininity in volume, ruffles and embellishment. Collaboration is very important in many stages of the creative process – it helps to push ideas forward.
What is it about the unconventional Moncler Genius presentation that helps you tell your collection's story?
The presentations are an opportunity to realize very immersive environments to present the collections in. The collections and the audience interact in a different way, the atmosphere and the experience are multi-sensory.
How do you see your Moncler Genius collections evolving in the future? Do you start from scratch every time or do you pick up where you left off?
With the collections I want there to be a communication and narrative between them as well as a development and evolution as they progress.
Check out the collection in the gallery above, and read more about Moncler Genius in our previous interview with Craig Green.
You can shop the Simone Rocha pieces online now.
Click here to view full gallery at HYPEBEAST