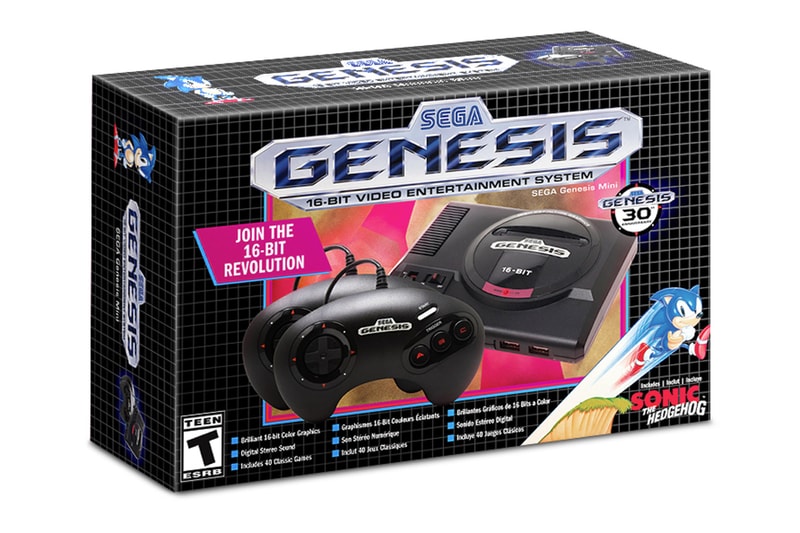 Gaming fans rejoice: Sega has just announced at Sega Fes 2019 — its annual fan event in Tokyo — that the gaming company will be releasing the Sega Genesis Mini. The console will be available on September 19 with 40 games ready to play.
In its announcement for the Japan version of the console, the titles included feature Sonic 2, Puyo Puyo 2, Shining Force, Castlevania Bloodlines, Powerball, Gunstar Heroes, Space Harrier II, and more. However, since some of those titles are Japan-only, it may be the case that the US version of the system would have a similar but different lineup. Sega has also confirmed that some of the games on the Genesis Mini will have different regional variations, such as Castlevania Bloodlines. For the US version of the console, Sega has so far announced these titles:
Castlevania Bloodlines

Comix Zone

ToeJam & Earl

Space Harrier II

Sonic the Hedgehog

Altered Beast

Dr. Robotnik's Mean Bean Machine

Ecco the Dolphin

Gunstar Heroes

Shining Force
Sega also announced that the Japanese Sega Genesis Mini will use six-button controllers that are identical in size with the original controllers, while the US version will include two three-buttoned controllers which connect via USB. Unfortunately, the original Genesis controllers aren't compatible with the new system.
Come September 19, the Sega Genesis Mini will be sold in two variations in Japan: with a single controller for ¥6,980 JPY (roughly $60 USD) or with two controllers for ¥8,890 JPY (around $80 USD). The US version will retail at $80 USD. For more info, head over to Sega's site for its Genesis Mini.
In other gaming news, Drake has recently invested in an esports betting startup.
The iconic SEGA Genesis returns September 19, 2019, with our lovingly crafted SEGA Genesis Mini for $79.99!

Simply plug-in and play 40 of the console's legendary titles, 10 of which we're announcing today.

Learn more and pre-order today: https://t.co/zRqELdIXgt pic.twitter.com/bjtlqMEgEU

— SEGA (@SEGA) March 30, 2019
Click here to view full gallery at HYPEBEAST