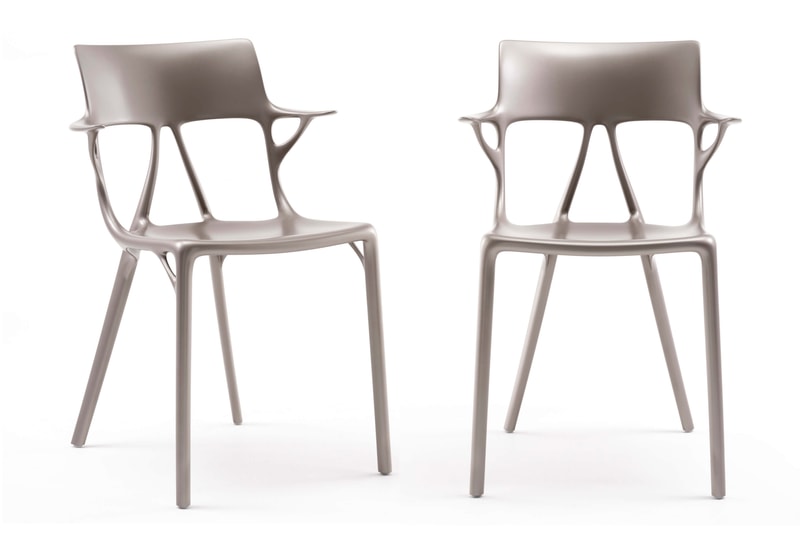 Creative sectors are experimenting more with artificial intelligence as fashion shows to art exhibitions have been using the technology to generate new forms of art and ideas. Thus, designer Philippe Starck was intrigued to see how A.I. might be used to solve a design manufacturing challenge, so he teamed up with furniture manufacturers Kartell and 3D software and engineering company Autodesk. Starck and Kartell have been longtime collaborators in the past, notably for their ubiquitous masters and ghost chairs, but this was the first time they had leveraged Autodesk and its technology to design a piece of furniture.
The prompt was to create a comfortable chair engineered to fit the human body using the least amount of material possible. Held to the standards of Starck and Kartell, the chair also needed to be structurally sound enough to pass any certification requirements, along with aesthetics that were minimal and sleek.
In order to get the algorithm to start thinking about the concepts, a conversation had to be started with leading questions like, "Artificial Intelligence, do you know how we can rest our bodies using the least amount of material?" Thus, the trio went through a series of conversations and prompts to get the computer to learn what they wanted to make. The video below shows the iterative process the team went through in order to achieve the final result.
"This is a research collaboration at the pinnacle of the industrial design world, resulting in one of the most creative outcome we've ever tried to achieve with generative design," stated Mark Davis, senior director of design futures at Autodesk.
The chairs, aptly titled "A.I." made their debut at Salone del Mobile in Milan this past week, which is billed as being the world's first production chair created using artificial intelligence.
Click here to view full gallery at HYPEBEAST