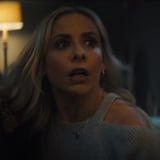 Scream queen Sarah Michelle Gellar is returning to her scary-movie roots with the help of Olay for its upcoming "Killer Skin" Super Bowl commercial. In teasers for the ad, Gellar is watched by a masked man while she applies her Olay moisturizer. A message flashes across the screen: "It will watch you, and keep watching, until your time is up." Are chills running up your spine yet?
Gellar, known for her roles in horror flicks like Scream 2 and I Know What You Did Last Summer, is no stranger to the horror-flick genre. She recently told Ad Week the concept for the commercial was "really fun" and "a great twist."
Based off the teasers so far, it appears the full ad will be thrilling and chilling, with a special target audience. Only a quarter of Super Bowl ads feature a female lead, despite the fact that nearly half of NFL fans are women. Olay hopes to reach this demographic with its comedic thriller-themed commercial. See the ad in full during the first quarter of the big game to learn why Gellar's screaming over skin care.
Source: POPSUGAR Beauty