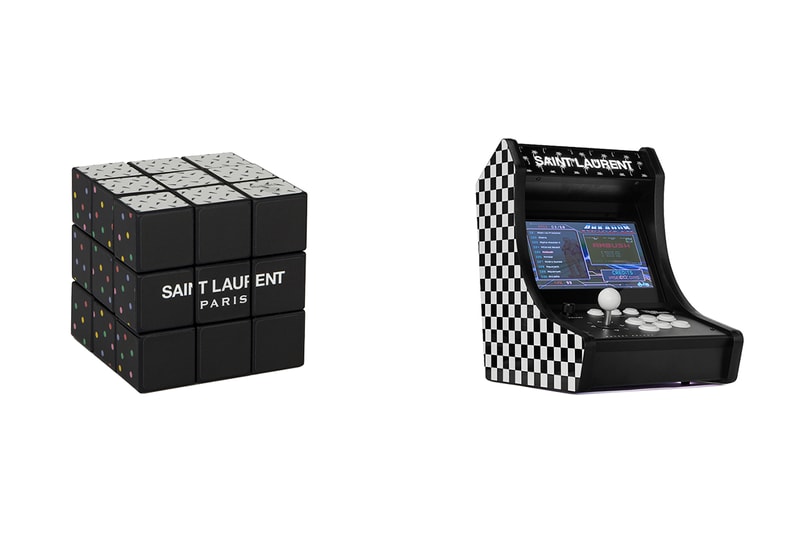 Saint Laurent Rive Droite has unveiled more luxurious lifestyle goods created by Anthony Vaccarello and his team. The 006 collection sees the addition of phrase-embellished dice, a berry-flavored star-shaped lollipop, a love heart-shaped ice cube mold, crystal-embellished brass dice, a graphic-covered Rubik's Cube, crystal-embellished dominos, a mini radio by Lexon and a Neo Legend retrocade gaming device.
The comprehensive drop joins everything from rare furniture designs from Jules Leleu and Pierre Jeanneret to books, branded bottles and condoms at the Rive Droite concept store in Paris. Standout detailing in the capsule includes crystals, used to depict the numbers on each die and domino.
The phrase dice are more playful than the traditional game, with slogans such as "Hug Her" and "Call Him" engraved in silver and gold all around. Aside from more affordable pieces such as a lollipop and ice cube tray, there is also the retrocade. Saint Laurent has added its moniker and signature white-on-black palm tree motif on the top of the personal arcade, and maintains a black-and-white theme with checkerboard sides and a black body with white controls.
Certain pieces, such as the crystal-embellished dice, are available online now. For everything else, head to the Saint Laurent Rive Droite store.
In other news, Saint Laurent has dropped a trio of leather-clad iPhone cases.
Saint Laurent Rive Droite
213 Rue Saint-Honoré
75001 Paris

Saint Laurent Rive Droite
469 North Rodeo Drive
BEVERLY HILLS, 90210
California
Click here to view full gallery at HYPEBEAST