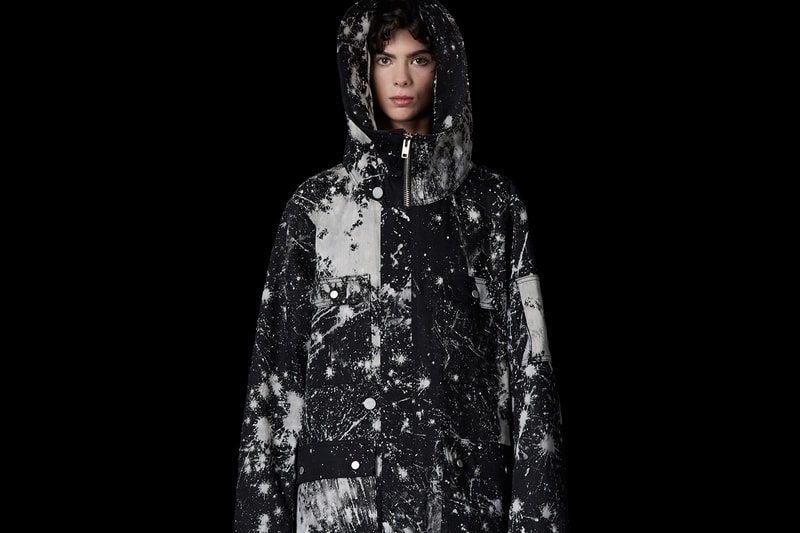 Following its debut at Pitti Uomo this past June, S.R. STUDIO. LA. CA. now dispatches the second delivery for the brand's first retail launch. Famed interdisciplinary artist and owner of the brand, Sterling Ruby, translates parcels of his experimental processes onto select garments that have all been hand-treated, cut, and signed by the artist. Similar to an artist series, the full assemblage is divided into two distinct parts: 'UNIQUE' which focuses on Ruby's exploration of textiles and 'SOTO' that is comprised of fabrics handworked by the artist while featuring a single motif.
"UNIQUE is mixed together instinctively, democratically, and without hierarchy with S.R. STUDIO. LA. CA., the main line; ED. 50, a rotating edition of limited items produced in quantities of 50; and SOTO, garments constructed with fabric handworked by Sterling Ruby Studio in Los Angeles, California," said the brand in a statement.
Under 'SOTO' is a selection of barn coats, long-sleeved button-down shirts, and raver pants. The fabrics utilized to craft these pieces were exposed to multiple treatments of dyeing, washing, and rinsing to elevate their weather-resistant properties. Additionally, subtle patchwork, bleaching, and Ruby's unmissable splattered motifs adorn a number of silhouettes including fireman's coats, wide-legged trousers, and cropped denim jackets.
Rounding out the assemblage are short- and long-sleeved T-shirts releasing in an edition of 50 that are embellished with visuals of the artist's signature sculptures. This portion also includes a range of cozy sweatpants, and sweatshirts portraying Ruby's 'Vampire Sunrise' and 'California State Fault' graphics in Cadmium yellow and black hues.
The second delivery of S.R. STUDIO. LA. CA. is available now exclusively on srstudio.com and ssense.com.
In related news, Sterling Ruby is the focus of a major exhibition entitled "Acts+Table" at Gagosian London this fall.
Click here to view full gallery at HYPEBEAST