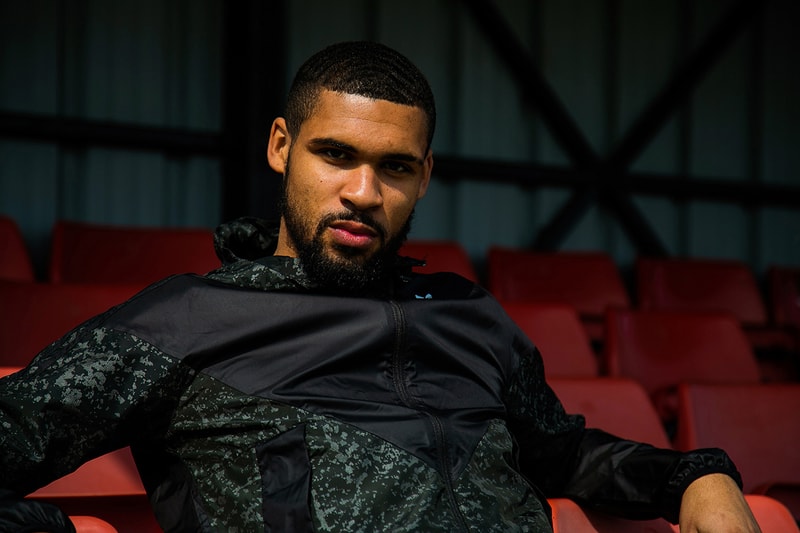 During last year's World Cup, England's performance took the country by surprise. After years of underachieving Golden Generations, underwhelming tournament performances and unlikable teams, an exciting new team progressed to the semi-finals and began winning over fans. One player at the center of this was Chelsea's Ruben Loftus-Cheek, although maybe not for the reasons he expected.
"It was weird because I was getting more attention from something else rather than football," Loftus-Cheek remembers of his rise to social media heartthrob. "The whole team was saying 'Ruben, let's have a look at your DMs.'" As well as turning heads for his looks, his arrival at the World Cup also ended a breakthrough year for the London-born midfielder. The tournament came after a successful season on loan at Crystal Palace, where Loftus-Cheek showed he had progressed from rising star to a bona fide Premier League force. Back at Chelsea, a new manager and a chance to establish himself as a first team player was waiting, although it hasn't necessarily worked out like that.
"It was weird because I was getting more attention from something else rather than football. The whole team was saying 'Ruben, let's have a look at your DMs.'"
"It's been an up-and-down season, for the team and myself," says Loftus-Cheek. "Obviously the team had a great start and then a few losses that shouldn't be happening to us, then we picked it up again. There's also been up and downs for me personally, doing well and then getting injured again. It was difficult." Speaking about the tough times for the team this year, Loftus-Cheek explains that Chelsea's resilience "is all about sticking together, staying as close as you can to each other. Times are hard when the media are onto you and everyone else has an opinion. You've got to stay focused. The team bonding and the connection with each other is really important in those times of toughness."
As well as Chelsea's turnaround — which sees the team within touching distance of the Top 4 and on its way to the Europa League semi-finals — Loftus-Cheek is in the middle of a run of regular football and good form. "I've had injuries, it's really important to stay sharp when you come back from them," he continues, "for me it's just part of life, how I train and how I keep myself ready physically and sharp mentally."
If the past season has occasionally been a struggle for Loftus-Cheek and Chelsea, the outlook for England almost couldn't be better. One of the things that stood out about the team during last year's World Cup was the relationship between the players. "Off the pitch we're such good friends and we bonded with each other," explains Loftus-Cheek. "We're just friends. If you took football away we'd still be friends and I think that's a really important thing."
With the team being so young, Loftus-Cheek believes that the future is bright for England. "It's really exciting to see so many young English talents playing football, we've got such exciting talent coming through so to see what the England team can achieve in the coming tournaments will be exciting," he adds, "I don't want to say anything too outrageous, but there's loads of exciting youth coming through, so who knows? I don't think we can cancel anything out, I think we can go all the way in tournaments. We have the ability to."
According to Loftus-Cheek, another reason behind England's World Cup progress was the relative lack of pressure for the players. "We just went there and believed in ourselves and were confident," he explains, "we didn't pay too much attention to the media, it was just in our own little world, ready to do business out there and we nearly went all the way." One negative of the interest in this England generation is that future success will bring with it added pressure. "I think if the pressure does come, you can see it in a good light that people think we should do well and believe in us," he continues. "But pressure as a footballer is normal nowadays. Everyone has to play with pressure, the best have to play with the biggest pressure. It's just part of the game nowadays, especially with social media."
"We have to get [racism] out of the game because its not something we can tolerate at all. I don't think we can just leave it and hope it will get better."
Over recent months, social media's role in a new widespread wave of racist abuse in football has come under the spotlight. As well as abusive comments on Twitter and Instagram, players have recently been subjected to vile chants from opposing supporters. Throughout this, Loftus-Cheek's England teammate Raheem Sterling has emerged as a figurehead for footballers who have had enough of the authorities' lukewarm punishments for racism.
"I think Raheem is becoming a real inspiration in how he deals with things, especially what's happened in the last couple of weeks," Loftus-Cheek adds. "We have to get this out of the game because its not something we can tolerate at all. When things like this happen, we have to confront it and do something about it. I don't think we can just leave it and hope it will get better."
One World Cup semi-final means it's too soon to say if Loftus-Cheek and his colleagues are England's next Golden Generation. But, with his career at Chelsea and England steadily building momentum — as well as his internet-endorsed good looks — Loftus-Cheek is central to the future of English football. The challenges faced by this group of players, from social media criticism and resurgent racism to the added pressure of a global audience, are different than what their predecessors came up against. Judging by our conversation, however, Ruben Loftus-Cheek is more than prepared for what's next.