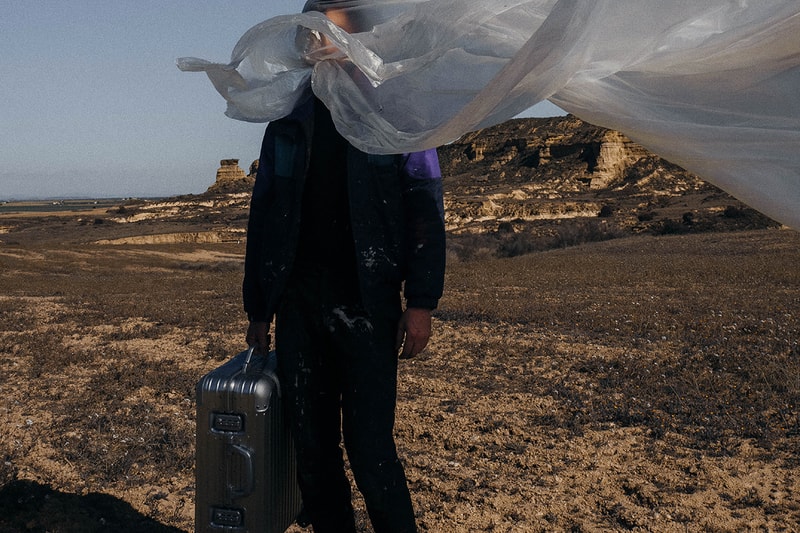 RIMOWA has teamed up with the contemporary art magazine KALEIDOSCOPE for an exhibition at Milan Design Week 2019, exploring the mediums of print, online, and live art through a short film, an installation, and a printed publication.
Working alongside the Spanish designer Guillermo Santomá, the collective has produced a gas station-inspired installation — titled GAS — in Milan's Spazio Maiocchi for the design week. Centred around a fully-functioning, RIMOWA-aluminium-panelled car that performs as a light and sound sculpture, the exhibition draws its inspiration from the US West Coast and Ed Ruscha's iconic series Twentysix Gasoline Stations, from where the exhibition derives its title.
Guillermo Santomá is known for his often unfinished pieces that are never pre-sketched, and instead crafts as he works on his process of deformation and creation. The process is seen in the collaborative art exhibition that that features a number of industrial-infused elements throughout, such as the red lights, wire constructions and reconstructed car.
A photographic zine and short film shot by Thibaut Grevet combines scenes from the Monegros desert and his home and studio in Barcelona and rounds out RIMOWA's Milan Design Week offering. The work delves into the construction of this exhibition, spotlighting the creative input surrounding this one-of-a-kind exhibition.
Experience the exhibition for yourself between April 9 – 14 2019 at the Spazio Maiocchi, showing between 11 AM – 6 PM.
In other art news, the estate of legendary hip-hop producer Matt Dike is being auctioned and features rare artworks from the late Jean-Michel Basquiat.
RIMOWA x KALEIDOSCOPE Present Guillermo Santomá: Gas
Spazio Maiocchi
Via Maiocchi 7
20129 Milan
Italy
Click here to view full gallery at HYPEBEAST