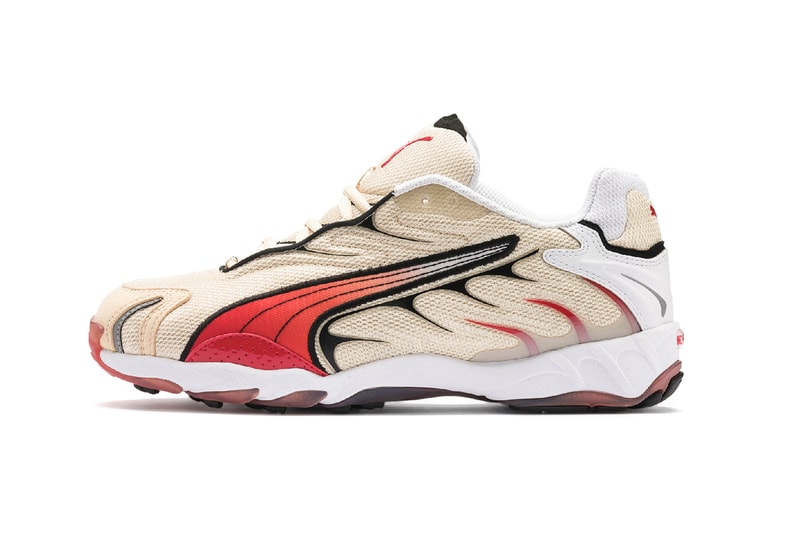 PUMA is tapping into an appetite for 1990s and early 2000s styles by bringing back the Inhale. The model was the footwear brand's flagship running shoe when it was released in 2000.
At its debut, the style was PUMA's answer to a need for more utilitarian footwear options that maximized its wearer's energy, but without compromising style. The trainer was originally created as a high mileage shoe equipped with e+Cell technology, which adds cushioning to the heel and forefront, according to DeFY New York. Design wise, it's marked by thick soles and playful uses of color and material, as well as exaggerated curves.
The shoe's impact and popularity was significant enough that it was acquired by SFMOMA in 2001, along with another highly coveted shoe of that era, the Mostro — both symbols of the brand's market position at the time.
This year, PUMA will give the Inhale new life as it's reissued in the original color way of beige, red and black. The model maintains the same thick-soled silhouette and cushioning technology. Mimicking the original design, the Inhale also features a mesh and canvas upper with patches of leather and suede.
No word yet on release date or pricing, but stay tuned as news emerges. In case you missed it, PUMA also channeled '90s style with the recently announced Palace Guard OG and Uproar Pack.
Click here to view full gallery at HYPEBEAST