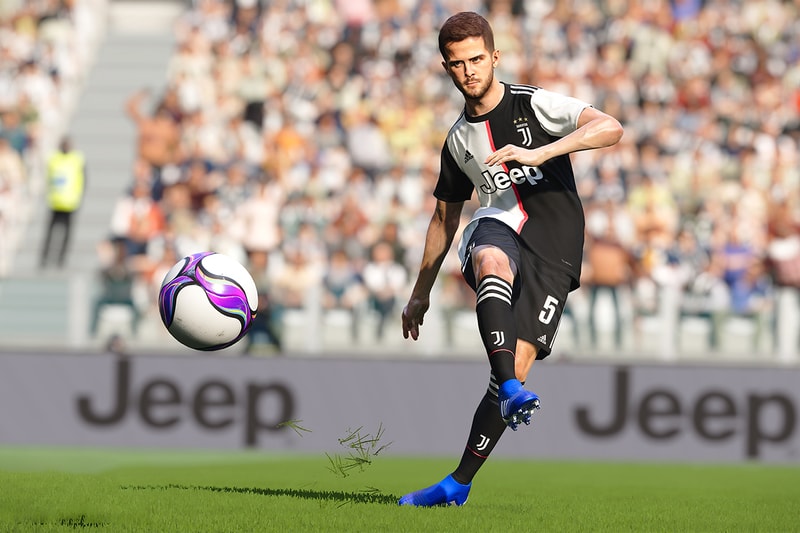 There's a long history of rivalries between sports games, whether it's NBA 2K vs. NBA Live or the relatively short-lived Madden NFL vs. NFL 2K. But arguably the most famous and long-running rivalry in sports games has been FIFA vs Konami's Pro Evolution Soccer (formerly known as International Superstar Soccer and now as eFootball PES 2020).
Both series originally launched in 1994, with FIFA becoming the game for arcade football fans while PES catered to the player who knows what a trequartista is. But with the launch of FIFA 19 in 2018, the FIFA franchise introduced several gameplay elements that were strikingly similar to what had been seen in PES games. And it's something that's not gone unnoticed by the people behind Konami's game.
"When I saw the first announcement from our competitor, I immediately spotted that they introduced some features which we've had in PES for quite a while," says Lennart Bobzien, European PES brand manager. "In the end for us, it's a great sign. It just shows that we're doing things right and that our competitor, they're trying to copy it. You can consider it as a compliment to our development team."
Konami
While games can typically be cagey about keeping an eye on competitors, that's not the case for Bobzien. "If we keep an eye on our competitors and their social channels, we also see the comments where some users are saying, 'Oh, why don't you have this in your game? PES have these features.' It just confirms that we're going down the right route with adding certain features."
This year sees several upgrades and they were mostly due to a new partnership with Andrés Iniesta. The ex-Barcelona midfielder currently plays for Japan's Vissel Kobe, which allowed him to meet the Tokyo-based Konami development team in person and walk them through intricate moves and tactics that he adopts in his game. The result is the introduction of finesse dribble. "You can really quickly pick it up as a newcomer," says Bobzien. "But if you want to be a master in it, you need to spend some time."
The key addition is the A.I. adaptation to the skills of a player. If Lionel Messi receives the ball, his teammates will spread out to give him room to dribble through the defense. But if Iniesta receives it, players will come closer to provide more passing lanes. It's a small update that will reap big benefits. Elsewhere there's several player-specific updates, as the game manages to capture Messi's dribbling technique and Philippe Coutinho's shooting style.
Konami
And part of the reason these players are captured in such a detailed manner is not just due to sophisticated design, but because of licensing. PES made a big splash recently with the signing of Juventus to an exclusive contract, leaving FIFA 20 with the awkward Piemonte Calcio in return. It was a deal that sent ripples through the internet, which is exactly what Konami was aiming for. "It is massive. People did not expect that," says Bobzien. "It's a statement that we are definitely going down the right direction." Konami has paid attention to the constant slights about Man Red and London FC and, in turn, made changes, partnering with several key teams such as Manchester United and Bayern Munich and, on the day this article was written, signing an exclusive deal for the UEFA EURO 2020 tournament. The increase in real teams will certainly affect Master League, which is still the game's marquee mode.
"It just shows that we're doing things right and that they're trying to copy it. You can consider it as a compliment to our development team."
Part of the appeal of Master League has long been that it exists somewhat in its own universe. You start off with the same made up players and work on them until they're world beaters — and also sign some players along the way. The transfer system bore only the faintest resemblance to reality, until now.
"We want to keep the transfer data as realistic as possible," says Bobzien. "Which means that in master league mode, you will not be able to sign Messi up for just four or five million GBP." In addition to more realistic transfers, there's also the addition of a narrative, which depends wholly on your results in game and makes for a logical and sensible feature. Less intelligible was the inclusion of Scott McTominay on the cover alongside Messi, Serge Gnabry, and Miralem Pjanic.
Konami
His inclusion did not please the crowd and led to headlines such as, "Man Utd fans bewildered as Scott McTominay appears on the PES 2020 cover with Lionel Messi." Bobzien notes that putting younger players on the cover is simply part of PES folklore. "We are always looking for the young and upcoming ambassadors," which has included players such as Gnabry. PES and Bobzien are banking on the future with its latest cover star. "We saw McTominay playing last season and it might be the case that this year will be his breakthrough and that he will show everyone his skills, his ability."
With coups like signing Juventus, improving Master League and working in tandem with Andrés Iniesta, it might just be eFootball PES 2020 — and Scott McTominay's — year.
Click here to view full gallery at HYPEBEAST