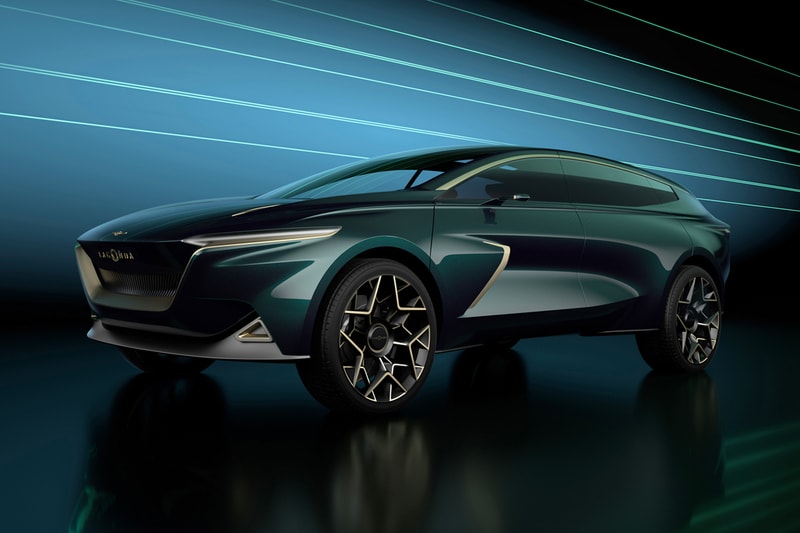 Lagonda, Aston Martin's spinoff focusing on creating luxury cars instead of sports cars, have unveiled at the Geneva Motor Show its new All-Terrain Concept. A fully electric crossover vehicle, the All-Terrain Concept combines the best of form and function. Aston Martin describes it as "an ultra-stylish, supremely luxurious, fully electric, emission-free vehicle that can transport its occupants to remote and spectacular locations." The company plans to start production in 2022.
Dressed in a classy dark green with gold highlights, the concept crossover utilizes a skateboard-style platform which can spread battery weight load throughout the floor. This lowers the center of gravity, increasing the quality of handling while raising the floor to give the car that SUV-like aesthetic. The platform also makes the car very stiff, making the vehicle's rear-hinged coach doors and flip-up gull-wings possible.
In the car itself, the front seats can swivel around to create a room-like environment when the vehicle is in autonomous driving mode. With minimal displays and hidden vents and speakers, the interior keeps a sleek and polished style, matching its exterior. Perhaps most prominently shown at the show is the vehicle's key unit. Seen in the images, the key is the little flying object floating above the fan-blade-like object on the center of the console. Suspended in the air by the help of electromagnets, the mechanism is truly a key from the future.
Discussing its design, the team behind the crossover largely drew inspiration from super yachts and that's clearly represented by the All-Terrain Concept's swept-back profile and rear-leaning tail. When describing its aesthetic, Lagonda's press release said: "The surfacing is incredibly futuristic, with forms and shapes that look like they have been created by the huge, planetary forces of gravity fields." Well, the vehicle definitely looks like it could fit in a colony on Mars.
In other news from the Geneva Motor Show, Koenigsegg just unveiled its Jesko, which packs 1,600 horsepower.
Click here to view full gallery at HYPEBEAST