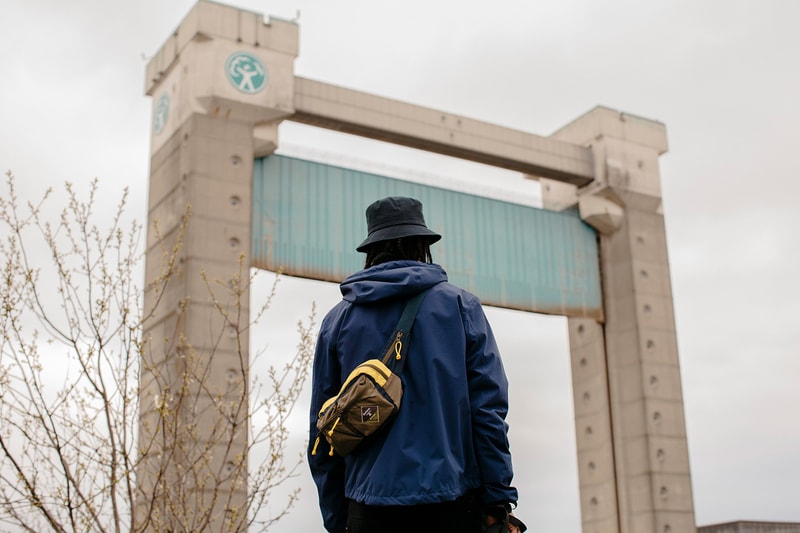 In the past few years, interest in photographing under-explored environments has exploded. As cities expand into the countryside, the clash between urban spaces and the wilderness makes for increasingly captivating subject matter. Adorned in the latest Spring/Summer collection from outdoor specialists Barbour Beacon, two emerging photographers from London headed out to capture these distinct landscapes from their distinct perspectives.
Named after the iconic beacon that overlooks the River Tyne, Barbour Beacon offers a more contemporary vision than its parent brand, but one that still carries the quality of the original. Key pieces from the collection include the Barbour Beacon Munro Wax jacket as well as the Barbour Beacon Stitch Crew Neck Sweatshirt, available in a range of colors, that features the brand's logo embroidered onto the chest. With this combination of function and heritage in mind, HYPEBEAST caught up with the photographers to see what they look for out on the lesser-explored fringes of the city, exploring the interesting structures that line the distant banks of the River Thames, reflecting the beacon lighthouse that sits at the mouth of the Tyne in South Shields, where Barbour Beacon was founded.
Mohamed Abdulle
How did you get into photography?
It was just something I did because I was bored and hated university at the time. It turned out to be fun and enjoyable to so I just kept on taking more photos. I thought to myself if I'm having this much fun with it then I should probably give it 110%. One thing led to an-other and before I knew it, it became my full time career.
What aspects do you look for in the landscapes you shoot?
The scene, environment, perspective, angle, there's a lot to factor in but mainly its just how I perceive it to be and how it looks through my eyes and I try to capture that as much as I can. When it comes to landscapes its not really what I look for, its rather what I find or bump into.
How do you approach shooting urban environments versus rural environments?
To be honest I approach them the same, the people in both places are the same, it's just that the environment is slightly different. With urban regions I can be a bit more relaxed as there's always a lot happening with the city, whereas with rural environments it's more slow placed so I just have to be a bit more patient with it. Usually with rural it's a case of constantly exploring. I'd spend a day scouting so I know exactly what I want to shoot.
When it comes to creativity, what does "exploration" mean to you?
Exploration to me means going out of your comfort zone, trying something new, capturing something you've never seen before, a new experience, a new location – to me exploration is having a new experience and capturing that.
How do you incorporate this concept of exploration into your photography?
I'd say that my photography is moments in life I've experienced and had the pleasure of capturing. I'm always going outside my comfort zone trying new things, seeing new places, countries, cultures etc. In a sense my photography is me capturing moments in my life through a lens. You should always travel, always explore, always take more photos.
George Muncey
How did you get into photography?
For pretty much as long as I can remember i've had an interest in taking photos or making videos. I got my own camera when I was 11 and would take awful photos of me and my friends, along with some really bad home movies.
What aspects do you look for in the landscapes you shoot?
I'm currently working on an exhibition of images for this summer which aims to explore my relationship with Britain during these turbulent times. So now I'm always looking for ways to include undercurrents of themes which weave through the images. Whether it's a statement on climate change, politics or mental health. I'm not looking to make something which is so obvious at face value – but making sure that an extra level of thought is present if you're looking for it, is really important to me.
How do you approach shooting urban environments versus rural environments?
I think that it's often the people or the community which will have a big impact to working in an urban environment. Often when I'm somewhere rural, it's to capture something quiet and empty. However when I'm in a city I like to try and be informed by the area, trying to connect with the people that make the place what it is. Whether that's asking locals for recommendations or casting portraits from the location itself.
When it comes to creativity, what does "exploration" mean to you?
Pretty much everything towards creativity revolves around exploration for me. I love going out, walking or driving with no direction. Just getting off of the beaten path and seeing what's out there to be found. It's quite often that I'll plan to go and shoot a specific location, but the journey there becomes more prosperous than the actual location.
How do you incorporate this concept of exploration into your photography?
I think that exploration is inherently present in my work, my whole process for the pictures I'm currently making revolves around driving across the country in search of subjects, whether that's a striking landscape, cityscape or portrait. I think it's very easy in the UK to get comfortable in your town or surrounding cities. There's so much beauty which is so close, but people tend to book a holiday abroad instead of just hopping on a train or going for a drive. It's something that I definitely was guilty of too, I'd never been to Snowdonia, The Lake District or Scotland until a few years ago, and I couldn't believe that places so striking existed so close to where I live. You really don't know what's out there until you go out and get lost.
To get a better look at the full Barbour Beacon collection, head over to the ASOS web store.
Click here to view full gallery at HYPEBEAST