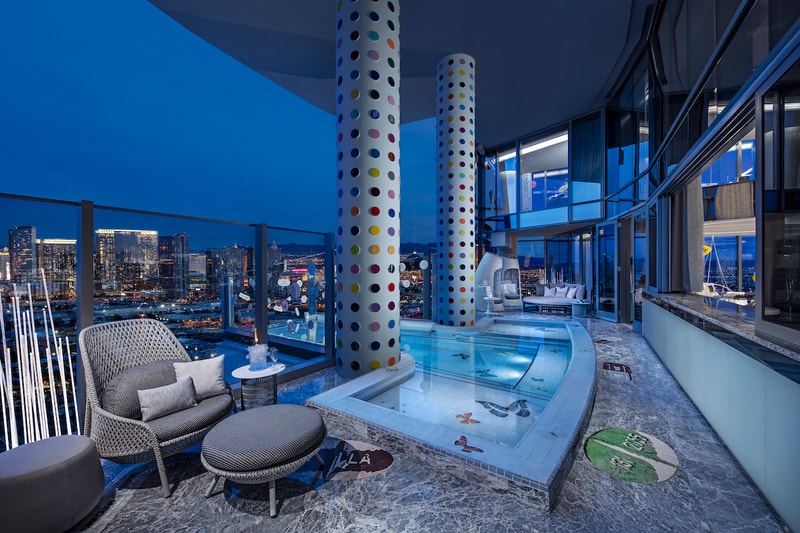 The Palms Casino Resort in Las Vegas has redefined fine art viewing with its outstanding collection of blue-chip works. Rare pieces by leading artists such as Jason REVOK, James Jean, Felipe Pantone, Takashi Murakami, Eric Haze, and Joshua Vides among others that are installed in its many lavish spaces. Later today, the resort is slated to debut Damien Hirst's 60-foot-tall Demon with Bowl sculpture that was installed inside a swimming pool at the resort.
Ahead of the Demon sculpture unveiling, Palms flaunts its newly-furnished Empathy Suite that is filled to the brim with six original creations by Hirst. One of the standout works is the artist's Winner/Loser (2018) sculpture of two bull sharks suspended in formaldehyde in a white tank that is mounted onto one wall of the suite. The sprawling unit is also outfitted with high-end furniture embellished with textiles portraying Hirst's signature motifs such as his spin designs, butterfly and pharmacy visuals. In addition, a pill cabinet housing rows of diamonds that is placed at one corner of the immense villa designed by Bentel & Bentel Architects.
Anchoring the opulent offerings in the suite is a 13-seat curved bar created by Hirst using medical waste alongside a cantilevered jacuzzi pool festooned with mosaic inlaid butterflies and pill decals on its glass structure."The Empathy Suite designed by Damien Hirst is the pinnacle of luxury combining museum-worthy art and truly legendary hospitality experience for the discerning hotel aficionado and casino guest looking for a once-in-a-lifetime Las Vegas stay," said Jon Gray, Palms general manager.
The villa ranges from $25,000 to $50,000 USD a night. To learn more about the suite and its decadent offerings, head over to Palms' official website.
For art happenings on the east coast, check out these must-see exhibitions during NYC's Armory Week.
Palms Casino Resort
4321 W Flamingo Rd.
Las Vegas, NV 89103
Click here to view full gallery at HYPEBEAST