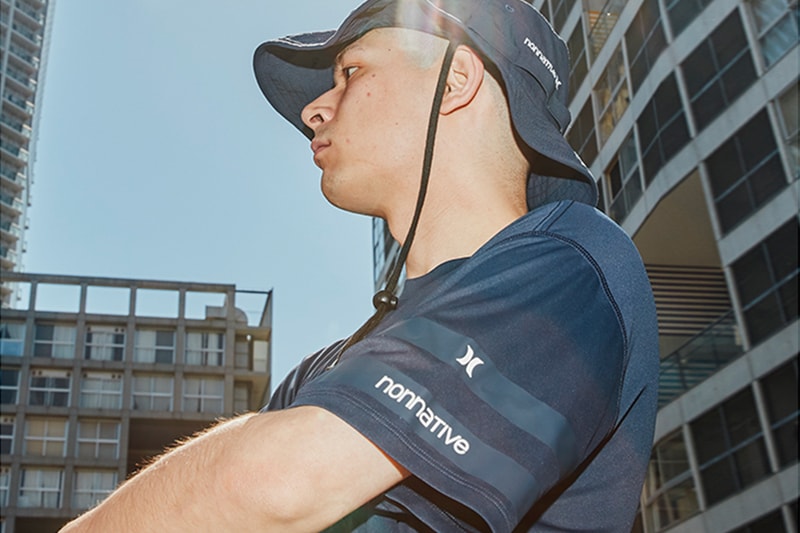 Following up its previous Suicoke collab, nonnative has partnered with Hurley, this time with a round of warm weather garments designed for both the city and the beach, taking on "amphibious"-like design elements.
The nonnative x Hurley "23" Waves Collection encompasses a slew of T-shirts, board shorts, bucket hats and 6-panel caps, painted in palettes of olive, navy and black. With Hurley as a label that sits under the Nike brand, Dri-Fit fabric has been added to each piece for quick-drying and moisture-wicking effects. The collection draws its name from the 23 wards that make up Tokyo while offering a nod to an appreciation for nature and culture.
Standout pieces include the Dri-Fit T-shirts that come subtly branded in signature nonnative style. The tees see a predominantly muted design, with two striped vinyl bands on the arm and Hurley's logo placed at the right rear shoulder. One bonus feature is that the shirts double as rash guards, enabling a smooth transition between city-to-beach, or vice versa. Other featured items like the matching shorts, bucket hat and 6-panel cap, round out the concise collection, reflecting a uniquely synthesized design ethos between the two labels.
The nonnative x Hurley "23" Waves Collection is currently available at Nike's Japanese site as well as select retailers like COVERCHORD, ranging from $55 – $118 USD. Scroll below for a few words from nonnative designer Takayuki Fujii, who has shared a glimpse of the thought process behind creating the collection.
In other related news, check out KANGHYUK's meticulously tailored garment-dyed pieces.
"Around 2017, I made the move from central Tokyo to a beach town on the coast. While I don't surf, I like to go to the beach and often go swimming. Recently, I was thinking about how I'd like to go for a run to the beach, cool off in the sea, and run back without having to carry a change of clothes. I realized the only [way] to do this is with surfwear. However, surfwear often uses bright colors and patterns that aren't really my style. That's when I came up with the idea for this collection. A loose fitting rash guard, classic surf shorts and a hat that can be stuffed into a pocket – a surfwear set-up, with the nonnative aesthetic. When thinking of who would be able to make this happen, I immediately thought that Hurley would be the best fit. The fact that Hurley can make use of innovative Nike fabrics and technology was also an added bonus. If you live in the 23 wards of Tokyo, you can jump in the car and drive an hour to the beach for activities in the sea with your kids. Drying off quickly, returning to Tokyo and heading straight out for a drink without having to change your clothes is what this collection was made for."

– Takayuki Fujii, nonnative
Click here to view full gallery at HYPEBEAST