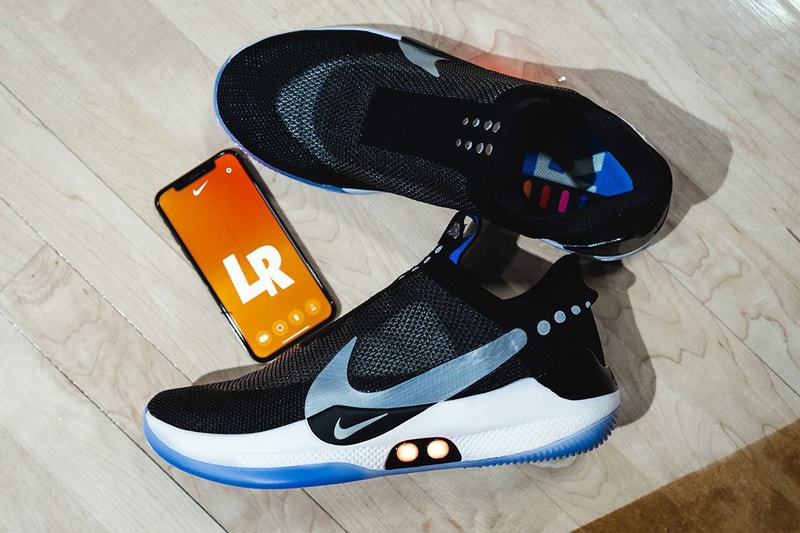 As The Fashion Law has pointed out, Nike is seeking to trademark the phrase "Footware." The term will reportedly be used in an overall branding push for the Oregan-based behemoth's cutting-edge "smart" footwear.
Shoes like the self-lacing Adapt BB would fall under this terminology, which was covered in the application that Nike submitted to the U.S. Patent and Trademark Office (USPTO). Note that Nike isn't registering the phrase wholesale under a class 25 trademark, which would cover all shoes — instead, the footwear goliath's goal is to use the term to describe specific functionality. According to its trademark application, the trademark will cover, among other things:
Computer hardware modules for receiving, processing, and transmitting data in Internet of things electronic devices; electronic devices and computer software that allow users to remotely interact with other smart devices for monitoring and controlling automated systems … providing temporary use of non-downloadable cloud-based software for connecting, operating, and managing networked payment terminals, entertainment devices, smartphones, lighting systems, HVAC systems, in the internet of things (IoT)
Essentially, the trademark would cover a wide array of features, rather than a solitary design, demarcation or silhouette. Thus, the phrase could be used to brand Nike's smart footwear in the same way that "Just Do It" brands Nike Sportswear garments and campaigns.
Nike's original application can be found by searching "footware" on the USPTO's website, or read the full filing information below.
Elsewhere, we recently took a peek at a forthcoming grey Nike Adapt BB colorway.
FOOTWARE
Goods and Services IC 009. US 021 023 026 036 038. G & S: Computer hardware modules for receiving, processing, and transmitting data in Internet of things electronic devices; electronic devices and computer software that allow users to remotely interact with other smart devices for monitoring and controlling automated systems; computer software and firmware used to allow electronic devices to share data and communicate with each other; software drivers for electronic devices that allow computer hardware and electronic devices to communicate with each other; computer software for network and device security, namely, software that ensures secure receipt, processing, transmission and storage of data in the internet of things; computer software for use and interoperability of application program interfaces that are used by electronic devices, systems, and interchanges that exchange data via communications networks and the internet and that connect with private and public computer networks for data storage and exchange services
IC 038. US 100 101 104. G & S: Telecommunications services, namely, transmission of data by means of telecommunications networks, wireless communications networks and the Internet

IC 042. US 100 101. G & S: Application service provider featuring application programming interface (API) software for integration of third-party applications to allow an interactive user experience; Cloud computing featuring software for connecting, operating and managing networked devices via wireless or wired networks; cloud computing featuring software for connecting, operating and managing networked devices in the internet of things; cloud computing featuring software for use in the collection, management, monitoring, storage and analysis of data; cloud computing featuring software for managing machine-to-machine applications and machine-to-machine networks; providing temporary use of non-downloadable cloud-based software for connecting, operating, and managing networked payment terminals, entertainment devices, smartphones, lighting systems, HVAC systems, in the internet of things (IoT)
Click here to view full gallery at HYPEBEAST