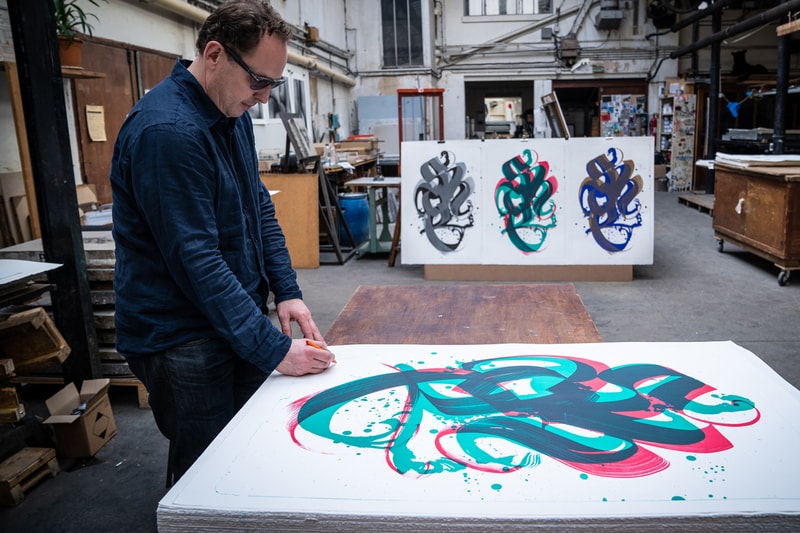 Niels Shoe Meulman is widely-recognized as being one of Amsterdam's graffiti pioneers. Throughout the 1980s, Meulman also worked alongside Keith Haring, Dondi White, and Rammellzee. He coined the term "Calligraffiti" to describe his gestural artworks, expressing that "a word is an image and writing is painting," he expressed in a statement.
For his latest effort, Meulman teamed up with Paris-based Print Them on All on signed and numbered lithographs entitled Unambidextrous Shoe. The series consists of three hand-cut editions (43.70 x 30.32 inches) with each option portraying the same original artwork.
"I wanted to do calligraffiti which is my signature style, in reverse, but that's impossible because my right hand is so used to go in a way," said Meulman of the creative process. "I decided to do one with the left hand, which is the 'Shoe' calligraphy, and then one with the right hand to show the difference between 30 years of practice and no practice at all. And here is the title 'Unambidextrous Shoe.'"
The Unambidextrous Shoe editions will release on May 9 at 6 p.m. CEST on Print Them All's website. Pricing starts at $468 USD.
For more notable releases, check out this week's Best Art Drops.
Click here to view full gallery at HYPEBEAST