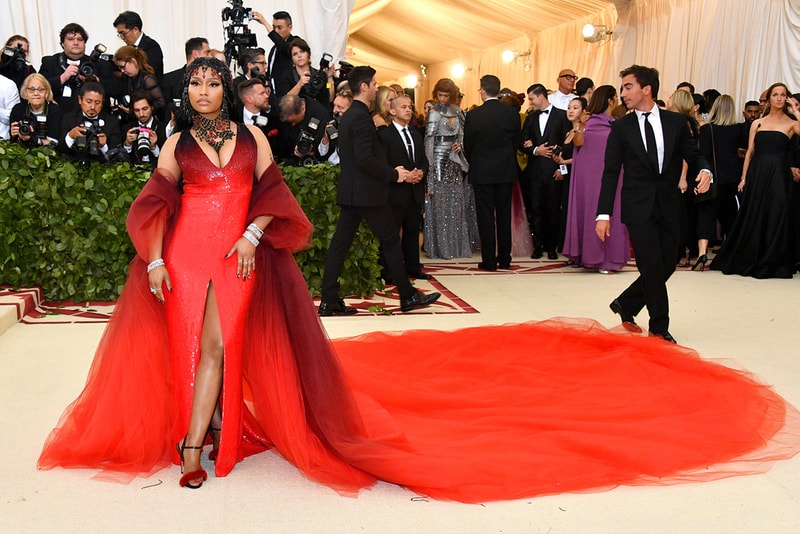 Nicki Minaj and Joe Budden got into a heated discussion during the newest episode of Queen Radio — which was also the 1-year anniversary of the show — that aired yesterday (Aug. 13). Joe Budden, along with his podcast partners and co-hosts Rory and Mal, were guest of Queen Radio and things began to take a left turn when Budden suggested that the rollout of Megan Thee Stallion and Nicki's new single, "Hot Girl Summer," was "calculated." "You like tearing down women when they can't defend themselves," Nicki told Budden.
After a brief back and forth about the past situation surrounding "Motorsport," Minaj confronted Budden on his drug allegations surrounding the Beam Me Up Scotty spitta. The tension got so high that the Queens native cut Budden's mic off.
"Cut [Budden]'s f*cking mic," Nicki told her producer after drug allegations came up. "It's been malicious and specific to me because he and I were under the same people when we were coming up," she says. "I used to think to myself, this man is so bitter… I didn't think his ego was that out of control that he couldn't admit when he was wrong."
The two would eventually made up, with Nicki Minaj even pulling up to The Joe Budden Podcast to record a new episode on their show.
Megan Thee Stallion was originally supposed to be Queen Radio but could not. appear on this week's episode. "And that's that on that," Nicki said, regarding the cancellation
Nicki also confirmed that her forthcoming album is due out "soon," and that there's a "dope" executive producer attached to the project, however she won't confirm who they are, yet. When discussing her love life, she left two big clues. That her album will be coming out and she will be legally married all within 90 days.
When talking to Ts Madison, after Joe Budden and crew left, Nicki said, "I'll be married before my album comes out, but I'll probably have my wedding after the album comes out."
Lastly, Trina's head A&R went public and accused the New York superstar of not supporting thier collaborative single "BAPS" plus being a "deceiver" and "Manipulator." Nicki addressed the situation directly.
"Trina's camp is saying that I didn't do enough to promote her song 'BAPS.' What the fuck?" she says. "When people you have helped continue to speak bad about you.. the people I've helped are the ones who start the narrative, so that's the problem. I could say so much, but I don't. I'm not addressing men anymore, my husband will."
Listen to the episode here.
Click here to view full gallery at HYPEBEAST