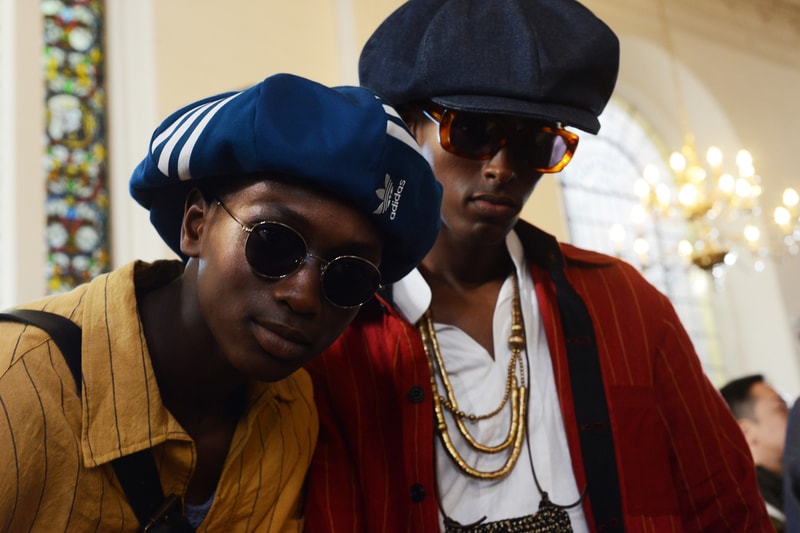 Nicholas Daley has become one of the most important designers to show at LFW:M NEWGEN, regularly making his presentations into a musical affair. His clothing has garnered comparisons to those of his previous employer Nigel Cabourn, but Daley's style has since come into its own, evolving into a style that combines workwear with London's jazz scene and his Scottish-Jamaican heritage.
The designer first landed on HYPEBEAST's radar back in 2017 thanks to the grounded manner in which he connected his work to the real world, using music as a conduit. His Fall/Winter 2019 show was held at East London's Bethnal Green Working Men's Club, a million miles away from the glamor typically associated with fashion. With Puma Blue playing, the show felt closer to a music gig than a fashion presentation, putting attendees at ease than in the usual high-profile front row.
When we first catch up with Nicholas Daley for this season's presentation, he's hard at work in his studio space in Bernie Grant Arts Centre, which was previously the home of another process alumni, Martine Rose. Daley's Spring/Summer 2020 collection is titled "Astro Black" after Sun Ra's seminal work. "I'm a big fan of Sun Ra's music and was lucky enough I saw them play at Cafe Oto in Dalston on Marshall [Allen's] 95th birthday," Daley tells HYPEBEAST.
Seeing the artist perform at such an advanced age inspired him. "It shows you, in a cheesy way, the power of music and that's something I've really embraced as an additional part of this collection and as a general way of presenting my work" Daley explains.
This collection looks to afrofuturism, as the genre has swung back into vogue through a blend of blockbusters such as Black Panther and smaller scale projects such as Flying Lotus's Flamagra. The key for Daley was to retain his sense of self while still looking to outside inspiration. "I don't wanna copy Sun Ra. It's more about embracing what they're about," he says.
But the designer does want the collection to evoke the world of Sun Ra. During the process of creating the collection, he often asked himself, "If Pharoah Saunders walked into this room would he vibe off this shirt?" Until he felt an item met that criteria, the item would be sent back to the drawing board.
It's likely this attention to detail that drew BEAMS Japan to Daley's graduate collection in year?, leading the Japanese retailer to become his first ever stockist. The partnership has since led Daley to create exclusive products for the label and help him utilize new techniques for his SS20 collection, such as tie-dye. "When I knew I wanted to do some tie-dye, we spoke to our contacts in Japan and found this OG Mr Miyagi, sensei," Daley says.
While traveling to Japan might seem over-the-top for a process that can technically be done in a bathtub, it shows Daley's dedication. "Even with the fabric there needs to be a narrative," he says. This has been a consistent thread through his collections, which have also utilized Scottish hand-knitted jute yarn and Vanners Silks for the jacquards. It also extends to his collaborations, such as working with Tricker's on a commando sole loafer — a first for the heritage manufacturer.
"I wanna make sure everything I do is saying something, it has a vibe, it has a story."
Daley also picks up fabrics from unexpected places, with the jackets made from military surplus blankets. "I saw them and thought, 'Why not?'" he says, laughing. "The guy at the surplus store said he has crates of it, so why not use something that already exists and try and rework it?"
The blankets also represented a bigger creative challenge. "If you look at all the greats, everything was a canvas," he says. "That shows the mark of a creative or a designer, they can find something and spin it and make it into something and you're like, 'Wow, how did you do that from that?' I'm not saying cutting up blankets is rocket science, but what I meant was in terms of my breadth of fabrics, I want to be conscious of what's being put into it."
As climate change morphs into climate crisis, designers are also contemplating their place in an industry that's among the worst polluters on the planet. "Fashion is a heavily contributing factor to waste," Daley says of his decision to use the military surplus blankets. He also thinks about his contribution to the fashion industry in the wider sense. "If I feel like I'm not saying anything or doing anything or introducing or trying to push something, then I feel like as a creative I'm not justifying my place."
"There's so much product, so many designers, HYPEBEAST see it on a regular basis. I wanna make sure everything I do is saying something, it has a vibe, it has a story. Authentic story, authentic product, authentic people, that is what I'm trying to nurture and express."
"If I'm not saying anything or doing anything or trying to push something, then as a creative I'm not justifying my place."
This season's show takes place at St Mary-At-Hill Church in East London's banking district, a place of worship that's become a juxtaposition of changing demographics in the area. Taking over the grand space, the show includes a raised platform in the middle of the venue that's surrounded by a single file of chairs. The band of choice this season is Sons of Kemet, who wear the jackets made from the surplus blankets with each member intermittently coming out into the show. Starting with a trumpet player, the band slowly builds into "My Queen Is Ada Eastman" from their album Your Queen is a Reptile.
When the show ends Daley does the typical finale bow, but then takes a turn and joins the band on stage dancing, before getting the audience, which includes the likes of Riz Ahmed, to their feet. In a matter of minutes, the event has transformed from a runway show to a live concert, which is just what Daley prefers.
"I'm gonna be completely honest, I don't really go to that many fashion shows," he says of his choice to make music such a prominent part of his work. "That's why I thought 'If I wanna make a show, what would I like to see at a show?' Or what would make me go, 'Wow.' Fashion's not just about clothing, it's more about a style thing."
And the show-turned-gig, which had Vogue editors dancing alongside Sons of Kemet and Daley's family members, is where Daley's clothes truly come alive. "I'm in fashion, I love it and it's amazing for me to be in this position, but the shows, I wanted to make sure they had a vibe."
Daley's overall goal is a relatively simple one. "It all goes back to authenticity," he says. As one of the few rising mixed-race designers on the London Fashion Week: Men's schedule, telling his personal story takes on a larger importance, particularly considering the dearth of stories in media around black and mixed-race Britons in general. "I just wanna tell a story which is believable, makes sense and maybe hasn't been touched on or expressed in a fashion context. And that's what I push on the most." And, judging from his recent show, he's pushing in all the right directions.