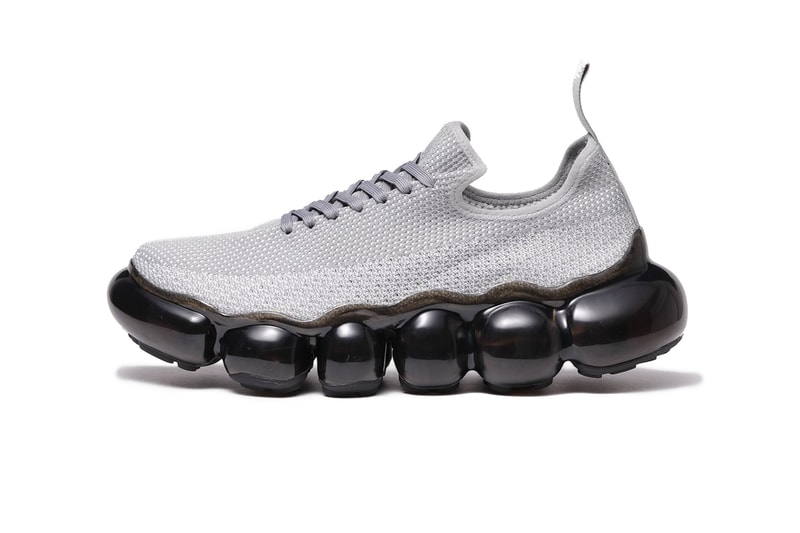 After teaming up with Walter Van Beirendonck for Spring/Summer 2020, Japanese Mikio Sakabe has finally introduced a digital destination for his forward-looking footwear brand, GIDDY UP. Also known simply as GIDDY, the label's first offerings are a duo of over-inflated running shoes that take 3D-printing and custom outsoles to bold new heights.
Though the brand has showcased some pretty remarkable woven creations, the "JEWELRY" and "INTERSTELLAR," GIDDY UP's first publicly-available silhouettes are comparatively conventional. The former style, described as "wearable jewelry," aims to both "attract the attention of the people around you" and "direct your consciousness to the ground," presumably insinuating the extreme comfort of its exaggerated sole unit.
Meanwhile, the "INTERSTELLAR" grants its wearer's feet the feeling of "effortlessly gliding" across the ground. "By putting on a pair of these shoes, you will feel as though you could walk anywhere," enthuses the website. Both shoes are offered in a quartet of colorways, with neutral gray, black and cream-toned knits set atop the sculpted, shapely resin outsoles.
Visit GIDDY UP's web store to shop the two available styles for ¥25,000 JPY (approximately $230 USD) apiece.
For more unconventional heavyweight shoes, check out SHOES 53045's Bump'Air "Green Giant."
Click here to view full gallery at HYPEBEAST