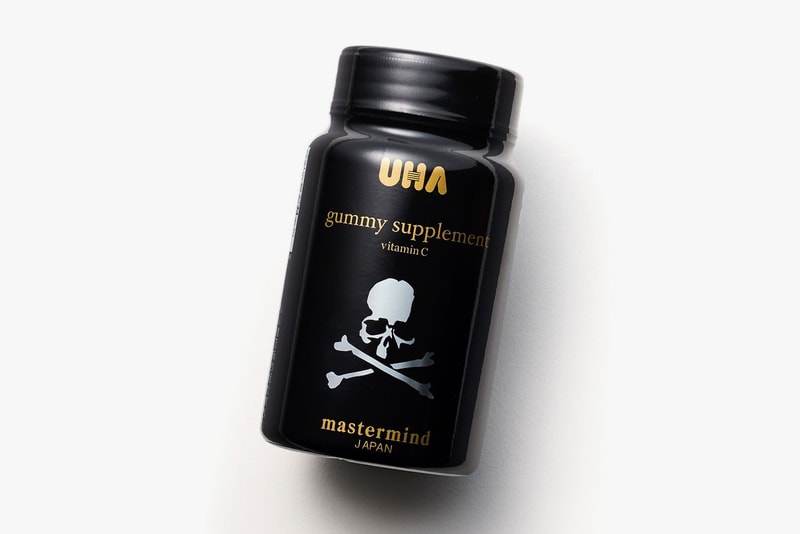 With plenty of off-kilter collaborations under its belt, mastermind JAPAN has teased what may be its most bizarre offering to date. Designed in collaboration with Japanese candy experts Uha Mikakuto, the streetwear stalwart is delivering an exclusive bottle of vitamin C gummy supplements.
Like the recent Isetan Men's exclusives, the vitamins are an exclusive release for Hankyu Department Store, unlikely to be reproduced any time soon. Perhaps best known in the West for its fruit-flavored gummy candies, Uha was founded in 1949 in Japan and has been creating vitamin supplements for Japanese consumers since inception — this collaborative bottle is somewhat unusual for the company, as it prefers to package its goods in plastic resealables.
Regardless, mastermind JAPAN has created the ultimate healthy treat for streetwear fans, designing all-black packaging printed with gold letters and the iconic mastermind skull-and-crossbones logo. Inside, lemon-flavored gummies promise 250MG of vitamin C apiece, ensuring you start your day on the right foot.
The collaborative gummies drop at Hankyu Department Store's street-friendly Garage shop when it reopens on March 15.
Most recently, we focused in on mastermind WORLD's strapped-up SS19 bondage sweater.
Click here to view full gallery at HYPEBEAST