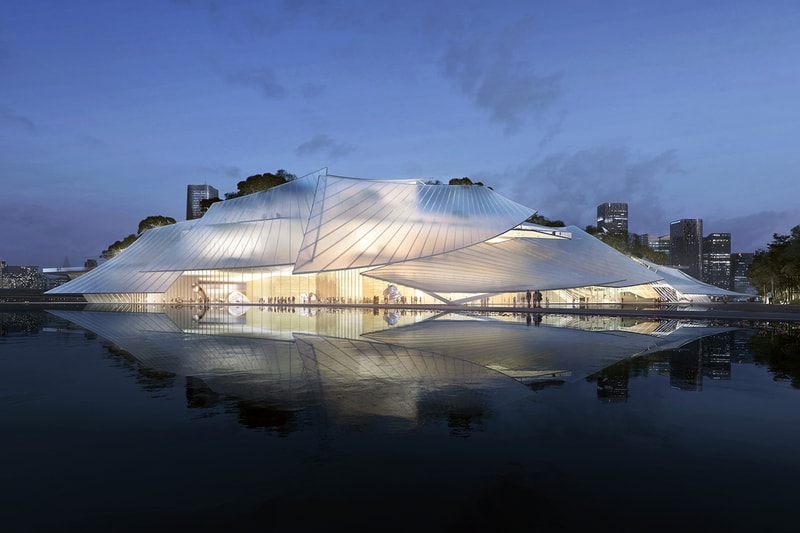 Architectural firm MAD has designed a theater for the city of Yiwu in China modeled after a traditional second-century junk boat. The building features a glass roof inspired by the sails of a historic junk boat, while the entire structure is surrounded by water to give it the appearance that it is floating.
The Yiwu Grand theater is set to be built on an island near the south bank of the Dongyang River in China's Zhejiang province. The structure houses two theaters — one seating 1,600 and the other 1,200 — as well as a conference center and a plaza.
MAD said in a press release that the building's roof "is defined by a layering of glass sails that are reminiscent of the Chinese junks that once transported goods across the waters, while their subtle curves echo the Jiangnan-style eaves of the ancient vernacular architecture that is typical of the region."
"The Yiwu Grand Theater has been designed as a monument for the city, that will serve to connect inhabitants to the waterfront from a new perspective," added MAD.
The theater will act as a focal point for the island and it is intended to become a new cultural center and public space for the city. It will be accessible via both the north and south river banks thanks to two equally modern bridges. Construction on the MAD-designed Yiwu Grand theater will begin in 2020.
In other news, Hermès has moved into MVRDV's glass brick store in Amsterdam.
Click here to view full gallery at HYPEBEAST