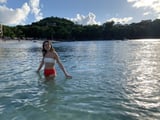 The only beauty mistake I've made that's more embarrassing than tweezing half my eyebrow away is plucking the in-growns on my bikini line. Because here's the thing: I didn't realize I was over grooming in the first instance, and I was fully aware that I might not look so good in a swimsuit after destroying my nether regions. WTF was I thinking?
"You desperately need to try laser," my best friend told me, staring in disbelief at the scars I created on my bikini line from all that picking and squeezing. "Your skin will be smooth and hair free in no time, and you'll never go ape sh*t with the tweezer again."
When I got the chance to try the treatment at Romeo & Juliette salon in NYC, I took full advantage of the opportunity. With a mission to feel better about my body by Summer 2019 and a January vacation to St. Lucia on the horizon, I started treatments as soon as I could, in early December 2018.
But I didn't just jump right into my first session without asking the hundreds of questions that are probably going through your head. Like, is laser safe? How many times do you have to get treated? Do the sessions hurt, and do they get increasingly painful? Is the hair removal permanent? How permanent? Will it work for all skin types just the same? How about for all skin tones?
Before slipping on some nifty protection glasses and letting someone come at me with a tool I had never seen before, I sat down with Chris Karavolas of Romeo & Juliette Laser Hair Removal to understand what I was getting into. Read up on the process and safety precautions below, then check out my own personal takeaways from the experience to find out why I think lasering my bikini line was so very worth it.