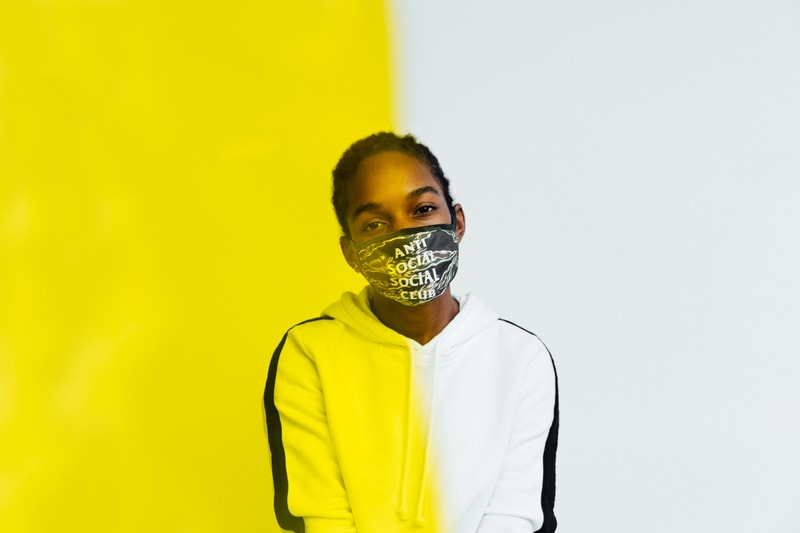 Jubilance is what radiates from Koffee, born Mikayla Simpson, as she walks into HYPEBEAST's office. With her bright eyes and radiant smile, it's easy to see why people gravitate towards the Jamaica-born reggae artist, even before you hear her music; a warmth emits from her core. Nonetheless, her music and penchant for melodies are what could make this 19-year-old upstart an international superstar.
"I was speaking to someone and they were saying to me, nobody knows what to expect," Koffee tells HYPEBEAST. "If I'm about to drop a new song or a new project, nobody is sure what direction I'm going to go in based on where I started."
"Lyrics will come to me at times. I would probably [be] walking and something hit my head and once I have a chance I will write it in my phone"
Like an echo in a cave, Koffee's music has gradually found its way to people's ear. Her singles such as "Toast" and "Burning" have been making their way around the internet over the last six months, popping up on playlists and sporadically on social media. Her debut EP, Rapture, was released on March 14 via Columbia UK Records, sparking a general consensus that the five-foot talent has the potential to be the next great singjay — the term refers to a Jamaican style of reggae that combines "singing" and "deejaying," by the performer, who is equivalent to an MC.
"When [I] get a track first, I sit and I kind of just get in my zone and listen to it over and over again and just feel how best I think suits the track and [I] try to complement it in the best way possible," she says of her writing process. "Lyrics will come to me at times. I would probably [be] walking and something hit my head and once I have a chance I will write it in my phone."
Koffee — who got her nickname from classmates as a child because she was drinking the beverage in school — was raised by her mother in Spanish Town, Jamaica, the youngest child of four. She was born into a very Christian household and grew up listening to gospel music such as Kirk Franklin, Donnie Mcclurkin, and Mary Mary. Around the age of five, Koffee developed aspirations to become a singer but those desires faded away as she got older. Things changed when she enrolled at Ardenne High School in Kingston, Jamaica, exposing her to a mixture of cultures and access to different resources.
"Kingston is like a city, while Spanish Town is like a small town so there's more laid back and not much access to certain things that would be a part of the fast life," she explains."
When she was 12 years old, Koffee picked up a guitar for the first time and two years later came across reggae music, specifically Chronixx, who became a major inspiration to her alongside gospel music. The gleeful singer began to challenge herself by writing lyrics, which relit her desire to pursue music.
"I was writing but not like songs," Koffee says with a smile. "I was challenging myself, I would write a rhyme scheme, so instead of a song it would be just one whole verse that goes straight down, all the way down, and that's how I would challenge myself." She adds, "Just stretching around the scheme, making it longer, more bars and tend myself to different words. Working on syllabus and more flows and stuff like that. So I was putting into practice and exploring in between that time."
At the age of 16 she started to perform at competitions, but her big break came a year later when she posted her single "Legend" to Instagram in tribute to Usain Bolt. The Jamaican Olympic champion re-posted it, and music executives and producers took notice. By the time Koffee released her official debut single "Burning" in 2017, the record labels were already calling her. Ultimately, she signed to Columbia UK in October 2018. The beauty of her music, which the " target="_blank">Rapture EP exemplifies, is that Koffee has the ability to navigate between dancehall, reggae and even elements of Afrobeat without batting an eye.
"I think the thing that keeps me connected and into Jamaican music and the roots of Jamaican music is probably the language and the way that I deliver," she explains. "I speak in a Jamaican Creole, specifically in my lyrics, but I'm definitely not closed to any genre at the moment because I am super young, I only have a few songs out and there's a lot of exploring to do, a lot more work and experiences to gain, so, I wouldn't box myself yet."
Her breathtaking performance with Chronixx at Tuff Gong studios as part of BBC Radio 1xtra's 2018 visit to Jamaica looked like the beginning of an illustrious career. You can see Chronixx excitedly smiling in the background as Koffee performs, knowing she isn't anything that was conceived of and produced by some music executive. Koffee is homegrown talent.