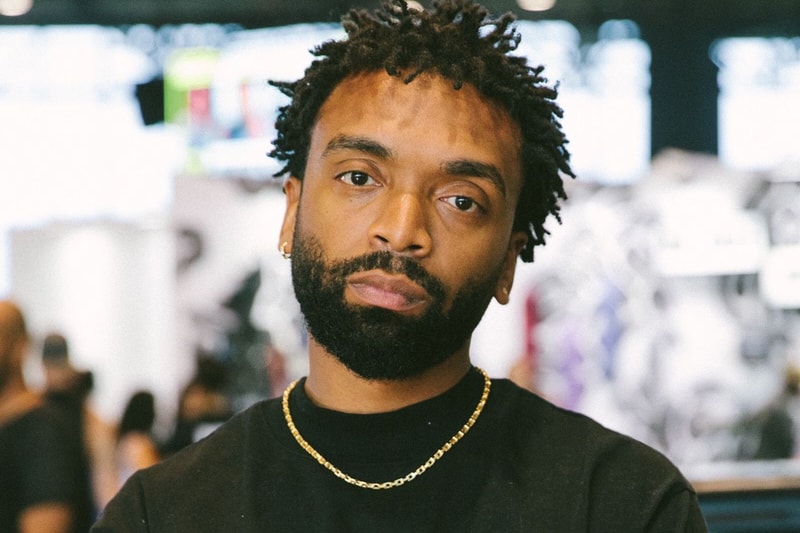 In an unprecedented move for Reebok, Pyer Moss designer Kerby Jean-Raymond has been named Artistic Director of Reebok Studies__, a new division at the company which will foster under-the-radar creative talent and ideas. His Reebok by Pyer Moss partnership, which first kicked off in 2017, has also been extended, as announced by both parties today.
Jean-Raymond has been focused on the bigger picture since first joining forces with Reebok, explaining that he was adamant that they form a "partnership" rather than merely collaborate. In 2018, he sought to make that a reality when he pitched the larger idea of Reebok Studies__ to then-interim head of Reebok Classics, Neal Taylor.
"I felt like there was a lot of focus around general product and not enough focus on the themes and the fashion components that we know to be cool. I understood that to ask a company who was in motion with so many projects to sit and focus on other young designers was a lot for them, so I made myself available and said, 'Let me start sending you new ideas,'" Jean-Raymond explained to HYPEBEAST.
While Reebok did not immediately form what is now Reebok Studies__, the division was eventually fleshed out and brought into fruition amid the Reebok by Pyer Moss contract renewal this year. The official name — the fourth option in a list of several others — essentially implies that the group will focus on one subject at a time, seeking to "uncover the human nature of things and show the importance of people's lives and stories," said Jean-Raymond.
"For example, if we brought in another designer or athlete, then the idea would be that Reebok studies 'X' personality and do a deep-dive and focus on that person," he added.
The initial aim for Reebok Studies__ will not necessarily be product-focused, though select pieces may be released with campaigns and there may be "flagship product" that then trickles down to other areas at the company. Instead, the opportunity gives Jean-Raymond the resources to grow the brand by employing approximately 20-30 people. He has already signed on a managing director, whose name was not revealed, and is underway with developing out other core roles.
"I want to sign all the cool young designers. I want to give everybody a place to come and create good collabs and build partnerships with the company. I want to open the door. Sometimes you have to break through the window to open the door, so that was my intent," he said.
"I want to give everybody a place to come and create good collabs and build partnerships with the company."
With two successful Reebok by Pyer Moss collections and multiple sell-out sneaker drops under his belt, Jean-Raymond seems well-suited to spearhead an entire division within Reebok. While the company has a topnotch roster of collaborations with other popular designers and labels, including Eric Emanuel, Victoria Beckham and Demna Gvasalia's Vetements, it was Jean-Raymond's unique "cultural connection" that stood out to the company when cementing the deal.
"He's proven over and over again his ability to envision the future and how it can impact people in the planet. That to me is his superpower. He has this unique superpower in design that's in perfect alignment to who we are as a brand," said Reebok's VP of creative direction, Karen Reuther.
By the same token, the partnership is not intended to affect other existing fashion collaborations per se, but according to Reebok will act as a "pathway to work with new designers, artists and personalities." Though that is the eventual goal, Jean-Raymond will begin this new role by focusing on existing collaborators at Reebok who would like to work with the Pyer Moss designer.
"It's intentionally open-ended as there really are endless opportunities. I often say we are living with a generation who loves innovation, but they are on a fashion metabolism and we need to tap into that, and this requires unlimited creativity and a name that reflects 'unlimitless,'" said Reuther.
It's no secret that Jean-Raymond's name also reflects diversity, though Reebok's press release on the partnership does not make any mention of this aspect. His collections have time and time again sought to reposition the image of Black people and underserved communities as a whole, with his recent Collection 2 imagery spotlighting the Black American love story. As such, his mission to "reverse the erasure of blackness" will be right in tow under the newly-formed Reebok Studies__ division.
"The goal is to be as inclusive as Pyer Moss."
"This will be important when marketing campaigns come out and when you see who I sign and am able to develop under Reebok Studies___. The goal is to be as inclusive as Pyer Moss," Jean-Raymond confirmed.
While his design expertise and penchant for inclusivity is unquestionable, there are still only so many hours in the day. His luxury venture, Pyer Moss, will continue to present runway collections each season and, of course, the Reebok by Pyer Moss range has now been extended. How will Jean-Raymond balance it all with an entire division at a global company now under his scope?
"To use Kevin Gates' line, 'I don't get tired.' I just think it goes hand in hand. My intent with Pyer Moss and everything I do is to help, so as we discover more and get more resources I see it as an opportunity to continue doing what I'm passionate about."
Click here to view full gallery at HYPEBEAST