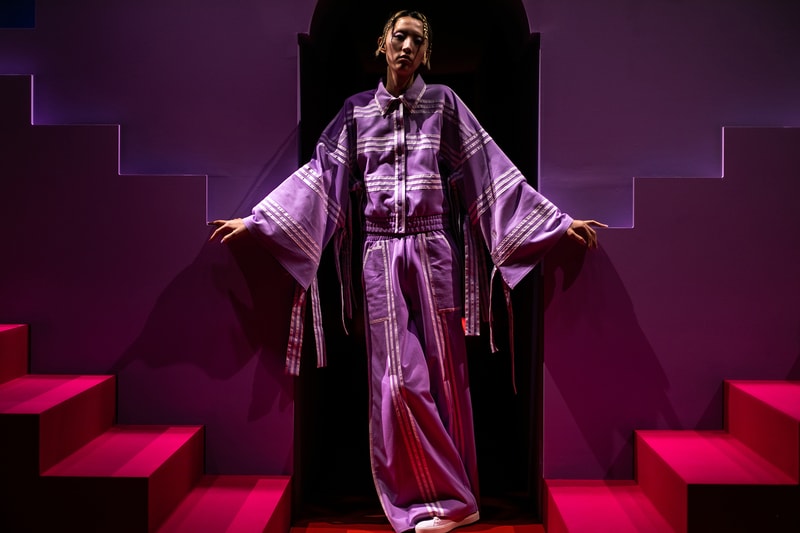 Following successful collaborations with emerging female designers, Daniëlle Cathari and Olivia Oblanc, adidas Originals has tapped yet another exciting creative talent, Ji Won Choi, for its latest collection. The Parsons graduate was born in Seoul, raised in the Midwest and studied in NYC and Paris and as such, naturally centers her work around the diversity of human cultures. Her statement, graphically striped garments made her an organic match for adidas, a brand of course that's also synonymous with stripes, but Ji's innovative, exaggerated silhouettes and meticulous construction resulted in a collection that blends heritage with a slick, contemporary appeal.
The Ji Won Choi x adidas Originals collaboration debuted on-schedule at London Fashion Week, showcased on a playful, elevated set that matched the color palette of the collection and provided the perfect backdrop for the colorful, architectural pieces. We caught up with the designer and Alexandra Weiland, director of creative projects at adidas Originals, during the presentation to get the lowdown on how the collaboration came to be and what it's like reimagining pieces as iconic as adidas' Three Stripe tracksuits.
Read on for more, check out our exclusive preview images from the presentation and get ready to shop the line at adidas' web store from February 20.
Ben Awin/HYPEBAE
Ben Awin/HYPEBAE
You've lived and worked in various cities across the world – how have the places you've visited influenced your work as a designer?
I have lived in various cities but I don't think they translate into my work very literally. They're more always present in the way that I create my concepts because I'm very concept-driven and I like to tackle issues that are global and cultural and I really like working with ideas that revolve around human cultures. I think in that way I pull ideas from different cities that I've lived in. It gives me an overall perspective.
How did you fuse who you are as a designer with adidas Originals' heritage?
The idea was to take adidas' classic tracksuit and bring my perspective into it in five different ways. I reinterpreted the tracksuit itself; there's one that's a jumpsuit and there's one where the sleeves are really big with strap hanging down. I brought in my aesthetic that involves all this movement and the repetition of these graphic lines that are present everywhere for a really cohesive visual language. I think what adidas brought in was that very classic tracksuit and the sportiness and the easy to wear and of course the Three Stripes that are very iconic.
Ben Awin/HYPEBAE
Ben Awin/HYPEBAE
What made you want to work with adidas? Do you have any early personal memories of the brand?
Back when I was living in Korea in the '90s, adidas was huge and we would get adidas as a special treat because everything foreign was a thing that everyone wanted. Because it's such a global brand, I saw working with them as an opportunity to reach out to an audience that I never would have had access to before. The Three Stripes are so iconic that anyone, everywhere in the world can see Three Stripes and know exactly what it is. That's so powerful and I really wanted to utilize that.
Alex: It was so cool, when we first started researching different designers and we landed on Ji and immediately, all of her work is based around the contrast stripes and striping and it was like, a no-brainer.
How did you discover Ji's work?
Alex: We have a super talented design team that's always scouring for new design talent but where we often find or at least do deep-dives to discover new talent is Instagram. It's really not so complex! It's how anyone finds anyone. For us it's been really cool because the visibility that we have with young creative talent has been so democratized; they can reach us. We literally just DM'd Ji and started from there.
Ben Awin/HYPEBAE
Ben Awin/HYPEBAE
Following on from your previous partnerships with Daniëlle and Olivia, what was different about this project with Ji?
Alex: I think we're always looking for a different designer who has a really unique point of view but also an open mind; they're willing to work with us, they're willing to find new ways of doing things because ideally by working together we create something we would have never been able to create on our own. I think with Ji, we were really attracted to her use of color because we're basing a lot of  collections on adicolor and of course the contrast stripes. But also movement; a lot of Ji's work is really engineered for movement and as a sportswear company that was also a really nice synergy.
What's really striking in this collection for us are the silhouettes; could you tell us more about your use of proportion?
I'm really inspired by my cultural background in my work, and I'm Korean so a lot of the silhouettes are pulled from very traditional Korean fashion. I'm also very inspired by architectural elements, so the silhouettes are super architectural and I think that really ties in together with the set as well. I just really like the idea of having movement in clothing because it really allows the wearer to really interact with what they're wearing, it allows for more playfulness, it allows you to want to move around more.
If you had to pick just one look from the collection, which is your absolute favorite?
Totally the lavender look with the sleeve and the straps hanging down, just because it's so dramatic and it really does embody my aesthetic and adidas' so perfectly together.
Click here to view full gallery at HYPEBAE