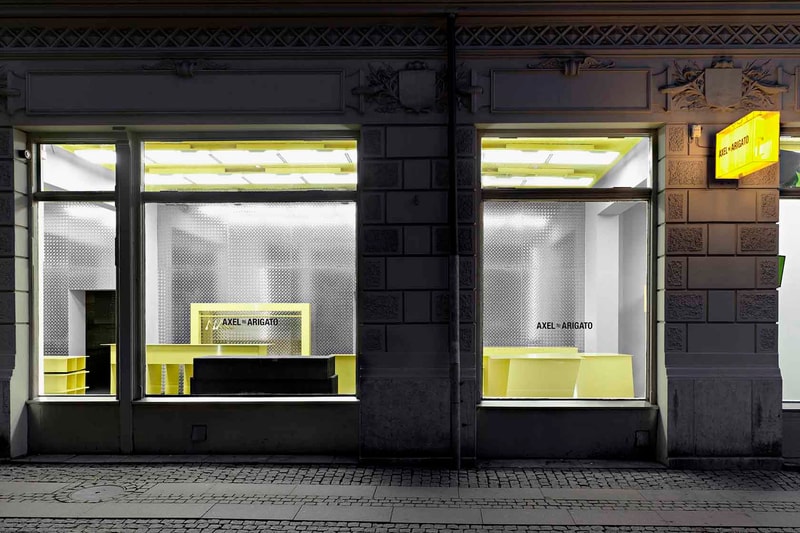 Scandinavia has long been in the spotlight for its minimal style sensibilities in fashion, interiors and design, and more recently "Scandi 2.0" style that's all about bold colors and mismatched prints. As revered as its inhabitants are for being the most effortlessly stylish amongst us all, the spotlight frequently falls on capital cities like Copenhagen and Stockholm as the focal point for the best-dressed and the base for some of the region's biggest brands like Acne Studios and GANNI. One often overlooked city that's been quietly and diligently forging a distinguishable fashion identity of its own is Sweden's second-biggest city, Gothenburg.
The gritty, industrial seaside city on the west coast has a storied history in textile production though as it's home to the largest port in Scandinavia, trade and shipping continue to play a major role in Gothenburg's economy. It also has the distinct advantage that goes hand-in-hand with second city-status; the notion that it's more-laid back, artistic and fun than its capital, as evidenced by locations like Antwerp, Barcelona and Glasgow. With Scandinavia's affinity for achieving the ideal work-life balance, or lagom, it seems like a burgeoning city like Gothenburg provides the perfect backdrop for both creativity and business to thrive.
Axel Arigato Gothenburg Store
Axel Arigato Gothenburg Store
"Gothenburg is obviously far away from being a fashion capital. But it doesn't need to be one. By being the second-largest city, Gothenburg has the freedom to be more laid-back compared to Stockholm. In Gothenburg you get to see "real people" and there is no showing-off. It's quite refreshing," says Max Svärdh, Creative Director of Axel Arigato. "By being so far away from the "industry" you are forced to go your own way and do things differently," adds Albin Johansson, the brand's co-founder and CEO. Both are Gothenburg natives, who launched their premium footwear and RTW brand in the city although they stationed their flagship store in London and a second outpost in Stockholm before opening the doors to their Gothenburg store, located directly opposite their HQ, in late 2018.
"10 years ago, it was mainly local brands here but now the city is becoming increasingly international."
Admittedly, the growing cultural scene is partly responsible for Gothenburg's shift from underdog to a recognized destination for travel and work. "Gothenburg might have been an "insider tip" in the past but through music festivals such as Way Out West and the Göteborg International Film Festival or new brands opening here it has certainly been more on the radar lately," shares Nina Gomes, an assistant buyer at Monki – the only offshoot of the H&M group that has its headquarters on the west coast. Another born and bred Gothenburger, Gomes attributes the nearby Swedish School of Textiles with bringing "A constant stream of talent with fresh and exciting ideas to the city," before adding "Gothenburg is hosting more and more fashion brands and events these days. 10 years ago, it was mainly local brands here but now the city is becoming increasingly international."
Monki Gothenburg Store
Monki Gothenburg Store
Marketing and communications director at Nudie Jeans, Mawejje Kuddiza, believes the city's growth is part of a larger, global technological shift. "With the breakthrough of internet and especially smartphones I think everything changed. The internet made trends, style, brands, stores and most importantly the interaction between peers easier as you don't need the same type of funds nowadays to see what's happening on the other side of the world. This has absolutely changed Gothenburg along with every other small city that isn't necessarily a natural hub for these phenomena." It's a belief that's been echoed far and wide in recent years, that technology has levelled out the playing field and democratized fashion and various other industries.
While being based outwith a capital city certainly doesn't hold the same stigma or present the practical issues it may have a decade ago, it's not entirely without problems. "Disadvantages are that you are being considered the runner up even if you're at the top," shares Kuddiz, revealing that "The Law of Jante can be very evident at times." The positives likely outweigh the negatives; although bigger cities offer up easier access to international travel, a wider selection of creatives and models to work with and a more renowned venues, museums and events, they can also be overstimulating and creatively draining.
"Gothenburg is obviously far away from being a fashion capital. But it doesn't need to be one.
"Being in a smaller city like Gothenburg makes it easier to focus on what you're doing and what you want to do instead of what everyone else are doing. You don't get compared to other brands or business in the same way and you can focus on being great instead of better than someone else," Kuddiz reassures us. Reinforcing this point, Johansson shares "You don't have to come from a fashion capital to reach your goals. Entering year five, we keep growing and the location of our hometown doesn't stop us from doing whatever we want to do."
Fashion is a lucrative industry across the globe, and revenues are expected to continue to grow impressively across the Danish and Swedish markets over the next few years. With that in mind, its safe to assume that alongside those internationally renowned hubs, municipalities like Gothenburg will not only inspire the rest of the region, but continue to attract individuals and brands with its unique take on style and life and the chilled-out and innately cool vibe it offers, far removed from the stress and pressures of Stockholm. "I think the important thing is to be and work where you are inspired and where it makes sense for yourself along with your company to be," muses Kuddiza. "A lot of inspiration comes from our surroundings, the music and club scenes and subcultures – we've lived through and experienced it all."
Nudie Jeans Gothenburg Store
Nudie Jeans Gothenburg Store
He rounds off with a sentiment we've heard from many who have lived, work or simply visited the city, an indication that whether you spend a few days or a lifetime there the impact is profound and long-lasting. "Being in Gothenburg is great for not being too caught up in what your neighbours are up to. Being great at your job counts for more than being slick. You're closer to everything and everyone here, it's beautiful, close to the ocean and the archipelago. It's not as much about flexing and more about doing."
Click here to view full gallery at HYPEBAE