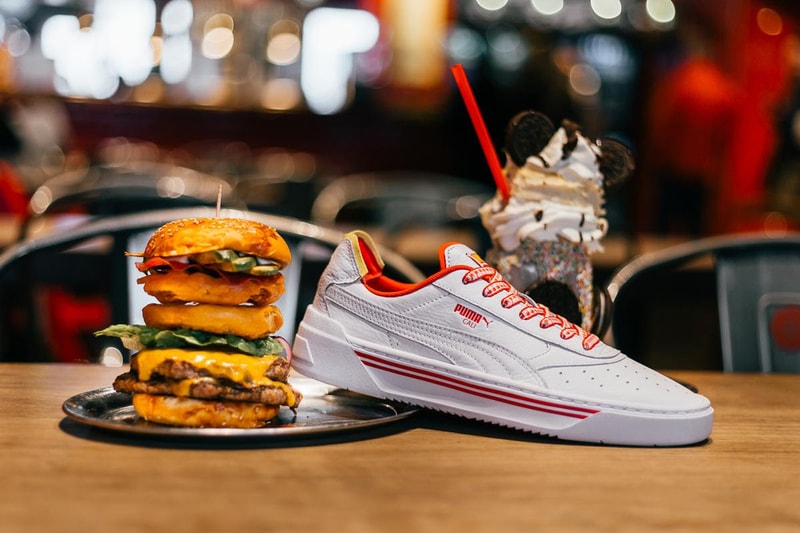 After unveiling a California-themed set of sneakers last month, PUMA is now being sued by In-N-Out Burger for trademark infringement. The fast food chain claims that the athletic brand used design elements specific to In-N-Out on its Cali-0 Drive Thru CC and California Drive-Thru shoes, which were a brand collaboration with designer Mike Cherman.
In the lawsuit, which was filed on Friday, In-N-Out's federally registered palm tree symbol and the signature red and yellow color combination of its logo are highlighted as infringing on existing trademarks and trade dress. Court documents state that PUMA has marketed the shoes with burgers and other items found on the restaurant's menu, causing publications and consumers to equate the two entities as collaborators. In-N-Out is seeking for PUMA to cease production and any related advertising of the sneakers, as well as to be awarded any profits related to their sales.
"By using In-N-Out's designs and trade dress, Puma and Cherman intentionally confused consumers for their own benefit and have also created the impression that our marks and unique trade dress are available for public use," Arnie Wensinger, In-N-Out's executive vice president said in a statement to NBC4.
The footwear in question was constructed with a white leather upper, with "Blazing Yellow" and "High Risk Red" trimmings on both. Palm tree-printed laces are found on the Cali-0 Drive Thru CC edition, which retails for approximately $113 USD. The California Drive-Thru style is priced at $90 USD. PUMA has shared three promotional videos on Instagram since their release in February.
HYPEBEAST has reached out to PUMA for comment.
Click here to view full gallery at HYPEBEAST