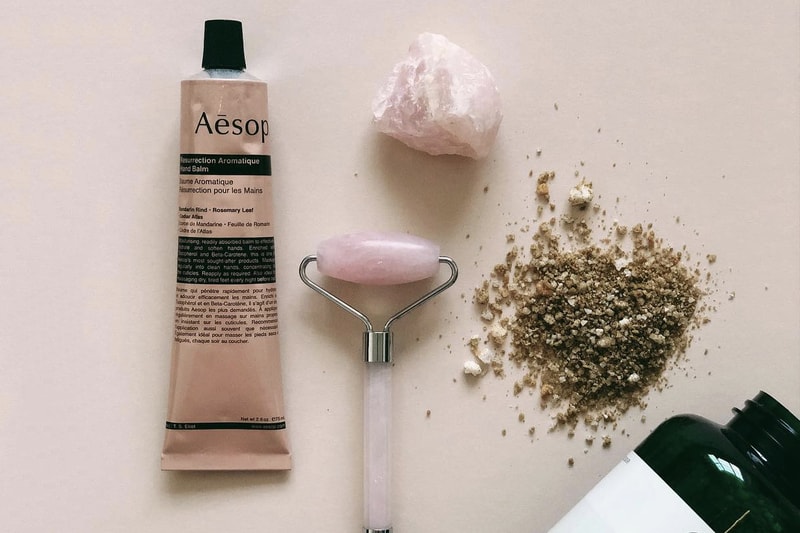 Facials are an every-so-often treat for me, but they're never usually very adventurous. That all changed, however, when I heard about the treatments on offer at Dalston's newly-opened STILL London salon. The holistic studio specializes in non-toxic, cruelty-free, vegan and environmentally friendly massages, manicures and pedicures. Although they sound excellent, it was the High Vibe Facial that caught my eye – it brought with it the promise of aligned chakras, cleansed auras and crystals – frankly, I was fascinated.
Daisy, AKA East of Indigo, has set up her own sacred space at the back of the salon, and she instantly made me feel at ease as she walked me through the process; she tailors element of each one depending on the client's needs. We started off with an optional dose of Disciple's CBD Miracle Drops, to ensure optimum levels of chill. Next up, it was time to remove my makeup as Daisy put on a zen playlist on Spotify to set the mood.
Still London
Still London
It started out, as most facials do, with some cleansing and gentle exfoliation to help get rid of any dull, old skin. After this, it was time to layer on a mask. While the mask was on, Daisy places some crystals upon my forehead (third eye chakra) and chest (heart chakra), leaving them to work their magic as I sunk into an even more relaxed state. Once the mask came off, so did the crystals. Daisy shared that when she lifted the malachite from my chest, it was physically hot, which is pretty cool considering its a protection stone that absorbs negative energies and helps to clear and activate other chakras. I like to think it soaked up all my bad vibes; I definitely felt emotionally lighter at least.
Next, there was some facial cupping – something I was a bit apprehensive about earlier as the body cupping I've seen before leaves some pretty obvious circular marks on your skin and I really didn't want to make the trip home with red blotches on my face. Luckily, facial cupping involves small, plastic, conical devices that use suction to attach to your skin gently, and can then be moved upward on the face. The cups pull the skin away from its deeper layers to increase blood flow and rejuvenate the skin, and it also feels pretty satisfying and not uncomfortable at all. Daisy also practices reiki, which was totally new to me; I wasn't sure how I was supposed to feel but I definitely felt hot as she hovered her hands above me and she later said she could feel the energy moving through my body, which is pretty cool.
Still London
To round it out, she smoothed out my skin with a cooling opal roller and rehydrated my with face oils and moisturiser. It was honestly a struggle to get up afterward; I was so completely relaxed I could have lay there for hours in a state of pure zen. Checking out the results in the mirror was more than enough reason to get me on my feet though – my skin was noticeably lifted, my once-hidden cheekbones were back in full force. My skin was also ultra-glowy and smooth and thanks to either the relaxation induced by lying down without my phone for over an hour, or the crystal healing and reiki, or all of it combined, I felt unbelievably chilled out for the rest of the day.
At £85 GBP (approx. $111 USD) the High Vibe Facial is maybe an option I'd maybe go for every few months, however there are a few other options to choose from and of course, the all-important manicure menu. You can find our more about the treatments and book your own here.
 

View this post on Instagram

 

A post shared by East Of Indigo (@east.of.indigo) on
Click here to view full gallery at HYPEBAE