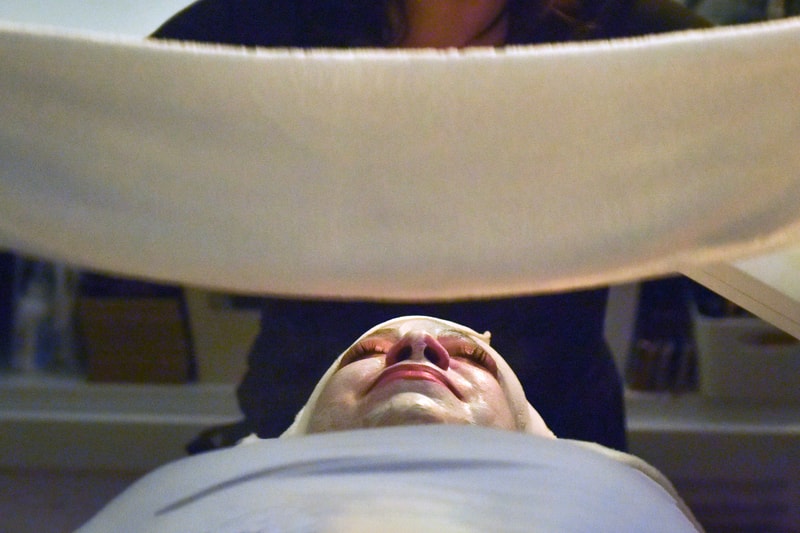 There's no doubt you've missed the ever-growing CBD trend in both makeup and beauty lately. Brands like Milk Makeup, Kiehls, Herbivore and more have all turned to the Cannabis-derived extract to create everything from mascara to face serums, and the results are all amazing.
As someone who hasn't tried anything CBD when it comes to skincare, I decided to give it a try after hearing everyone around me rave about its amazing benefits and after learning more about it in our expert piece. London salon Blush + Blow offers a brand-new CBD facial which I had the luxury to try, and I went in with absolutely zero expectations since I had never tried anything like it prior. Before laying down I answered a series of questions about my skin and health, and was also told about the treatment in detail. I was warned that parts of the facial would sting a lot as well as heat up my face, but that it would quickly start cooling down and wouldn't leave my non-sensitive skin too red post-treatment.
Tora Northman/HYPEBAE
The facial began with a quick cleanse to remove any makeup residue or dirt from my face, and moved onto a harsh face scrub which stung and made it feel like my entire face was peeled off, but wow did it make my skin feel clean. Then came the mask, which I was once again warned would start heating up after it was painted onto my skin. The therapist wasn't lying, because a few seconds in my face was literally burning, but as someone who is very into skincare I always have the notion that if something stings – it means it is working. After 20 minutes and a head massage which drifted me into a pre-sleep state, the mask came off and on came a selection of CBD-infused serums and moisturizers which calmed my face down. And just like that, an hour had passed and I was ready to get back up and conquer the world – but not before drinking water and taking a minute before standing, since the CBD can make you slightly drowzy post-facial.
Coming out of the treatment, my skin was so shiny it looked like an Instagram filter. If you're planning on trying the treatment, I'd recommend doing it on a day where you can let your skin rest afterwards without applying makeup or creams to your face, and you will be very red and very glowing. I've done my fair share of facials, but this one really made an instant difference in just a day. There's no doubt that I'll be continuing to go for the CBD facial, and I've already started looking into CBD-infused products to add to my skincare routine.
If you're looking to try the treatment, it will soon be available at London-based salon Blush + Blow. While we wait for the treatment to officially hit the menu, don't miss our expert piece on all things CBD here.
Click here to view full gallery at HYPEBAE