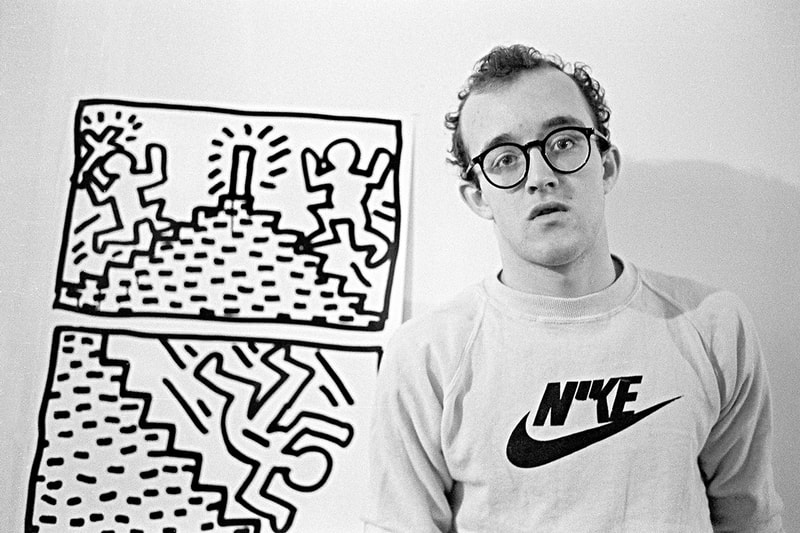 Keith Haring's art is arguably amongst the most recognizable in the world. The late artist's signature style, often described as playful and irreverent, is frequently seen in collaborations with fashion labels — adidas Originals, Lacoste and UNIQLO this year alone, alongside an ultra-rare Supreme release from 1998 — as well as on album covers, imitation graffiti and his large murals that are still visible around the world.
The various collaborations continue the work that Haring began during his lifetime. He was, for example, particularly focused on the democratisation of art. "He opened up the idea that art is a resource for every person, it is not rarified, it is communication." explains Samantha McEwen, a close friend of Haring's and a classmate at the School of Visual Arts in New York. "I think he wanted the works to be understood," adds Darren Pih, who has co-curated an upcoming retrospective of Haring's work at Tate Liverpool. "Fundamentally his work was for the people, he wanted to create symbols which spoke of and for his generation."
While the style of Haring's art is immediately recognizable and approachable, the way in which he frequently worked with brands and charities was a change from the art world's traditional approach. During his life, Haring opened two stores selling merchandise (the Pop Shop opened in New York in 1986 and in Tokyo a year later), licensed his imagery to big name brands and worked with charities at no cost. "This is how Keith succeeded in putting his imagery and philosophy about art and charity out into the world," adds Julia Gruen, Haring's friend, studio manager and now, as Executive Director of the Keith Haring Foundation, the guardian of his legacy.
Untitled, 1983, Collection of the Keith Haring Foundation
The visibility and accessibility of Haring's work saw him transcend the traditional art establishment — which often looked down on him — and create a connection with ordinary people. "I think he was very much accepted by the city, by all the most regular people going about their everyday lives," remembers McEwen, "totally accepting his work as being for them, something they could understand. It was a clear message of interest in everyday life."
Haring's work is undoubtedly playful and accessible — two of the qualities that led to his brusque treatment by the art world– but his art also carries serious political and social messages. Some of his most important works dealt with the biggest issues of his time, including drug use, nuclear disarmament, and the spread of AIDS ,which would eventually claim his life in 1990 through a related illness. With his democratic style making it easier for the public to engage with his work than with stuffy, 'traditional' art, Haring had a platform to illuminate these issues.
"He opened up the idea that art is a resource for every person, it is not rarified, it is communication."
"I think he was somebody who really used his fame, his platform, his profile to raise awareness of some of the most important social and political issues of the 1980s," continues Pih, particularly referencing Haring handing out anti-nuclear posters in Central Park, as well as his work with the anti-apartheid movement and his AIDS-related activism after his own diagnosis. Raising awareness extended beyond just his art work. Speaking to The Observer recently, dancer Bill T. Jones — a friend and collaborator — explained that "everyone knew his sexuality, he was very out, which was important. And he would try and represent the young, underserved black and brown people of the streets, like the Central Park Five. The art world claimed to not know about such things – and its passivity, its silence was political – but because of the people he associated with, Keith was pulled into these issues."
Continuing this, McEwen highlights Haring's ability to communicate his message. "He put together this thinking about how to communicate," she adds, "how to put on to paper what he was thinking. He had so many ideas that he found a way to communicate. I think most artists find a way to communicate maybe one or two main ideas, but Keith was communicating everything he thought about: money, politics, religion, sex, life, children. He found this way to draw what he was thinking."
Joseph Szkodzinski, Keith Haring handing out No Nuke Posters at a No Nuke Rally, Central Park, NYC, 12 June 1982
Haring's emergence into the New York art world represented the changing face of the scene, as younger artists took inspiration from the city around them. Speaking of Haring's early years in New York, McEwen recalls a changing of the city's guard. "There was a sense of rebelling against the establishment, especially when there was Keith [Haring] and Jean-Michel [Basquiat] and Kenny [Scharf], who were all interested in graffiti," she recalls. "There was a big divide between the mainstream art and the kind of paintings that were being made there and then by the actual residents of the city. That was an incredible education in the changing of the guard. You're younger so you're not so involved with what is already established, and more open to what is actually happening right in front of you."
This changing of the guard was also clear in Haring's social and political awareness. The political and social messages in his work were often in contrast to government policy and action. In many ways, the urgency seen in his work — through its uncompromising messages and accessible style — were juxtaposed against the lackadaisical government response to the crises engulfing Haring's generation. For Haring, it was important to inform as many people as possible about these issues. "He was somebody really who powerful who spread education," explains Pih," he was a real advocate against ignorance."
The upcoming exhibition at Tate Liverpool is the latest stage of Haring's admission to the art establishment. While Haring always exhibited in galleries, his work remains much more associated with the world at large. "He was making work on the subway while having exhibitions at museums, he was beginning to receive institutional recognition in his lifetime," says Pih, adding that the exhibition at Tate will bridge the gap between the two worlds. Exhibits will cover everything from large paintings and drawings to graffiti-covered taxi hoods and street hoardings as well as flyers, magazines, record sleeves and videos to explain, as Pih continues, "the idea that he created a very messy texture that really shows that aesthetic of New York City in the 1980s. It will be an exhibition that tries to bridge the street energy of early '80s New York City."
Ignorance = Fear, 1980, Collection Noirmontartproduction, Paris
These works that span so many mediums, from traditional artworks to practical objects, are key reasons why why Haring is still so adored. His art exists in the everyday and can be appreciated without a comprehensive understanding of art history and theory. In many ways the accessibility of Haring's art was important for two reasons: it was a reminder that art is for all and it created a platform to spread his message.
Discussing the message of Haring's work, Gruen describes "his commitment to addressing our society's ills with his art; his insistence that art be accessible; the continuing power and influence of his life experiences and art to bring about change — i.e. with tolerance, compassion, humor, optimism." As Gruen explains, this message has a "perpetual contemporaneity," and Haring remains one of its most articulate messengers. As this week's major UK gallery exhibition shows, the art world has finally caught up with Haring's art and his message.
Tate Liverpool's Keith Haring exhibition opens on June 14 and will run until November 10.
Tate Liverpool
Royal Albert Dock
Liverpool
L3 4BB
Click here to view full gallery at HYPEBEAST