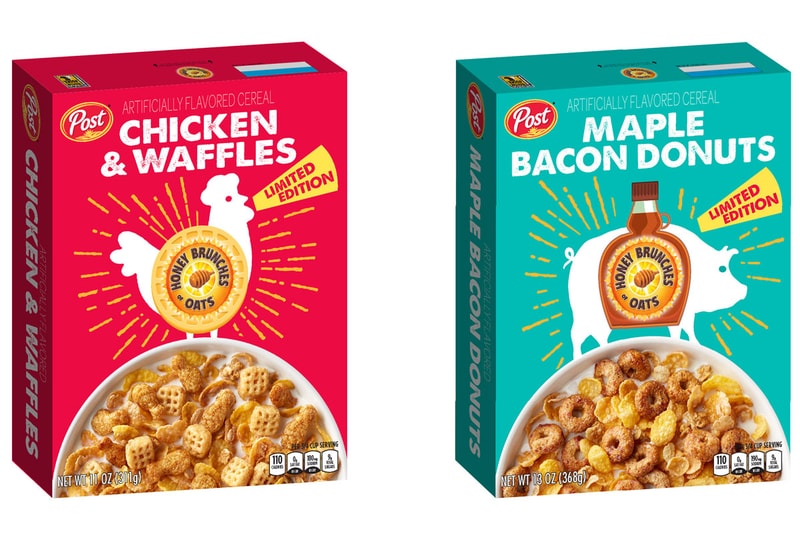 Post, the folks that bring you Raisin Bran and other well-known breakfast cereals, will introduce Chicken and Waffles as well as Maple Bacon Donuts flavored Honey Bunches of Oats for a limited time only — similar to its Sour Patch Kids cereal a few months ago.
The new flavors come in celebration of National Cereal Day on March 7, where the brand will offer the taste of warm breakfast foods in cereal form. Of course, neither cereals come with bite-sized chunks of real meat or pork-flavored marshmallows, but actual sweet maple and honey have been blended with the artificial flavors of chicken and bacon. Naturally, this isn't the first odd combination of flavors the world has seen from an established brand. Recently, Pringles released sour cream & onion flavored instant noodles.
These cereals will be available in extremely limited quantities at select Walmart, Giant Eagle, Woodman's and Riesbeck's, so check the tracker to see if any will be available at a store near you.
In other food news, Häagen-Dazs introduces alcohol-flavored ice cream.
We made 2 new flavors for Cereal Day,
Get 'em quick before they go away!#NationalCerealDay #Brunch pic.twitter.com/mfkK1jIljB

— HoneyBunchesOfOats (@HBOats) March 7, 2019
Click here to view full gallery at HYPEBEAST