One disappointing and triggering spring 2019 season later, the Celine fall 2019 show helmed by Hedi Slimane is here. We've read the think pieces, we've had the arguments, we've shed the tears, and we've obsessively followed the #OldCeline Instagram tribute accounts. In the 12 months since Slimane became Celine's Creative Director, a divisive new logo, a fresh handbag debut, and an eerily familiar ad campaign (ahem Saint Laurent) all offered clues and peeks into the fashion house's future. Last September's show was, as expected, a complete 180 from Philo's thoughtful, minimal Celine. Not only was it short frock o'clock, but the collection was a direct copy-and-paste from Slimane's previous designs for Saint Laurent. (Slimane was very much aware of the backlash.)
The departure of Slimane's predecessor Phoebe Philo was a traumatic end of an era, and we (the fashion crowd) love to deliberate, mourn, panic, and jump to the worst possible conclusions. While the general consensus has been "we hate it and we miss Phoebe!!!", celebrities and their stylists disagree. From Dakota Johnson initiating New Celine-on-the-red carpet to Lady Gaga at the Grammys to Brie Larson at the Oscars, Slimane's pieces have made numerous red carpet appearances — and, honestly? We might kind of be into it.
So, as Paris Fashion Week kicks into full gear, after Dries Van Noten inspired us to rethink the relationship between color and clothing, and Loewe's clean silhouettes induced happiness (could Jonathan Anderson replace the Phoebe Philo-shaped hole in our hearts?), all eyes were on Celine in Paris tonight.
The show started with a model being lowered onto the runway courtesy of one giant robot arm. And it only got more confusing from there. Apparently one season in fashion years actually adds 10 more years, according to Hedi Slimane. The new Celine girl is now a lady, and she is swapping last season's sparkly mini dresses for pleated skirts and ponchos. She's moved to Greenwich, CT, and loves organizing her filing cabinet in alphabetical order.
Click through for the looks from the Celine FW19 show and let us know your thoughts in the comments.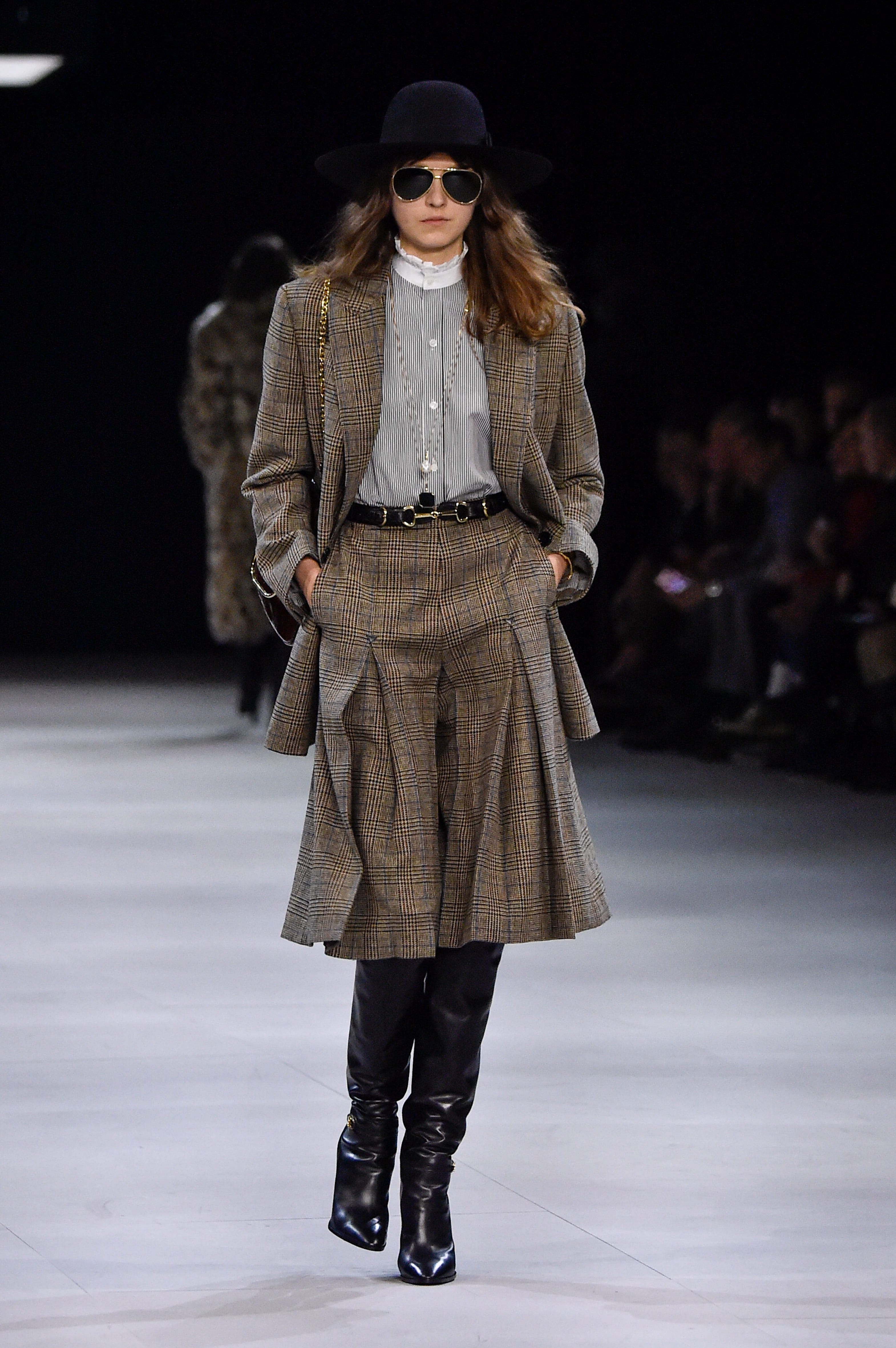 Like what you see? How about some more R29 goodness, right here?
Hood By Air Is Coming Back From Its Hiatus
New York Fashion Week Fall 2019 Was The Most Racially-Diverse
Love Him Or Not, Karl Lagerfeld Was A Legend In Life & In Death
Source: Refinery29 – Michelle Li