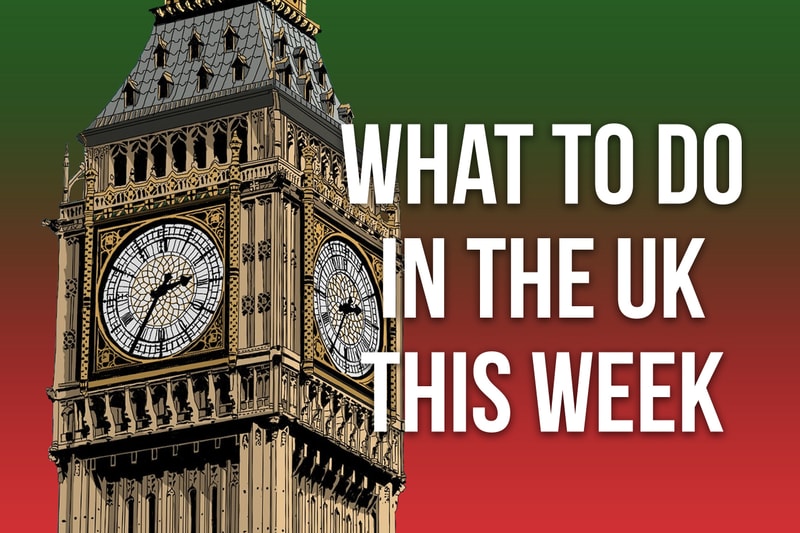 At a loose end for happenings in the UK for the next week? HYPEBEAST has plenty of options for you. There's more than enough happening this week, with a number of restaurants both in London and beyond as well as art openings and even a sneaker fair.
There's also more than enough restaurants and exhibitions to visit while you're in the city. So without further ado, here's a list of happenings on the weekend of April 26 and beyond.
Food
Dishoom
Where: 5 Stable St, Kings Cross, London N1C 4AB
Dishoom is a staple of the dining scene in the UK and one of the better branches in London is this space in Kings Cross. Expect great Indian food inside serene surroundings.
@coqfighteruk
Where: 75 Beak Street, London W1F 9SS
When: May 22
Coqfighter first came to prominence through the Croydon and Shoreditch boxparks and now the fried chicken-focused restaurant is opening in Soho. Expect fried chicken bao to make an appearance alongside new dishes such as Drumsticks with XO Chicken Gravy & Szechuan Salt and Cheesy Corn.
The Mantl
Where: 142 Brompton Road, Knightsbridge, London SW3 1HY
Knightsbridge is now home to Mantl, a new Turkish restaurant placed close to Harrods. The traditional space will be serving pistachio lamb chops alongside the Mantl Mix, which includes lamb, chicken, adana, lamb ribs and a lamb chop.
Breddos
Where: Dinerama, 19 Great Eastern Street EC2A 3EJ
When: May 21, 5pm until midnight
Dinerama is home to Taco Wars, an event that sees London top taco restaurants all serve its own iteration of the famed dish. Places taking part include Breddos, Luardos, Santo Remedio, Bob's Lobster and more.
Rudy's Pizza
Where: 9 Cotton Street, Ancoats, M4 5BF
Rudy's Pizza is a Manchester staple, serving pizzas that follow the traditions of the Naples region. While the walk-in only rule could lead to a queue, it's worth it for the end results.
Art & Cinema
Graham Carlow
Where: Somerset House, Strand, London WC2R 1LA
When: Until May 19
Photo London is the capital's elite photography fair. In our previous roundup of things to look out for at the event we spotlighted the discovery section, talks programme and Gavin Turk's "Portrait of an Egg."
Luchita Hurtado: I Live, I Die, I Will Be Reborn
Courtesy of Luchita Hurtado/Serpentine Gallery
Where: Serpentine Gallery, Kensington Gardens, London, W2 3XA
When: May 23 – October 20
Luchita Hurtado is the Venezuelan artist whose work was often overshadowed throughout her career but came to prominence during the latter half of her life. The 98-year old's pieces often play on perspective, offering new looks at the familiar.
"Writings on the Wall" at Waddington Custot
Courtesy of Waddington Custot
Where: Waddington Custot, 11 Cork Street, London W1S 3LT
When: Until June 30
Central London-based gallery Waddington Custot is hosting works by a range of artists from the mid-Twentieth Century, including Jean Dubuffet, Cy Twombly and Manolo Millares. Titled "Writings on the Wall," the group exhibit looks at the way that ancient and contemporary graffiti have been explored by this diverse range of artists.
Fashion and Shopping
Paul Mougeot/HYPEBEAST FR
Where: Printworks, Surrey Quays Road, London, SE16 7PJ
When: May 18-19
Sneakerness is making an appearance in London this weekend. After launching in Switzerland more than a decade ago, its now showing up in London, Expect the rarest of the rare and the grail pieces to show up.
A.P.C Coals Drops Yard
A.P.C
Where: Coal Drops Yard, King's Cross, Central London, N1C 4DQ
A.P.C's latest store is in the new development of Coals Drop Yard. Working with Laurent Deroo architects, the two redesigned a building from the 1850s, installing a black ceramic floor and wooden panelling throughout.
Ben Awin/HYPEBEAST
Where: Feng Chen Wang, Bayford Street Industrial Centre, Unit 5.3 (2nd Floor), London, E8 3SE
When: May 17-18
Feng Chen Wang is holding a sample sale throughout today and tomorrow. The event will have a selection of menswear, womenswear, accessories and bags and will be at 70% off.
Sandqvist
Where: 20 Clerkenwell Green, London, EC1R 0QE
When: May 17-18
Sandqvist is also hosting a sample sale, with its selection of goods available at up to 60% off. The brand's bags and accessories will all be available at this event.
Click here to view full gallery at HYPEBEAST