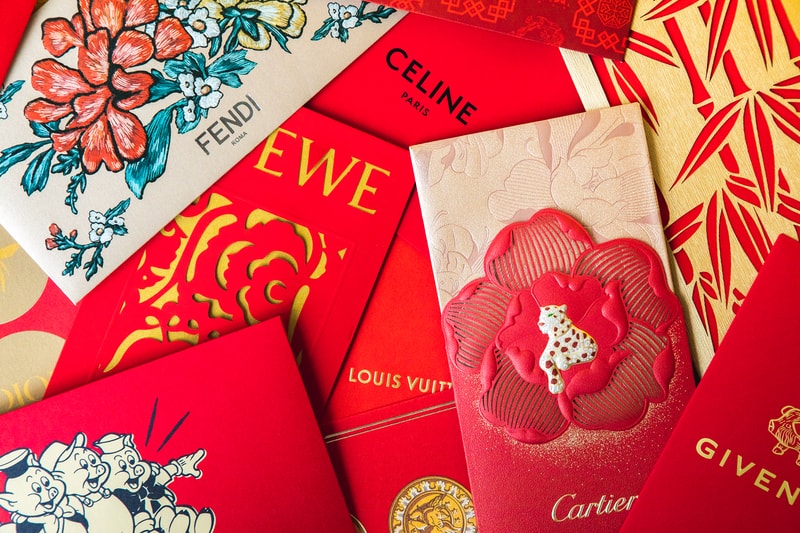 The time has come once again to look at one of the biggest holidays outside of the Western world. I am of course talking about Lunar New Year. This year's Chinese Zodiac falls on the Year of the Pig, and with that comes a plethora of pig-themed celebratory merchandise. One large component of Chinese New Year is the giving of red envelopes containing cold hard cash, aka fortune and good luck. The traditional act of gifting pockets of cash (紅包/Hong Bao in Mainland China and 利是/Lai See in Hong Kong) dates back to the Qin Dynasty-era and was a token of luck to ward off death and poor health — now given at weddings, birthdays, and of course, Chinese New Year.
When it comes down to who is eligible to give, and who's eligible to receive, the rules can be quite tricky. Those interested in the many etiquettes can find a helpful chart here. What was once largely auspicious and considered ceremonial has now become geared towards monetary value and keeping face (prestige) — the widely used WeChat app even has a digital "Red Pocket" function. While it is much appreciated that multinational brands are joining in to celebrate such a treasured holiday, a part of me fears that this could just be another way into the hearts of the nouveau rich Chinese, but that story is for another time.
Much like how the Hong Kong-based divisions of major fashion houses participated in Mid-Autumn Festival mooncakes, this time we take a close look at some of the exemplary red pockets produced by some of the leading fashion houses in our industry. Names like Gucci, Louis Vuitton, Fendi, Celine, Loewe, Cartier, Versace, Givenchy, and Dior, to name but a few, all took part in the yearly event. While the number of different-branded red pockets that came to our office totaled close to 50, we had to narrow down and select the few we thought you, the readers, would be interested in seeing.
So here it is. This year's "Year of the Pig Red Pocket Round-Up." Have a scroll through the images below and let us know who had the best design.
Sticking with Tradition

Leading the traditional envelopes is CELINE's simplistic take on the red pocket. Keeping things clean and minimalist, the French fashion house put together bold western-style horizontal envelopes emblazoned with its new logo debossed in contrasting black.
Dior Homme, Louis Vuitton, and Givenchy created red pockets that maintain the contemporary vertical shape decorated with a playful take on its respective branding and aesthetics. Dior Homme looked to raise the bar decorating its envelopes with the three scratchable branded circles, which reveal auspicious phrases to ring in the Lunar New Year. Focusing on the elegance of its brand, LV dressed its red pockets with a gilded caricature of a rotund pig along with a print of its signature locket at the sealing region. Givenchy similarly celebrated the Year of Pig with a golden caricature of the animal made up of its signature logo motif.
Finally, Dyson went with the playful route referencing its turbine-based products with imagery of an appropriately colored pinwheel toy. Netflix's featured Birdbox, Stranger Things and Black Mirror: Bandersnatch-inspired red pocket designs that showed the streaming platform's worldwide appeal.
Straying from Tradition

The most progressive red packets were decided upon with a specific criteria in mind. They not only have to stray from the tradional red pocket design, but must also blend in as much of their brand elements into the design as possible — making the pocket truly unique to the specific label. In this category, CLOT, Lamborghini, Tumi, Reebok, 45rpm, Gucci, Salvatore Ferragamo, and Levi's have put out some eye-catching envelopes.
Starting off with CLOT we can see the traditional crimson red replaced with black envelopes that are highlighted with Oriental patterns, framing the CLOT logo. 45rpm, Levi's and Reebok think outside the box for its designs with an envelope that's shaped like a denim jacket for Levi's, retro vector logos envelopes in a shoebox for Reebok, and a boro-boro patchwork envelope in indigo-blue for 45rpm. Gucci channels The Three Little Pigs fable for a playful cartoon red pocket graphic, while Salvatore Ferragamo covers its envelope in a mind-boggling floral print. The list ends with Lamborghini's exotic magenta-colored pocket, complete with gold-foil debossing of the Aventador push-start button on the opening side.
Editor's Picks

Our last section involves the evelopes that caught the eye of our editors. Some of these pockets would naturally fall in the less traditional category above but are also special enough that they deserve a separate section. Fendi goes big with an ornate boxset that features gold as well as silver foloral-print envelopes.
Both Cartier and Piaget touch on a more symbolic gesture with Cartier displaying the traditional art of Chinese paper cutting over a mock jewel-encrusted Panthere. Piaget includes a table pinwheel with its red pockets; the pinwheel has always symbolized the turning of misfortune into good luck in Chinese culture. Loewe gives its golden pockets an additional red cut-out sleeve for more of a textural presentation, whilst Versace remixed its Medusa head motif with a flying pig. Ending off our Editor's picks of red pockets are HBX's collaborative pockets with Chinatown Market, HUMAN MADE and Verdy's Girls Don't Cry.
In other Chinese New Year News, Eddie Huang x adidas UltraBOOST "CNY" honors the lucky color red.
Click here to view full gallery at HYPEBEAST
Source: HYPEBEAST